January 13, 2017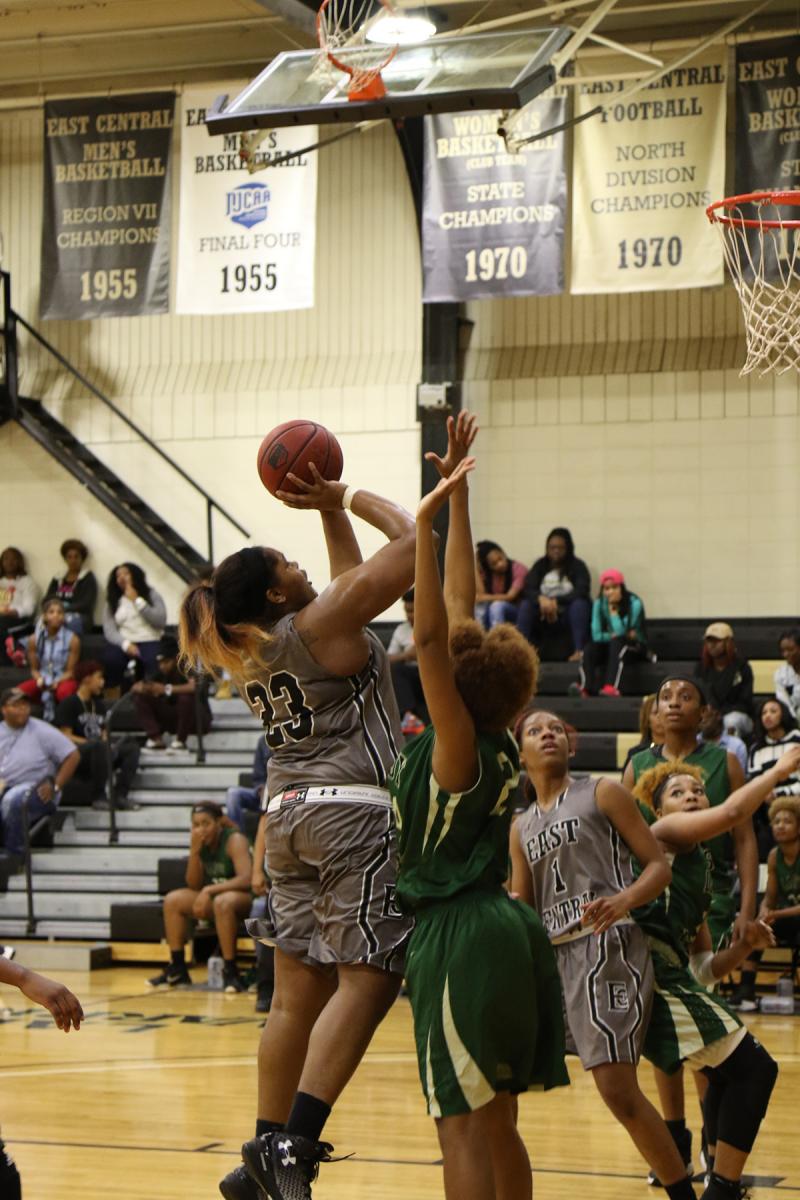 ECCC freshman Curtisha Coleman scores two of her 21 points in the win over MCC.
 
The East Central Community College women's basketball team picked up an important 77-72 MACJC South Division win against nearby Meridian Community College in a game played in Brackeen-Wood gym in Decatur Thursday, Jan. 12.
There was no men's action as Meridian forfeited due to the suspension of several players.
MCC had a seven point lead at the half, but a strong second half performance by the Lady Warriors gave them a five-point win.
Freshman center Curtisha Coleman of Wayne County High School led East Central with 21 points and 18 rebounds, while teammates Bryona Stewart of Itawamba Agricultural High School added 21 points and Autumn Taylor of Newton High School chipped in 19 points.
The second half featured three lead changes and eight ties. Meridian led by as much as 11 points with 9:05 left in third quarter, but ECCC battled back with a pair of free throws by LaNeisha Jeans of Pine Forest (Fla.) High School in the fourth to take a lead they would not surrender.
Meridian was led by Kashari Gordon, who put up 11 points for the Lady Eagles.
ECCC improved to 7-4 on the season and 1-1 in division play. Meridian fell to 7-4 overall and 1-1 in league play.
"We have a lot of stuff to work on," said ECCC head women's basketball Coach Crandal Porter. "The heart and the willingness to win I'm very proud of that, but if we do a better job early on, the game won't have to be so close."
The Lady Warriors will play two key division games next week, beginning on the road at Perkinston Tuesday, Jan. 17, to face Mississippi Gulf Coast Community College at 5:30 p.m. Men's action begins at 7:30 p.m.
East Central will return home Thursday, Jan. 19, to host Co-Lin at 5:30 p.m. The men's teams will play at 7:30 p.m. Both games are in Brackeen-Wood Gymnasium in Decatur.
"The South Division is the toughest division, I think," Porter said. " For us to get in the playoffs we have to become more prepared so we can still accomplish everything we want to accomplish."
All East Central home basketball games game can be heard on the radio at WKOZ "Cruisin" 98.3. The radio broadcasts are also streamed online on the ECCC website at www.eccc.edu/eccc-media and at www.kicks96news.com.
Live video streaming is available via high-definition video and streaming audio found at www.eccc.edu/eccc-media or www.kicks96news.com.