November 15, 2016
The East Central Community College Lady Warriors had three players score 20 or more points en route to a high-scoring 104-97 victory against Coahoma Community College Monday, Nov. 14, in Brackeen-Wood Gymnasium on the Decatur campus.
Freshman forward Autumn Taylor of Newton High School had 23 points and brought down 13 rebounds. Freshman guard Khelsea Foster of Arcadia (La.) High School was the leading scorer for ECCC with 25 points. Laneisha Jeans of Pine Forest (Fla.) High School added 20 points for the Lady Warriors.
ECCC held a one-point lead after one quarter and was up at the intermission by four, 54-50. However, a strong third quarter by Coahoma gave the Lady Tigers a one-point lead, 75-74, before East Central took control in the final period.
The East Central Lady Warriors are now to 3-1 on the season, with two of those wins coming against Coahoma.
The ECCC women's basketball team will be back in action Monday and Tuesday, Nov. 21-22, in the EC Classic in Decatur. The Lady Warriors will face Louisiana State University-Eunice Nov. 21 and Wallace State-Selma Nov. 22, with both games tipping off at 5:00 p.m. in Brackeen-Wood Gymnasium.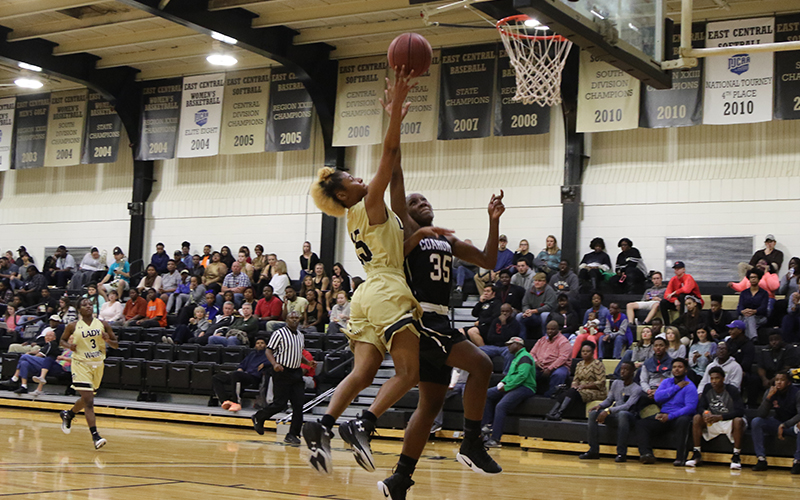 East Central's Khelsea Foster goes up for two of her team-leading 25 points in the win over Coahoma. (EC Photo)