February 17, 2017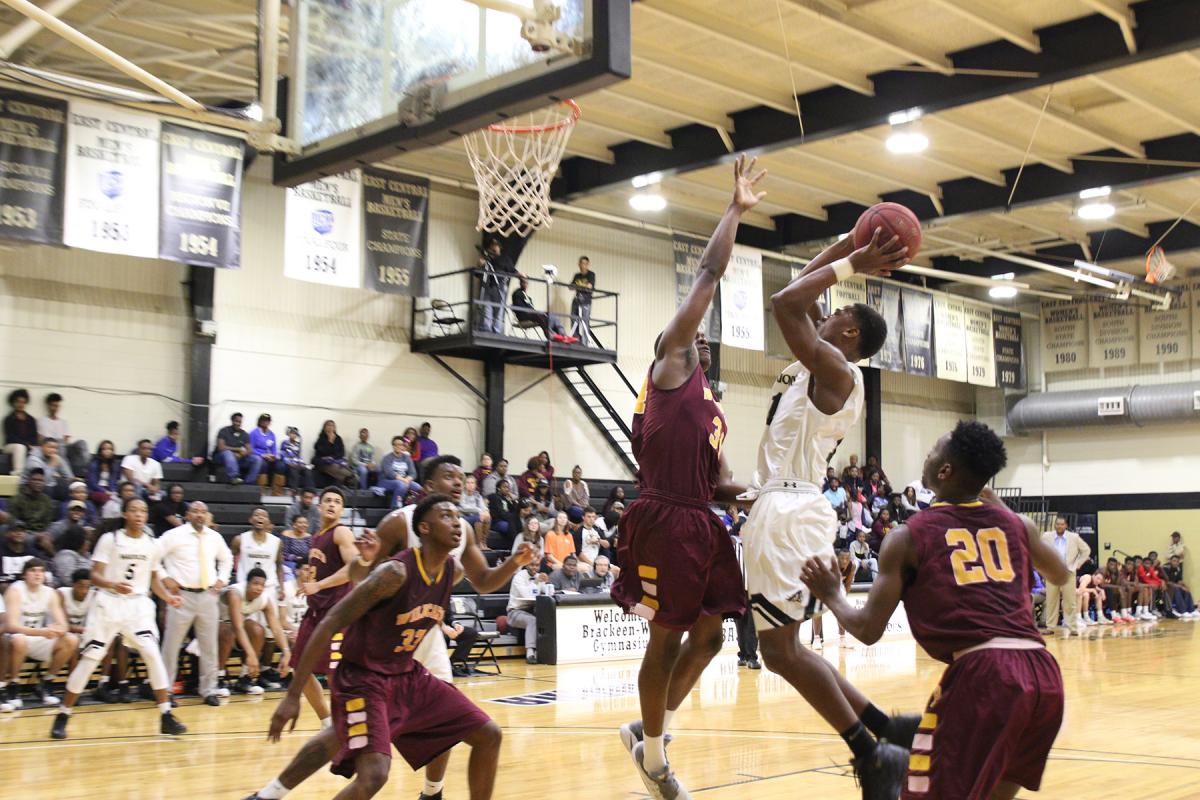 Freshman Jaquan Dotson scores two of his 15 points in the win over Pearl River. (EC Photo)
The East Central Community College men's basketball team clinched an MACJC State Tournament berth with an 87-80 win over Pearl River Community College Thursday, Feb. 16, in Brackeen-Wood Gymnasium in Decatur.
Behind a five-game winning streak, the Warriors are 13-8 overall and 8-4 in the MACJC South Division, currently sitting tied with Mississippi Gulf Coast Community College at fourth place.
With stakes high for both team, the game was tied eight times in the first half, but the Warriors pulled ahead 41-39 at the intermission and eventually won by seven.
East Central sophomore forward Tonzell Handy of Lanier High School once again led all scorers with 24 points and a game-leading eight rebounds. Also in double-digit scoring for the Warriors were freshman Jaquan Dotson of Neshoba Central High School with 15 points, sophomore Jaylon Bardley of New Hope High School with 13 points and six assists, and sophomore Shaquille Benson of Hahnville (La.) High School with 10 points.
The Warriors will travel to nationally ranked No. 9 Jones County Junior College in Ellisville on Monday, Feb. 20, with tipoff at 7:30 p.m.
The Bobcats have a two-game lead over Southwest with two games to play in the South Division. The winner of the South Division hosts the MACJC Tournament Feb. 27-March 2.
East Central will return home Thursday, Feb. 23, to host Hinds Community College for the final game of the regular season and "Sophomore Night" in Brackeen-Wood Gym. The nightcap game is set to begin at 7:30 p.m.