August 21, 2017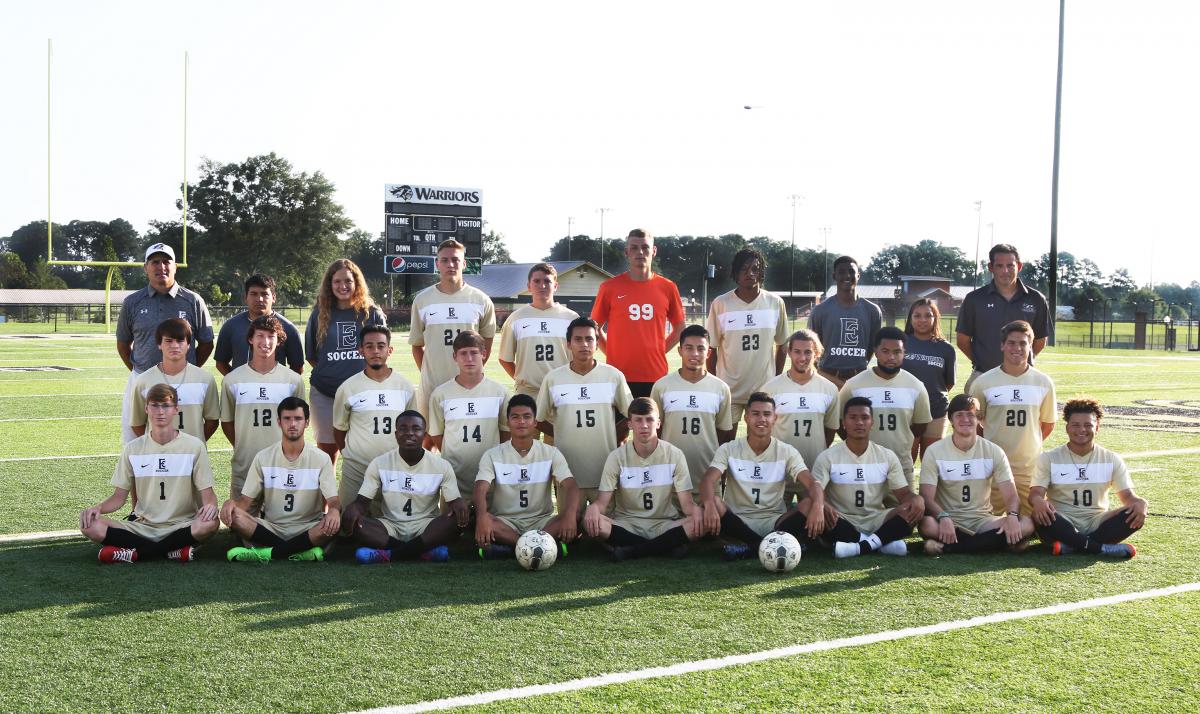 Members of the 2017 East Central Community College men's soccer team and their high schools include (first row, from left) Tyler White, Madison-Ridgeland Academy; Cory Furlow, Clinton; Courtney Moore, Center Hill; Justin Williams, Newton County; Dillon Green, Warren Central; Hector Mendoza, Center Hill; Chris Perez, Forest; Jacob Thomas, Northwest Rankin; and Henry Artica, Oxford; (second row, from left) Hunter Holdiness, Warren Central; Andrew Bernard, Southeast Lauderdale; Diego Munoz, Meridian; Patrick Riley, Newton County; Francisco Romero, Ripley; Randy Argueta, Forest; Logan Wilkerson, George County; Deion Edwards, Meridian; and Tanner Lindsey, Northwest Rankin; and (back row, from left) Head Men's Coach Kenneth Thompson; managers Guillermo Espinoza, Forest, and Kenlynn Morgan, Newton County; Phillip Webster, West Lauderdale; Jake Craft, Clinton; Dylan Shoemaker, Forest; Joseph Stewart, Callaway; managers Isaiah Woods, Louisville, and Briseyda Hernandez, Leake Central; and Head Women's Coach Gray Massey. (EC Photo)
The East Central Community College men's soccer team returns eight starters in 2017 as it seeks to qualify for the Mississippi Association of Community and Junior Colleges state playoffs for the third straight season.
Kenneth Thompson, who enters his 19th season in Decatur as head coach of the Warriors, hopes that his sophomore-laden team will come together as a unit earlier this season and lead East Central back into postseason play.
"We will basically be starting nine sophomores, and I'm hoping that they will come together on the field a little quicker this season than last year," said Thompson. "If we can press the attack and play strong defensively we will have the opportunity to succeed and return to the playoffs."
Last year's Warrior soccer squad started the season 3-6 before winning a school-record six straight matches late in the season to capture second place in the MACJC North Division and host a first round playoff match. East Central's season ended with a home playoff loss to Southwest Mississippi Community College.
Gone from that 2016 squad is midfielder Fredy Gutierrez, who was named National Junior College Athletic Association All-Region 23 and MACJC All-Star, while also receiving the team's Golden Boot Award and Most Valuable Player Award. The Pontotoc product was ECCC's leading scorer and the top scorer in the North Division last year with 12 goals and three assists.
Returning starters include forward Tanner Lindsey of Northwest Rankin, midfielders Jacob Thomas of Northwest Rankin and Henry Artica of Oxford, and all four defenders in center backs Hector Mendoza of Center Hill and Andrew Bernard of Southeast Lauderdale and outside fullbacks Cory Furlow of Clinton and Tyler White of Madison-Ridgeland Academy. Tanner and Thomas were named MACJC All-State a year ago, while Bernard, Furlow, and Mendoza were MACJC Honorable Mention All-State.
"Tanner Lindsey will contribute heavily to our scoring this year," noted Thompson. "The defensive back four will be a strength for us. We will rely heavily on them early in the season as we start to come together as a team."
Thompson also expects newcomer Randy Argueta to contribute early. The freshman defender from Forest could play a key role as a center defensive midfielder.
"He is a strong player who reads the field well and has really good skills defensively and attacking," said Thompson.
Goalkeeper Zack Vickers out of Northwest Rankin also is gone for 2017. Vickers played every minute in goal for the Warriors last season and garnered MACJC Honorable Mention All-State and was named to the MACJC All-Star Game.
Replacing Vickers will be goalkeeper by committee. Thompson said freshman Chris Perez out of Forest would step into goal, but also see time in the field. "Goalkeeping with be a shared responsibility this year," explained Thompson.
Hunter Holdiness, a product of Warren Central, also will see extensive playing time as a freshman because of his "knack for getting to the goal," said Thompson.
"Stability on the field while the new players learn what we are trying to do will be key for us," he added.
Thompson said he is working in the preseason on increasing the team's goal scoring ability. The Warriors scored two or fewer goals in 12 matches last season.
"My philosophy revolves around defense, so we hope we will see strong defensive play all over the field again this year," Thompson said. "But we need to score more to take some of the pressure off the defense during the games. I fully expect our scoring opportunities to go up this year. We have some guys who have the real ability to finish shots. If they get the opportunities then our scoring will definitely increase.
"We need to protect our goalkeepers this season and increase our scoring for us to be looking at postseason play again."
The Warriors open their season Friday, Aug. 25, at Meridian Community College at 7 p.m. The home opener for East Central will be Wednesday, Aug. 30, against Southwest Mississippi Community College at 4 p.m. at the Soccer Complex on the campus in Decatur.
A complete schedule and team roster can be found online at www.ecccathletics.com.