October 14, 2017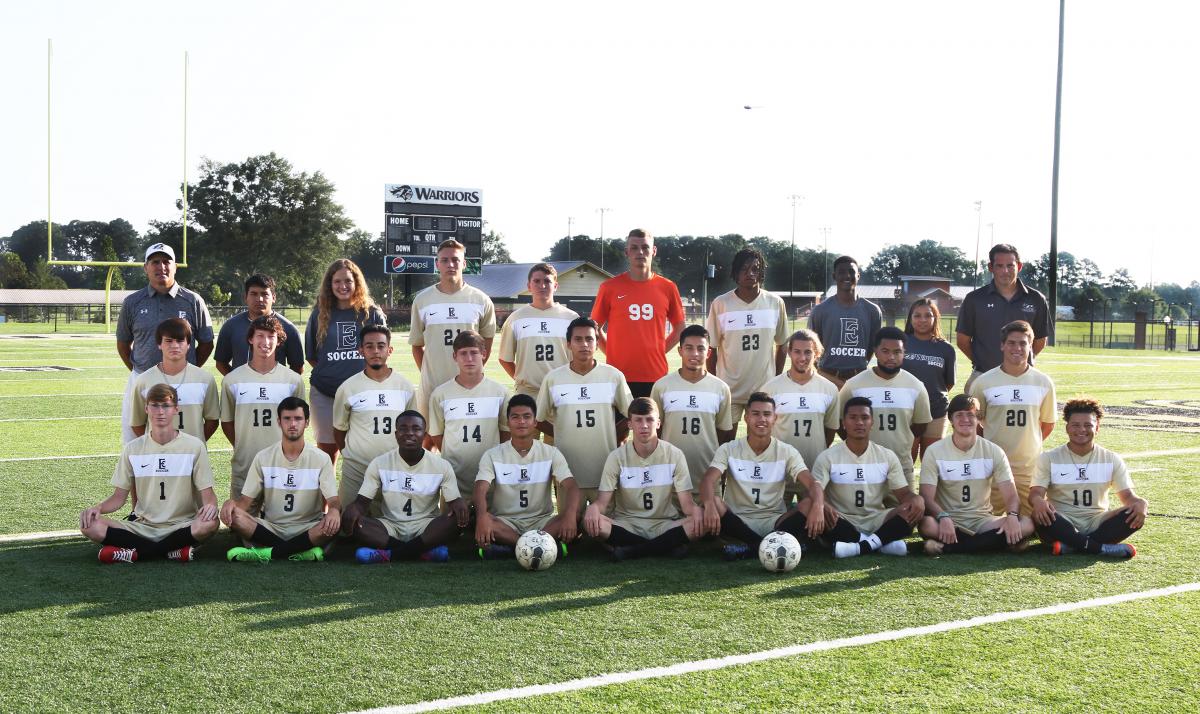 The 2017 MACJC North Division Champion ECCC Men's Soccer Team. (EC Photo)
The East Central Community College men's soccer team needed to defeat Hinds Community College by four goals in the last regular season match to secure an MACJC North Division Title, and the Warriors did exactly that with a 4-0 win Friday, Oct. 13, at the Soccer Complex in Decatur.
It was East Central's first division title since 2012.
With the North Division Title in hand, the Warriors now wait to see who their opponent will be when the Mississippi Association of Community and Junior Colleges State/National Junior College Athletic Association Region 23 Tournament Semifinals begin Saturday, Oct. 28, on the Holmes Community College campus in Ridgeland.
East Central scored three first-half goals and one after intermission. Scoring goals for the Warriors were sophomore midfielder Jacob Thomas of Northwest Rankin, assisted by sophomore defender Cory Furlow of Clinton; sophomore defender Andrew Bernard of Southeast Lauderdale, assisted by Thomas; sophomore wing Joseph Stewart of Callaway High School, assisted by freshman forward Hunter Holdiness out of Warren Central; and sophomore defender Tyler White of Madison-Ridgeland Academy on a penalty kick.
The Warriors finish the regular season 9-5-1 overall and 5-2-1 in league play. Hinds, the reigning MACJC State Champion, fell to 5-5-1 and 4-2-1.
In the women's game, the East Central women coasted to a 10-0 win over the Hinds Lady Eagles behind the four goals of sophomore midfielder Ashley Langham from Florence. Sophomore forward Cailee Helen McClain of Starkville added two goals, and freshman Jordan Havens of Horn Lake, freshman midfielder Eva Foran of Brisbane, Australia, sophomore defender Carolyn Nickles of East Rankin Academy, and freshman forward Kelli Vaughn of Millbrook, Ala., each had one goal.
The East Central women improved to 5-4-2 overall and 3-4-1 in the league. Hinds is now 1-9 and 0-7 in the league.
The East Central men have completed regular season play and will now host their annual Alumni Game at 6 p.m. on Friday, Oct. 20, in Bailey Stadium on campus. The ECCC women will play at Southwest in Summit at 3 p.m. on Friday, Oct. 20.