July 18, 2016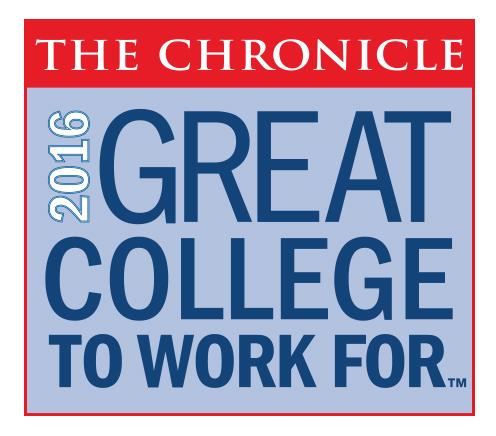 East Central Community College in Decatur today was named one of the best colleges in the nation to work for in an annual survey of more than 46,000 college and university employees by The Chronicle of Higher Education.
 
The Chronicle, a top trade publication for colleges and universities, released online today its annual report on The Academic Workplace, including its list of the 2016 Great Colleges to Work For. The report will also be published in The Chronicle's Academic Workplace Special Issue to be released July 22.
 
ECCC was one of only three community colleges in Mississippi and one of only 25 two-year schools in the nation to be honored this year by The Chronicle. In all, only six two-year or four-year colleges and universities in the state received recognition.
 
Only 93 of the institutions that applied for the program achieved 2016 "Great College to Work For" recognition. Results are reported for small, medium, and large institutions, with East Central Community College included among the small institutions with 2,999 students or fewer.
 
East Central was recognized in the categories of Collaborative Governance, for faculty members who are appropriately involved in decisions related to academic programs; Confidence in Senior Leadership, for leaders who have the necessary knowledge, skills, and experience for institutional success; Supervisor/Department Chair Relationship, for supervisors who make expectations clear and solicit ideas; and Work/Life Balance, for policies that give employees the flexibility to manage their personal lives.
 
"This is a recognition we have worked hard to achieve since I arrived on campus in July 2012," said ECCC President Dr. Billy Stewart upon receiving word that East Central is a 'Great College to Work For.' "This is a well-deserved honor for our campus community and is indicative of the wonderful things that are going on at East Central Community College. It also is a testament to the commitment of our faculty, staff, and administration who desire for ECCC to be among the best places to work in the nation."
 
The Chronicle's Great Colleges to Work For is one of the largest and most respected workplace-recognition programs in the country. Now in its ninth year, it recognizes the colleges that get top ratings from their employees on workforce practices and policies.
 
To administer the survey and analyze the results, The Chronicle worked with ModernThink LLC, a strategic human capital consulting firm that has conducted numerous "Best Places to Work" programs.
 
The survey rates institutions on 12 categories in the fields of leadership, careers, the workplace, and compensation.
 
The survey results are based on a two-part assessment process: an institutional audit that captured demographics and workplace policies, and a survey administered to faculty, administrators, and professional support staff at participating colleges and universities. The primary factor in deciding whether an institution received recognition was the employee feedback.
 
"It's especially humbling that East Central Community College is a 'Great College to Work For' based solely on confidential input from our faculty, staff, and administrators," noted Stewart.
 
"Nine years in, The Chronicle's Great Colleges to Work For program is well known as a mark of a college or university that puts thought and effort into serving the needs of its faculty and staff," said Liz McMillen, editor of The Chronicle. "The colleges and universities that make the list are highly rated by their employees for creating great work environments, an important achievement that helps them recruit top academic and administrative talent."
 
For more information and to view all the results of the survey, visit The Chronicle's Web site http://chronicle.com/interactives/greatcolleges16.