July 17, 2017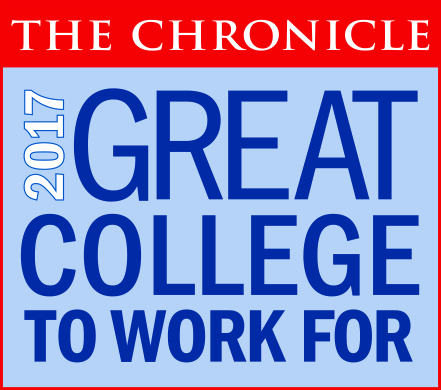 For the second straight year East Central Community College in Decatur was named one of the best colleges in the nation to work for in an annual survey of more than 45,000 college and university employees by The Chronicle of Higher Education.
The Chronicle, a top trade publication for colleges and universities, released online today its 10th annual report on The Academic Workplace, including its list of the 2017 Great Colleges to Work For. The report will also be published in The Chronicle's Academic Workplace Special Issue to be released July 23.
ECCC was one of only three community colleges in Mississippi and one of only 22 two-year schools in the nation to be honored this year by The Chronicle. In all, only six two-year or four-year colleges and universities in the state received recognition.
Only 79 of the institutions that applied for the program achieved 2017 "Great College to Work For" recognition. Results are reported for small, medium, and large institutions, with East Central Community College included among the small institutions with 2,999 students or fewer.
The survey rates institutions on 12 categories in the fields of leadership, careers, the workplace, and compensation.
East Central was recognized in the categories of Compensation and Benefits, for pay that is fair and benefits that meet the needs of employees; Confidence in Senior Leadership, for leaders who have the necessary knowledge, skills, and experience for institutional success; and Work/Life Balance, for policies that give employees the flexibility to manage their personal lives.
The Chronicle's Great Colleges to Work For survey is the largest and most comprehensive workplace study in higher education. It recognizes the colleges that get top ratings from their employees on workforce practices and policies.
"To be recognized two years in a row as a great place to work by one of the most recognized publications in higher education is just a remarkable accomplishment for East Central Community College," said ECCC President Dr. Billy Stewart. "The credit for this honor goes to our hard-working and dedicated faculty, staff, and administration, and to all those who support our college in so many ways, including our Board of Trustees, the five counties we serve, our alumni, and our elected officials.
"The fact that the primary factor in deciding whether a college or university is included in the Great Colleges to Work For recognition is employee feedback is especially satisfying."
The survey results are based on a two-part assessment process: an institutional audit that captures demographics and workplace policies, and a survey administered to faculty, administrators, and professional staff. The primary factor in deciding whether an institution receives recognition is the employee feedback.
To administer the survey and analyze the results, The Chronicle worked with ModernThink LLC, a strategic human capital consulting firm that has conducted numerous "Best Places to Work" programs.
"Ten years in, The Chronicle's Great Colleges to Work For program is well known by jobseekers as a sign that an institution's employees are valued and given opportunities for growth even when they face financial constraints," said Liz McMillen, editor of The Chronicle. "Any college or university that is on the list is showing that they emphasize one of their most valuable assets: their faculty and staff."
For more information and to view all the results of the survey, visit The Chronicle's Web site http://www.chronicle.com/specialreport/Great-Colleges-to-Work-For/128.