August 9, 2017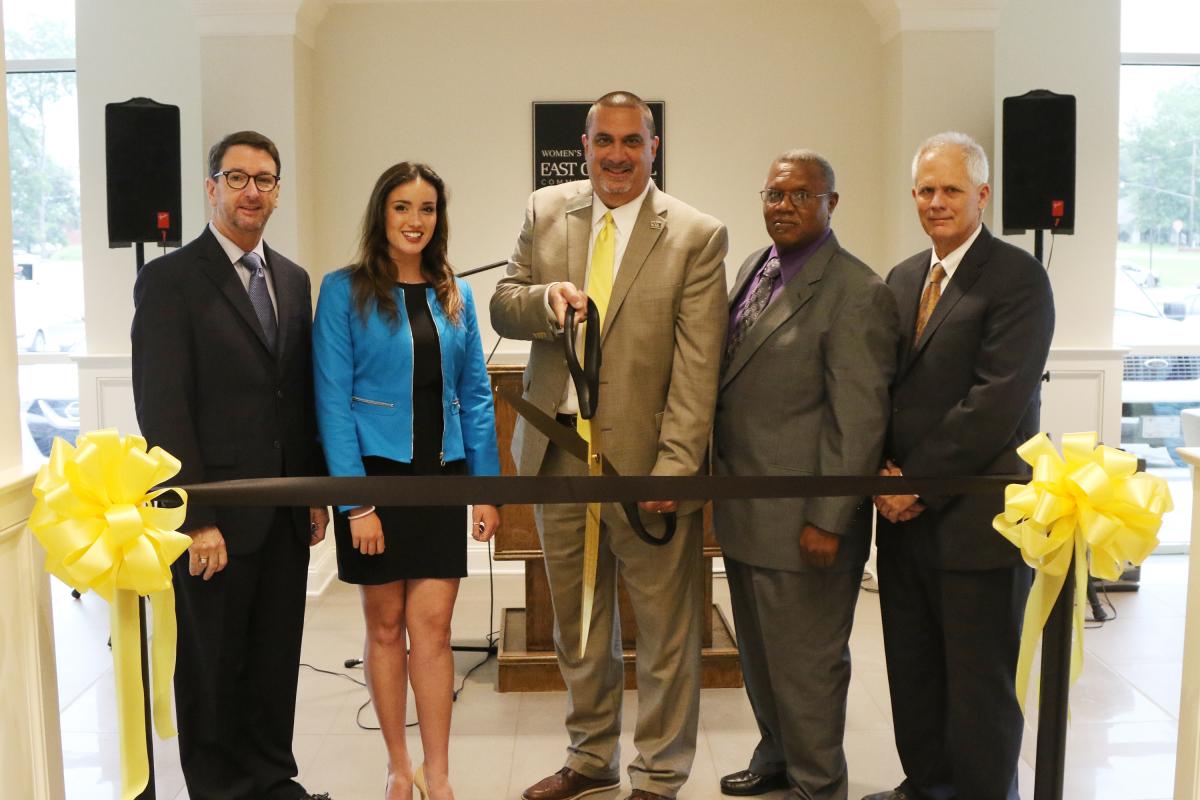 Shown cutting the ribbon to officially open the new Women's Residence Hall at East Central Community College in Decatur are (from left) Board of Trustees Chairman Dr. Jimmy Hollingsworth of Lake, ECCC Student Body Association President Makaeya Brock of Decatur, ECCC President Dr. Billy Stewart, ECCC Board Vice Chairman Jerry Smith of Philadelphia, and architect Taylor Guild of Eley Guild Hardy Architects. (EC Photo)
East Central Community College held ribbon cutting ceremonies Tuesday, Aug. 8, 2017, to officially open its new Women's Residence Hall on the Decatur campus.
The ceremony was held in the lobby of the new facility located on the South Campus adjacent to the existing Erma Lee Barber Women's Residence Hall.
In his opening remarks, college President Dr. Billy Stewart said, "Today marks a special day in the history of our institution as we celebrate progress on our College's strategic plan, 2020 Vision. … Today's event also marks progress on the Campus Master Plan adopted by the Board in September of 2016 as this is the first new housing on campus since 1999 when Barber Hall was completed. The completion of this $6.6 million construction project we celebrate today is just one of the many projects included in the 5-Year Master Plan."
In addition to Stewart, those participating on the program included the chair of the college's Board of Trustees Jimmy Hollingsworth, and Student Body Association President Makaeya Brock of Decatur.
Dr. Hollingsworth said, "On behalf of the Board of Trustees, I want to tell you how excited we are to have this additional housing and be able to provide space for our students to grow."
Brock said, "I am honored to be standing here today to thank you on behalf of the student body. Over 110 girls are going to come here and feel loved and cared for here at East Central."
The new Women's Residence Hall at ECCC was funded using bond revenue and with financial support from each of the five counties in the college's district.
Stewart said, "There is absolutely no way to adequately express my appreciation to the Boards of Supervisors of Leake, Neshoba, Newton, Scott, and Winston counties. Suffice to say, without them and their financial support, this project would not have even been started.
"In 1998, through the support of these five counties, the College took out a $3.3 million, 25-year construction loan to build Barber Hall. With continued funding from each of the College's supporting counties each year, the College was able to pay off that 25-year loan in October 2015, eight years early. This early payoff saved the taxpayers of our district an estimated $250,000 in interest.
"Two years ago, I approached each Board of Supervisors and asked for their consideration of continuing the funding for Barber Hall even after pay-off of the loan in order to build another women's residence hall. All five Boards of Supervisors said 'yes, we will continue that payment.' Thus, what you see here today is due in very large part to them. I know a mere thank you sometimes feels inadequate. I hope you and they know how much their support means to our college."
The modern, three-story facility includes 56 rooms, a study area and a kitchen on each floor for student use, and a coin-operated laundry room. The residence hall also includes wireless internet and cable TV similar to the eight other student living facilities on the ECCC campus. The lobby area includes a television and social and study space for the residents. The exterior features a fountain and social space for students to enjoy.
The new Women's Residence Hall will be filled to capacity during the fall 2017 semester, which begins on Monday, Aug. 14, and the college has a waiting list of about 65 female students who wish to live on campus.
There will be more than 700 students living on the Decatur campus when fall 2017 classes begin. ECCC is currently the second most residential college or university campus in the state of Mississippi with 23 percent of students living in campus housing. With the addition of the new Women's Residence Hall, it is anticipated that the percentage of on-campus residents will rise to 30 percent, making ECCC the most residential campus in the state.
The architect for the Women's Residence Hall was Eley Guild Hardy Architects of Jackson and Biloxi and the contractor was J&J Contractors of Meridian.