October 2, 2018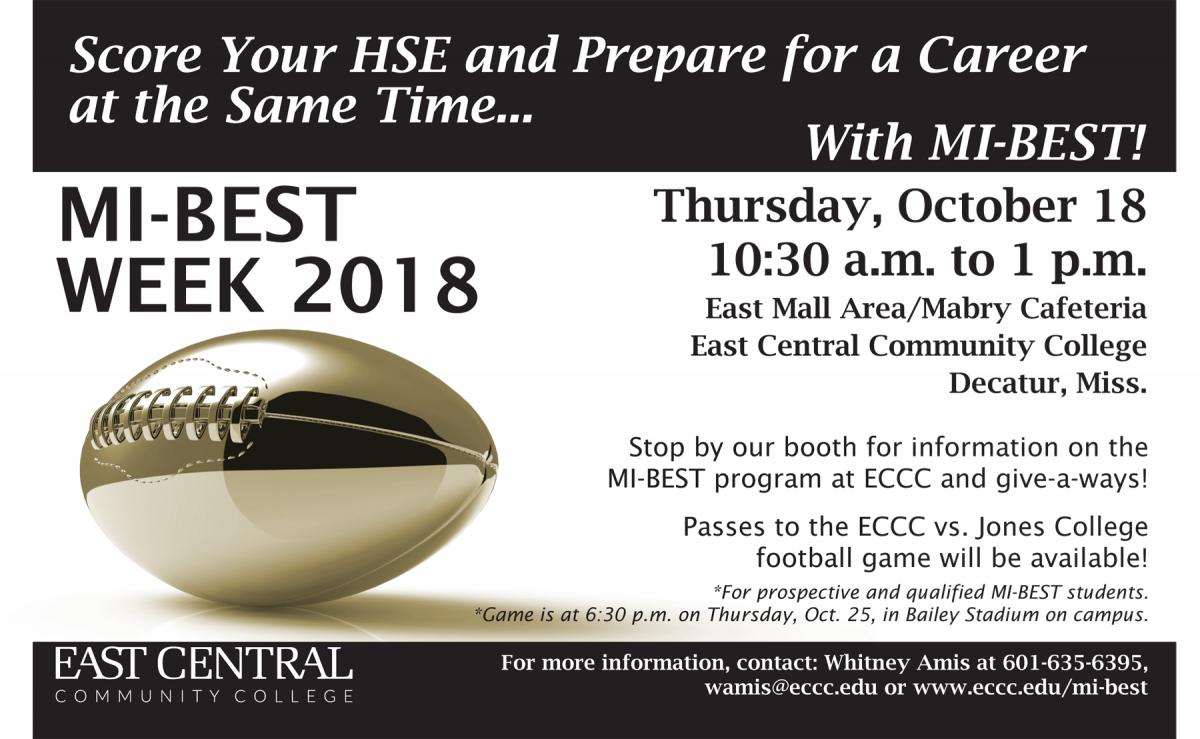 East Central Community College's MI-BEST program is participating in the statewide MI-BEST Week 2018 scheduled for Oct. 15-18 on community college campuses around the state.
ECCC MI-BEST representatives will have an information booth set up in the East Mall area outside of Mabry Cafeteria on the Decatur campus from 10:30 a.m. to 1 p.m. on Thursday, Oct. 18. In addition to information on MI-BEST and give-a-ways, prospective and qualified students will receive a pass to the East Central vs. Jones College football game at 6:30 p.m. on Thursday, Oct. 25, in Bailey Stadium on campus.
Mississippi Integrated Basic Education and Skills Training, or MI-BEST, allows qualified applicants to take courses they need to prepare for the high school equivalency exam while at the same time training for jobs in various fields. At East Central Community College, MI-BEST students can train for jobs in the collision repair technology, business and office technology, certified nurse assistant, culinary arts technology, hotel and restaurant management, and heating, ventilation, and air conditioning (HVAC) fields.
There is no cost for tuition for students who qualify for MI-BEST. MI-BEST students also receive a $200 incentive when they successfully complete the High School Equivalency Exam, thanks to a grant from the Kellogg Foundation.
Testing and interviews for students interested in enrolling in the ECCC MI-BEST program for the spring 2019 semester will be held beginning at 9 a.m. on Oct. 8 and Nov. 9  in Room 12 of Etheridge Hall on the Decatur campus.
Prospective MI-BEST students should contact Whitney Amis at 601-635-6395 or wamis@eccc.edu.