March 8, 2018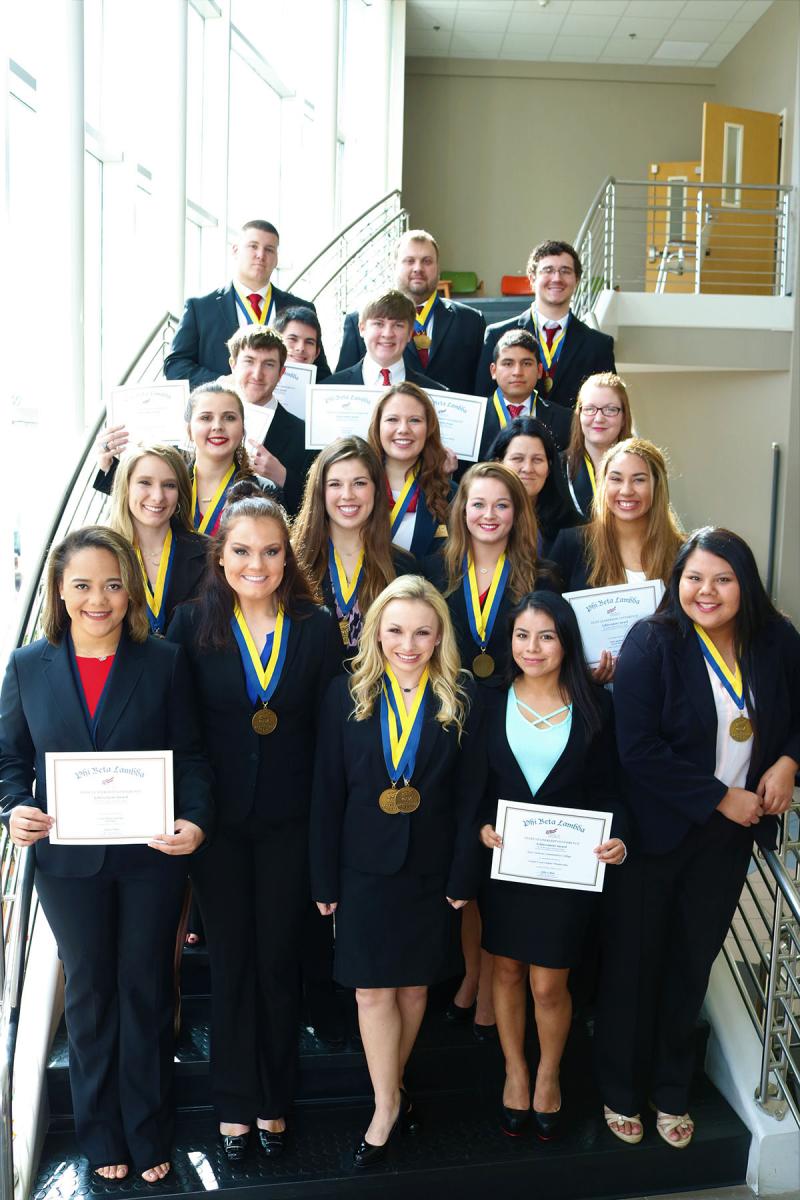 ECCC Phi Beta Lambda students receiving awards during the State Leadership Conference included (front row, from left) Alexus Patrick, Mickenzie Myers, Shelby Greenwood, Onelia Prez and Autumn McMillian; (second row, from left) Brittany Watkins, Reagan Gorgas, Sydney Baucum and Alexis Rover; (third row, from left) Abby Smith, Jessica Everett, Jackie Cates and Samantha McMullan; (fourth row, from left) Jacob Plaisance, Drew Chapman, Jacob Hemphill and Guillermo Fermin; and (back row, from left) Joseph Blount, Justin Wilcher and Sam Loper. (Submitted Photo)
Members of East Central Community College's Theta Chi Chapter of Phi Beta Lambda received top honors during the State Leadership Conference and qualified for national competition in 16 categories. National competition will be held this summer in Baltimore, Md. The state conference was held at Mississippi University for Women in Columbus.
Theta Chi also received first place in raising funds for the March of Dimes, first place in Mississippi for the largest local chapter, received Foundation Recognition and was recognized as a Gold Seal Chapter.
Individual recognition was given to Jessica Everett of Decatur who was the outgoing state president, and newly elected state officers Justin Wilcher of Philadelphia, vice president, and Sam Loper of Philadelphia, parliamentarian. Joseph Blount of Philadelphia received the Rufus T. Jones Scholarship and Theta Chi members selected for Who's Who in PBL included Blount, Everett, and Nicole Ferguson and Abby Smith, both of Philadelphia.
Inducted in the Mississippi Phi Beta Lambda Hall of Fame were Everett, and Khalil Triplett and Kiara Cunningham, both of Philadelphia, for their first place national recognition in Small Business Plan during the 2017 National Leadership Conference in Anaheim, Calif.
State award winners include Reagan Gorgas of Decatur and Guillermo Fermin and Brittany Watkins, both of Forest, first place, business presentation; Jackie Cates of Newton and Samantha McMullan of Decatur, first place, computer animation; Nicole Ferguson and Khalil Triplett, both of Philadelphia, first place, financial services; Shelby Greenwood of Philadelphia, first place, Future Business Executive; Ferguson, Triplett, Greenwood, and Justin Wilcher and Sam Loper, both of Philadelphia, first place, parliamentary procedure; Joseph Blount of Philadelphia, Mickenzie Myers of Forest, and Makaeya Brock of Decatur, first place, integrated marketing campaign; Suzanne Hollingsworth of Forest and Wilcher, first place, local chapter annual business report; Sydney Baucum and Jessica Everett, both of Decatur, first place, statistical analysis and decision making; Autumn McMillan and Abby Smith, both of Philadelphia, and Watkins, first place, emerging business issues; Cates, second place, accounting analysis and decision making; Alexis Rover of Little Rock, second place, public speaking; Baucum, second place, job interview; Everett, second place, client service; Blount and McMullan, second place, forensic accounting; Robert Chapman of Union, Jacob Hemphill of Decatur, and Jacob Plaisance of Union, second place, business law; Fermin, third place, impromptu speaking; Smith, Gorgas, and Alexus Patrick of Forest, third place, social media campaign; Chapman, Hemphill, and Plaisance, third place, marketing analysis and decision making; and Sam Loper, fourth place, business communications.
Christy Ferguson, Thomas Fortenberry and Judy Hurtt serve as advisors.