July 21, 2017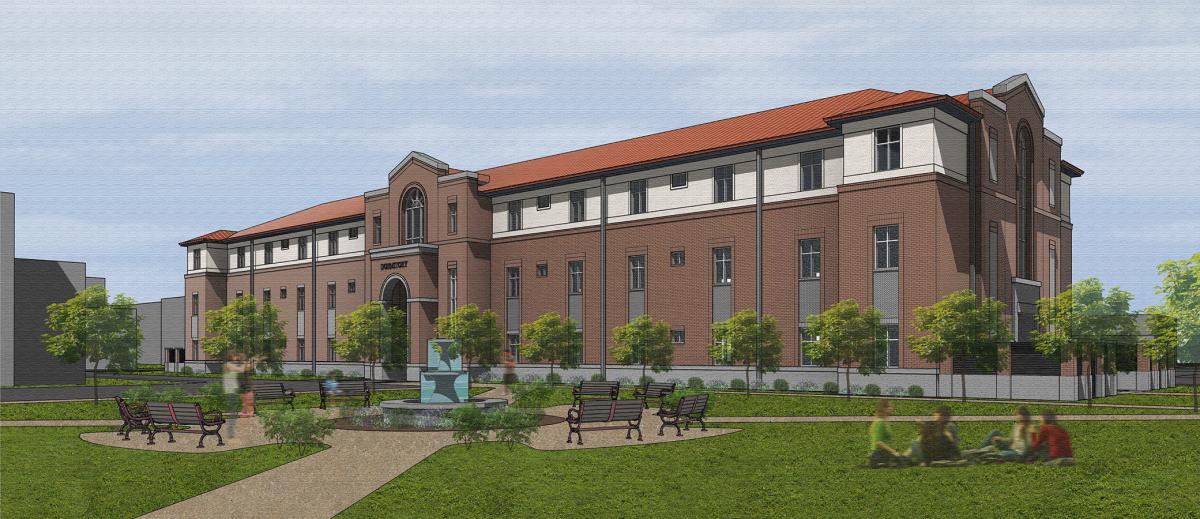 Architect's rendering of the New Residence Hall at East Central Community College in Decatur.
East Central Community College will dedicate its new Women's Residence Hall with a Ribbon Cutting Ceremony at 10:30 a.m. on Tuesday, Aug. 8, 2017 on the campus in Decatur.
The ceremony will be in the lobby of the new facility located on the South Campus adjacent to the existing Erma Lee Barber Women's Residence Hall.
The ribbon cutting will include remarks by ECCC President Dr. Billy Stewart, the chair of the college's Board of Trustees Dr. Jimmy Hollingsworth, and Student Body Association President Makaeya Brock of Decatur. Tours of the residence hall will be available following the ribbon cutting.
The $6.6 million new Women's Residence Hall at ECCC was funded using bond revenue and with financial support from each of the five counties in the college's district.
The modern, three-story facility includes 56 rooms, a study area and a kitchen on each floor for student use, and a coin-operated laundry room. The residence hall also includes wireless internet and cable TV similar to the seven other student living facilities on the ECCC campus. The lobby area includes a television and social and study space for the residents.
The exterior features a fountain and social space for students to enjoy.
The new Women's Residence Hall will open for the first time for the fall 2017 semester, which begins on Monday, Aug. 14. The facility is filled to capacity and the college has a waiting list of nearly 75 female students who wish to live on campus.
There will be more than 700 students living on the Decatur campus when fall 2017 classes begin. ECCC is currently the second most residential college or university campus in the state of Mississippi with 23 percent of students living in campus housing. With the addition of the New Women's Residence Hall, it is anticipated that the percentage of on-campus residents will rise to 30 percent, making ECCC the most residential campus in the state.
The architect for the new Women's Residence Hall is Eley Guild Hardy Architects of Jackson and Biloxi and the contractor is J&J Contractors of Meridian.