The East Central Community College men's and women's soccer teams both posted wins over Copiah-Lincoln Community College in season opening matches played Aug. 25 at the ECCC Soccer Field on the Decatur campus.
The East Central women posted a high scoring 12-0 shutout victory over the visiting Co-Lin women's soccer team.
The East Central men pulled out a 5-2 victory in the nightcap against the Wolves.
In the women's action, East Central got goals from sophomore Presley McLemore of Brandon High School with 28 minutes left in first half of the match; from freshman midfielder Aubree Patterson of Richland High School with 13 minutes left; from freshman defender Madison Deslatte from Madison Central High School with 12 and nine minutes left in the half; two more goals from McLemore with eight minutes and 30 seconds left and five minutes and 40 seconds left; and from sophomore forward Kenzie Jenkins of McLaurin Attendance Center with one minute and 45 seconds left in the first half.
During the second half, East Central got goals in the first 40 seconds of the half from freshman Cailee Helen McClain of Starkville High School and Deslatte, from freshman forward Sierra Maness of Corinth High School with 40 minutes and 18 minutes left in the game, and from freshman midfielder Ta'Nissa McNair of Forest High School.
With the win, the ECCC women's soccer team starts off the season 1-0.
Three different players scored for the East Central men's team with sophomore forward Blake Bonds scoring ECCC's lone goal of the first half.
Bonds added two more goals in the second half. There were also goals from sophomore midfielder Fredy Gutierrez of Pontotoc High School and freshman forward Joseph Stewart of Callaway High School.
With the win, the Warriors begin their season 1-0.
The East Central men's and women's soccer squads hit the road to face Southwest Mississippi Community College in Summit on Friday, Aug. 26. On Wednesday, Aug. 31, East Central travels to Meridian to square off against Meridian Community College, with women's action at 5 p.m. and men's action at 7 p.m.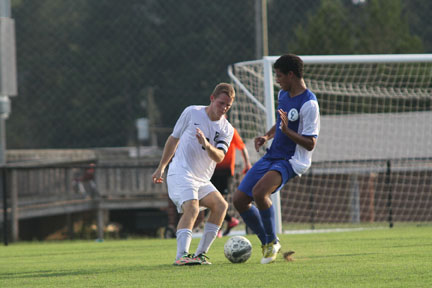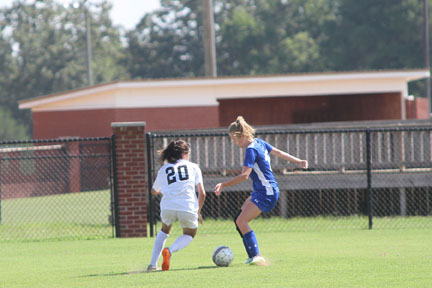 ECCC's Blake Bonds (white jersey) and Madison Deslatte (No. 20) in action agains Co-Lin. (EC Photos)