February 9, 2017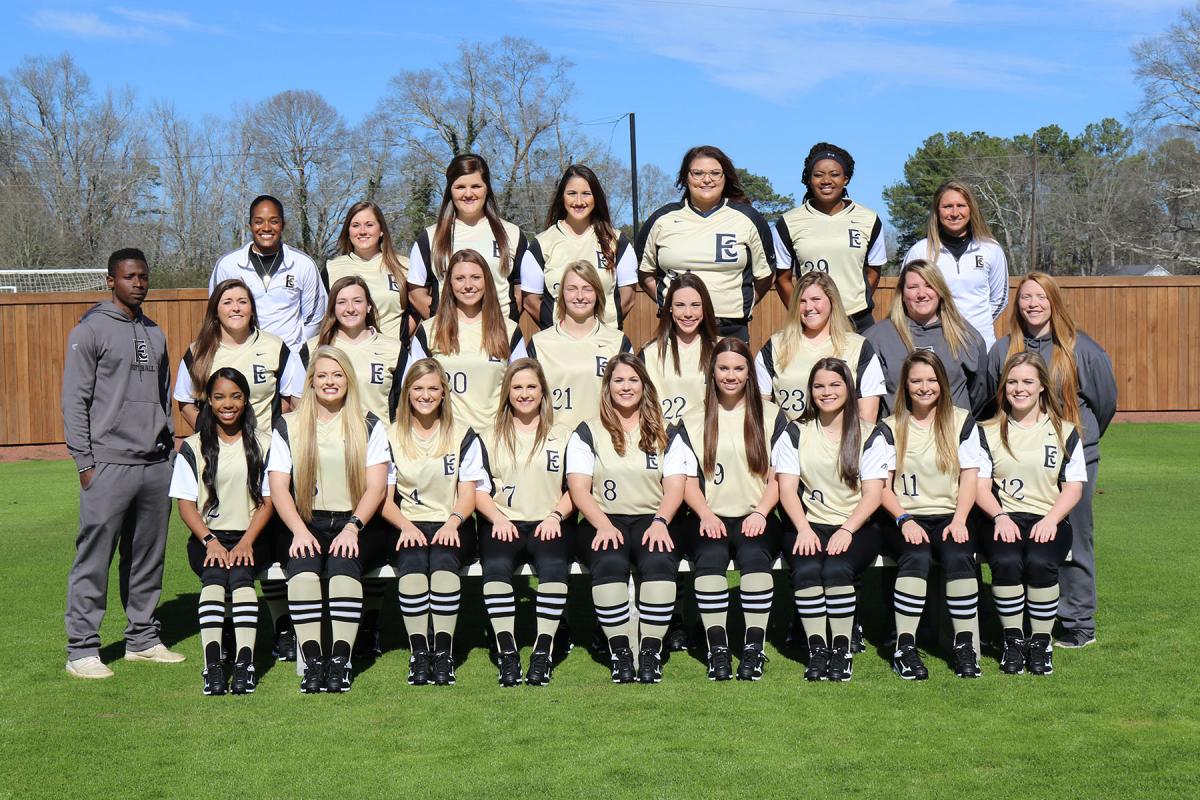 Members of the 2017 East Central Community College Lady Diamond Warrior softball team and their respective high schools include (first row, from left) freshman outfielder Kenyatta Moore, Philadelphia; freshman infielder Katherine Shell, Brookhaven; sophomore outfielder Abby Winstead, Sebastopol; freshman utility player Madalyn McMahon, Neshoba Central; freshman pitcher Anna Norris, Geraldine (Ala.); freshman pitcher/infielder Kaitlyn Oswalt, Heritage Academy; freshman outfielder Marlee Parkes, Nanih Waiya; freshman utility player Alyssa Pendergrass, Columbia; and freshman utility player Mackenzie Johnson, Nanih Waiya; (second row, from left) student assistant Ken McQueen, Nanih Waiya; sophomore infielder Brittney McCray, Sumrall; freshman infielder Kayla Beckham, Neshoba Central; freshman infielder Melanie McMillan, Lake; freshman infielder Cassie Obman, Caledonia; freshman infielder Shelby Walters, Northwest Rankin; freshman pitcher Madison York, Ocean Springs; and student assistants Morgan Leach, Sebastopol, and Sydney Battle, Philadelphia; and (back row, from left) assistant coach Rachel Hurley; freshman infielder Tagen Remmel, Clinton; freshman infielder Ali Gartman, Loyd Star; sophomore pitcher/infielder Brantlie Sheets, Nanih Waiya; freshman pitcher/infielder Mackenzie Rousseau, Vanderbilt Catholic (Houma, La.); sophomore infielder Latesia Davis, Newton County; and head coach Kristin Chaney. (EC Photo)
With only two starters returning, the No. 12 nationally ranked East Central Community College Lady Diamond Warriors expect a lot from their freshman class.
Head coach Kristin Chaney enters her fifth season at East Central with 16 freshmen, losing almost all starters from her successful 2016 squad.
Last year's softball team finished 44-11 and was eliminated from the 2016 National Junior College Athletic Association Region 23 Tournament by MACJC State Champion and eventual national runner-up Jones County Junior College. Gone from the team are Lacey Hill (Southeastern Louisiana University), 144 strikeouts and 21-7 record in the circle; Mahalia Gibson (Southeastern Louisiana University), 68 RBI and 17 home runs; Caitlyn Aldous (University of Southern Mississippi), .440 batting average and 32 RBI; and Maegen Ellis (Nicholls State University), 42 RBI.
Returning starters include catcher/infielder Brittney McCray, a product of Sumrall High School, who had 35 RBI and four home runs during the 2016 season. Also returning is infielder Latesia Davis of Newton County High School.
"McCray will be moving to first base, but will still catch some this season," Chaney said. "Latesia will be at second base."
The circle will feature two new pitchers for the Lady Warriors, freshman Kaitlyn Oswalt of Heritage Academy and Mackenzie Rousseau of Houma, La.
"These pitchers spin it a lot more than anything," Chaney noted. "We are going to have to play solid defense behind them."
Chaney will count on her freshman class that includes catcher Cassie Obman of Caledonia High School behind the plate, Kayla Beckham of Neshoba Central High School at shortstop, Madalyn McMahon of Neshoba Central at third, and Mackenzie Johnson of Nanih Waiya High School in the outfield.
"We have a lot of team speed, so we are going to have to steal some bases," Chaney added. "This is a very athletic team, and we've got to play defense and hit."
Chaney also adds a new assistant coach for the 2016-17 season.
Rachel Hurley, in her first season as assistant softball coach for the Lady Diamond Warriors, was a volunteer assistant softball coach last season at Meridian Community College. Hurley played softball at Mississippi College, where she was a second team All-Region and second team all-American Southwest Conference standout in 2010, and MC's Offensive Player of the Year in 2009. Prior to playing at Mississippi College, she played for the Mississippi State University Lady Bulldogs.
"Coach Hurley has brought a lot of fire back in me," Chaney said. "Her attitude is contagious and we are a lot alike; she is relentless."
This season the Lady Warriors will not play in any tournaments and Chaney thinks that their division schedule will be harder than ever this year.
There are three Mississippi community colleges ranked nationally ahead of East Central, including Jones, Mississippi Gulf Coast, and Itawamba, as well as regional opponent LSU-Eunice, who sits atop of the NJCAA preseason ranking.
Chaney says she told her 2016-17 squad that being ranked No. 12 nationally was based off of last year's team.
"The expectations are there, but they haven't earned anything. It's been given to them," noted Chaney. "I hope they take that as a challenge; they've got to earn it to keep it."
The East Central softball team will play 12 home games this season and as a team Chaney says they will strive to be better than they were the day before.
Most East Central home softball games game can be heard on the radio at WKOZ "Cruisin" 98.3. The radio broadcasts are also streamed online on the ECCC website at www.eccc.edu/eccc-media and at www.kicks96news.com. 
Live video streaming is available via high-definition video and streaming audio found at www.eccc.edu/eccc-media or www.kicks96news.com.