February 9, 2017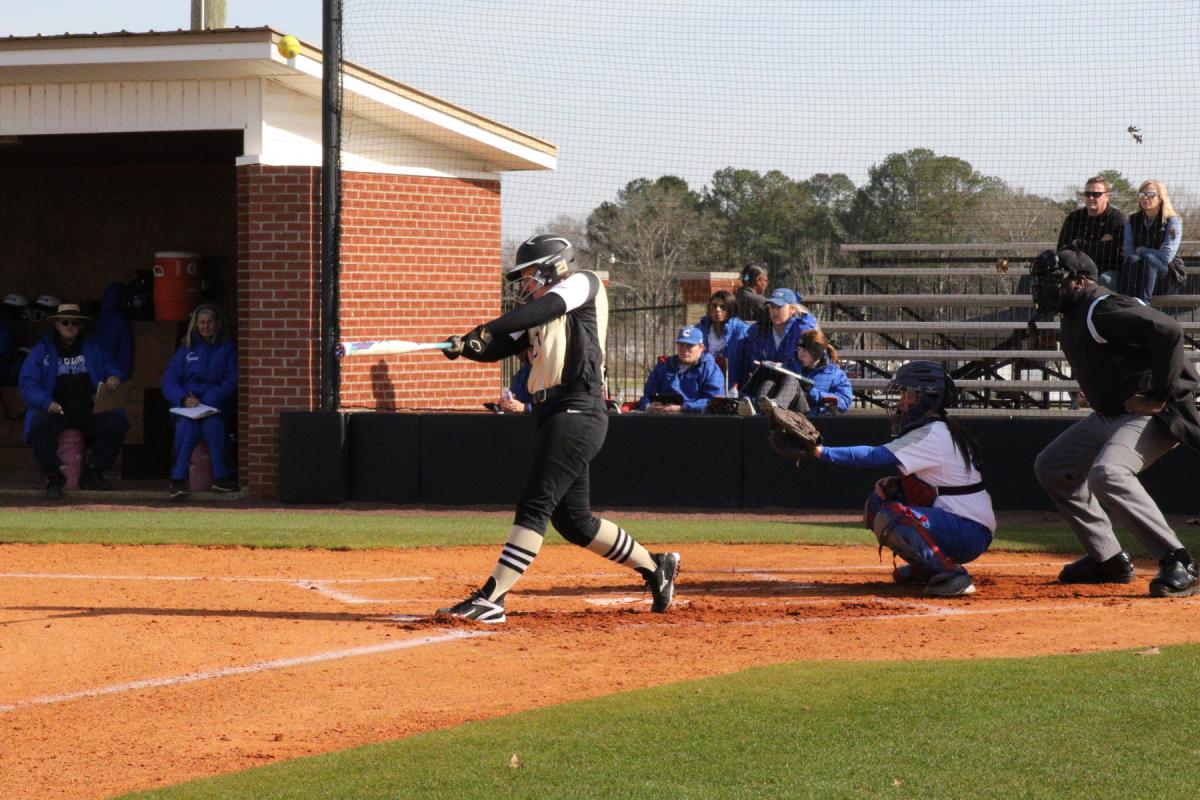 Freshman catcher Cassie Obman laces an RBI triple to help power East Central to a season-opening 9-1 win over Calhoun Community College.
The No. 12 nationally ranked East Central Community College Lady Warrior softball team opened its 2017 season with a doubleheader sweep over the Calhoun Community College Lady Warhawks Thursday, Feb. 9, at the Softball Park in Decatur.
East Central took game one 9-1 over the visitors from Decatur, Ala. An RBI single by freshman shortstop Kayla Beckham drove in the winning run in game two as the Lady Warriors came from behind to win 6-5
The Lady Warriors, who play in the National Junior College Athletic Association Division II, are 2-0 on the young season. Calhoun, an NJCAA Division I program, dropped to 2-2.
Starting eight freshmen, the Lady Warriors scored three runs on four hits in the bottom of the first inning in the game one win to take an early lead. Latesia Davis out of Newton County High School, Mackenzie Johnson from Nanih Waiya High School, and Brittney McCray of Sumrall High School all singled, while Cassie Obman out of Caledonia High School doubled.
East Central picked up a single run in the bottom of the second on a long triple off the right field wall by Beckham out of Neshoba Central High School that plated Davis.
The Lady Warriors got three more runs in the bottom of the fifth on six hits, including RBI doubles by freshmen Katherine Shell out of Brookhaven High School and Mackenzie Johnson, who prepped at Nanih Waiya High School.
Beckham added a two-run triple in the sixth to give ECCC the final 9-1 run-rule win. She finished game one 3-4 at the plate with three RBI.
Freshman pitcher Kaitlyn Oswalt out of Heritage Academy in Columbus picked up the win in the circle in her first college start throwing a four-hitter. Obman was 3-3 with one RBI and Johnson had two RBI for the Lady Warriors. East Central out-hit Calhoun 15-4.
Starting an all-freshman lineup in game two, the ECCC Lady Warriors again grabbed an early lead with three runs in the bottom of the second inning. Obman and freshman Tagen Remmel from Clinton High School singled in the inning and freshman Kenyatta Moore from Philadelphia High School doubled in a run.
Calhoun would respond with a run in the third and then four more in the fourth on four hits including a three-run home run to take a 5-3 lead.
East Central tied the game at 5-5 in the bottom of the frame on a two-run shot over the left field wall by Johnson.
Johnson led off the top bottom of the seventh for East Central with a triple off the center field wall, before Beckham gave the Lady Warriors the victory with her walk-off single. Johnson was 2-4 at the plate in game two with two RBI.
Oswalt also won game two in relief. She replaced freshman Mackenzie Rousseau in the top of the fourth with no outs. Rousseau, who started her first college game, is a product of Vanderbilt Catholic High School in Houma, La.
East Central will stay at home to host NJCAA Division I Marion Military Institute in a doubleheader beginning at 2 p.m. on Monday, Feb. 13, before traveling to Scooba Thursday, Feb. 16, to face East Mississippi Community College in a doubleheader beginning at 1 p.m.
Most East Central home softball games game can be heard on the radio at WKOZ "Cruisin" 98.3. The radio broadcasts are also streamed online on the ECCC website at www.eccc.edu/eccc-media and at www.kicks96news.com.
Live video streaming is available via high-definition video and streaming audio found at www.eccc.edu/eccc-media or www.kicks96news.com.