January 27, 2017
East Central Community College Tennis Coach Jay Pacelli says more talent and increased depth have brought much optimism to the college's men's and women's tennis teams as they hit the courts for the spring 2017 season Friday, Feb. 3, at Marion Military Institute in Marion, Ala.
Pacelli, who is in his second year leading the ECCC tennis teams, said both teams will be better this season.
"We will be improved," Pacelli said. "I believe our women's team at a minimum can take a leap into the top half of the teams in the Mississippi Association of Community and Junior Colleges. Our men should be competing for a spot at the national tournament and possibly for a state championship.
"We have lofty goals. We would not be here if we didn't have lofty goals. The other teams in the state will be better this year as well, but I have faith in our teams. We will be better, but we still have to prove that on the court."
The ECCC men finished fifth out of 10 teams in the state last spring and are currently ranked No. 22 in the nation by the Intercollegiate Tennis Association.
Pacelli said three sophomores will provide leadership this year as the incoming freshmen get adjusted to college play. Returning are Graham Murphree and Will Stewart of Newton County High School and Brandon Rogers out of Winston Academy.
"We added terrific, accomplished tennis players to our nucleus," said Pacelli. "We have nine players who can step up, play quality tennis, and be successful."
Newcomers expected to contribute include Tom Langelaar from Van Maelant High School in Veldhoven, Netherlands; Joseph Jabour and William Wooten, both from Warren Central High School in Vicksburg; and Emontie Lewis and Mark Stewart, both from Terry High School in Byram.
"I see Tom and returning No. 1 player John Jimenez (Oruro, Bolivia) being two of the top players in the state and contributing heavily to our success," noted Pacelli. "All five freshman bring great skill and depth to our men's team."
On the women's side, Chaney Mills from Newton County High School and Andi McCrimon from Winston Academy return from a team that finished eighth in the state last year and currently is ranked No. 8 in the ITA Region III rankings. As co-captains, they will provide leadership for the newcomers, including Tatiana Quinonez of Liceo San Rafael School in Bogota, Colombia.
"I envision Tatiana at the top of our lineup both in singles and doubles," Pacelli said. "She is a very accomplished player."
Several other new players who performed well in the fall joining the women's team include An Duong from Richland High School and Julia Johnston from Florence High School.
"They both made incredible improvement this past fall," said Pacelli. "All the women, for that matter, are working hard, further developing their skills, and ready to have a strong 2017 campaign."
The ECCC tennis teams will get a new home for the spring 2017 season. A ribbon cutting will be held Feb. 14 to officially open a new Tennis Complex that includes eight lighted courts to serve the ECCC men's and women's varsity tennis teams, as well as the campus and local communities. The facility includes parking and spectator areas, which were not possible at the current four-court tennis complex on campus that was originally built in 1969.
Pacelli said the new complex will help him to better train and attract tennis players.
"This is a much-needed addition to our tennis programs," said Pacelli. "It gives us the adequate court space needed by a college program that will make our training more effective and our dual matches more efficient. We also will be able to host tournaments in the future.
"It also will be a huge draw for prospective recruits. It is definitely going to be one of the top tennis complexes in the state of Mississippi."
Pacelli said that all of his players will now be able to train at the same time rather than split practice schedules and that dual matches that once took up to eight hours on the existing four courts at ECCC will now take four hours or less.
Because of the construction, the ECCC men's and women's teams will play 11 of their first 12 matches on the road.
"We will be in a difficult spot the first half of the season due to the schedule, but if we can get through that okay we will be set up to finish strong at home," explained Pacelli.
After opening with one of the top programs in the nation in Marion Military Institute on Feb. 3, East Central travels to Meridian to face the defending MACJC state men's and women's champions Feb. 6.
"We start the season with heavyweights," said Pacelli. "It will be an excellent determination of where our program is right from the start."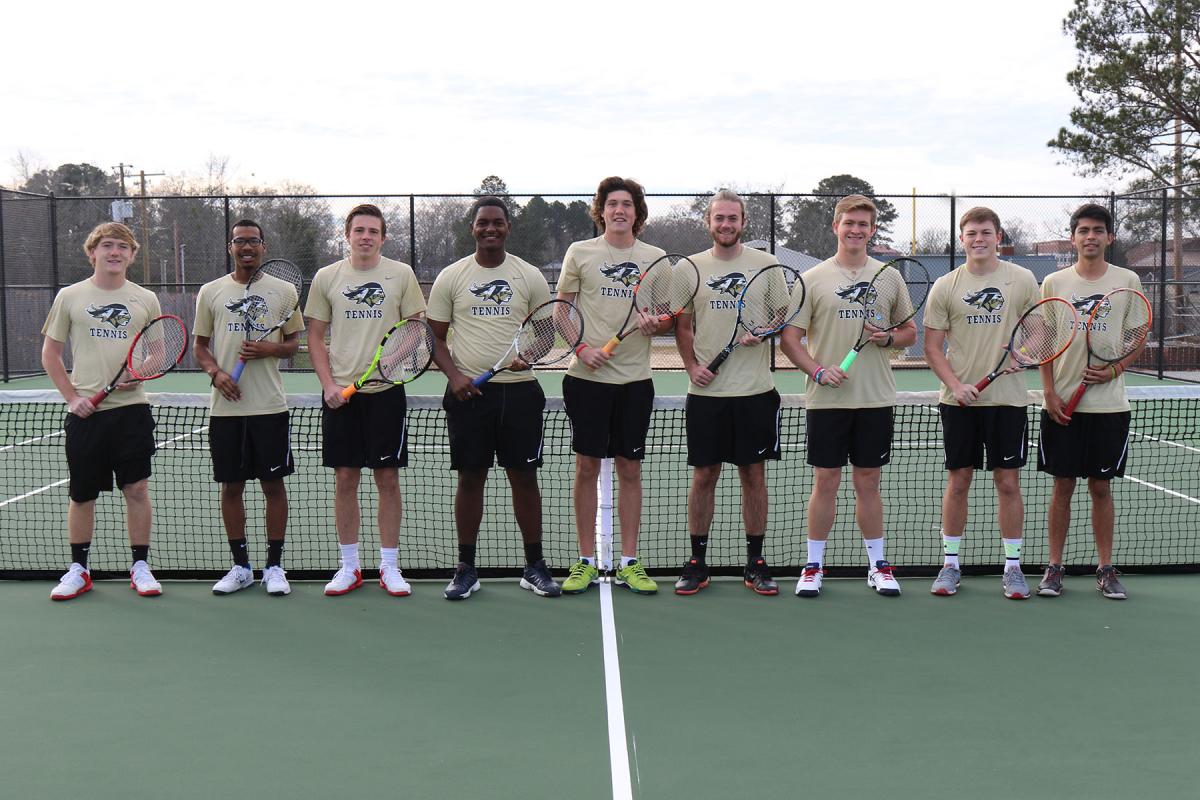 Members of the 2017 East Central Community College men's tennis team, from left, are William Wooten, Warren Central High School; Emontie Lewis, Terry High School; Tom Langelaar, Veldhoven, Netherlands; Mark Stewart, Terry High School; Joseph Jabour, Warren Central High School; Will Stewart, Newton County High School; Graham Murphree, Newton County High School; Brandon Rogers, Winston Academy; and John Jimenez, Angelo American School, Oruro, Bolivia. (EC Photo)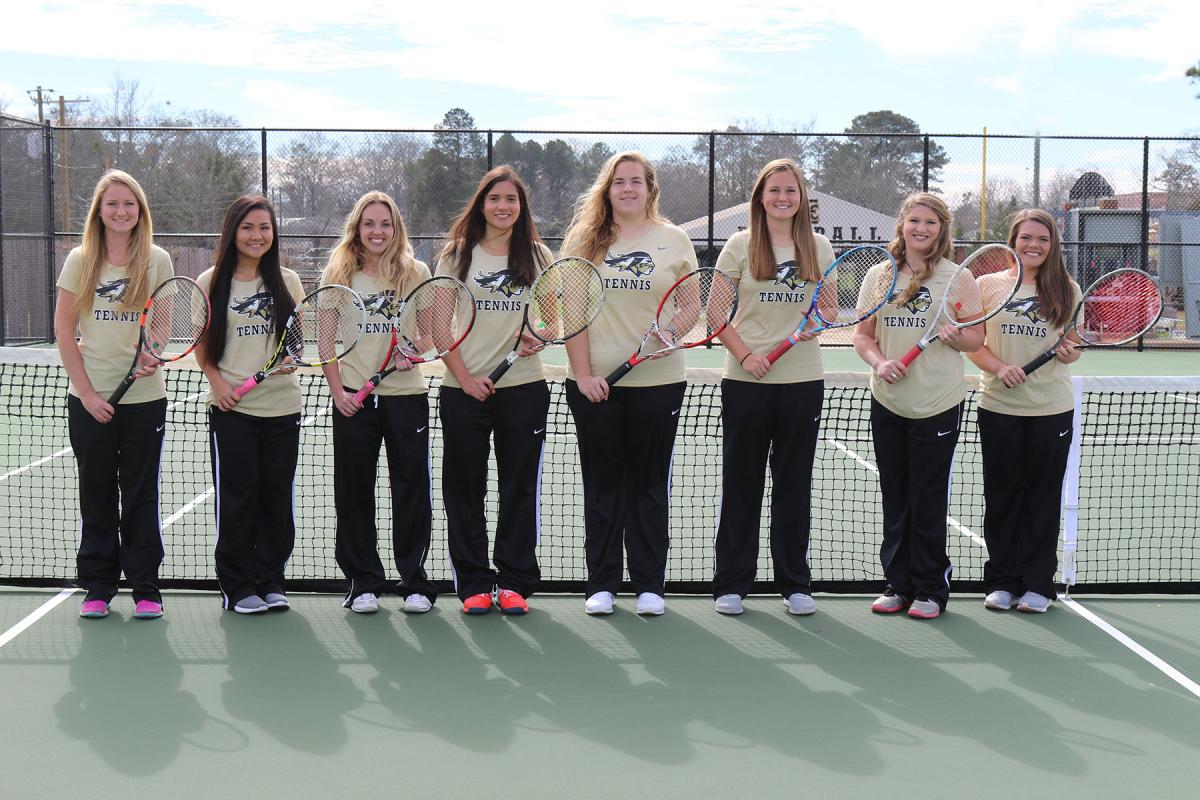 Members of the 2017 East Central Community College women's tennis team, from left, are Samantha McCrimon, Winston Academy; An Duong, Richland High School; Chaney Mills, Newton County High School; Tatiana Quinonez, Liceo San Rafael School, Bogota Colombia; Julia Johnston, Florence High School; Andi McCrimon, Winston Academy; Hannah Payne, Union High School; and Emily Dykeman, Forest High School. (EC Photo)