November 16, 2016
Four East Central Community College baseball players signed National Letters of Intent for the November signing period to continue their baseball careers at four-year colleges and universities.
"We are very proud of all four of these young men as they continue their education and baseball careers," said Head Baseball Coach Neal Holliman. "They have all been great representatives of our college and will be major contributors for us this upcoming season."
Left-handed pitcher Luke Yancey, a product of East Rankin Academy, left-handed pitcher Peyton Lott of Seminary High School, and infielder Billy Cameron of Mendenhall High School all signed with Mississippi College in Clinton. First baseman Cole Prestegard of Huntsville (Ala.) High School signed with Troy University in Troy, Ala. 
Yancey pitched 57 innings over 14 games last season, including 13 starts. "Luke was first team all-state as a freshman and will be looked upon as a conference starter again this year," Holliman said. "He will also see significant time in the outfield as his bat continues to improve. He is known as one of the best defenders in the league."
Lott pitched 16.1 innings in 15 games for the Warriors last season. "He has battled back to be very successful after suffering an injury out of high school," said Holliman. "He will be looked at heavily as a conference starter this upcoming season."
Cameron played in 48 games for East Central last season, batting .359 with six doubles, two triples, two home runs and 33 RBI. "Billy can play anywhere on the infield," noted Holliman. "He played shortstop for us last year and batted in the middle of our order. He is a tremendous story as to how he has developed and bought into the East Central program. He came as a freshman and red-shirted and worked his way into an everyday starter last year and will be looked upon to play third base and second base this upcoming season."
Prestegard batted .372 with 45 RBI in 55 games for the Warriors last season. He had 14 doubles, nine home runs, and earned postseason honors. "Cole is one of the best left-handed hitters in our league," Holliman said. "He was First Team All-State and All-Region last season."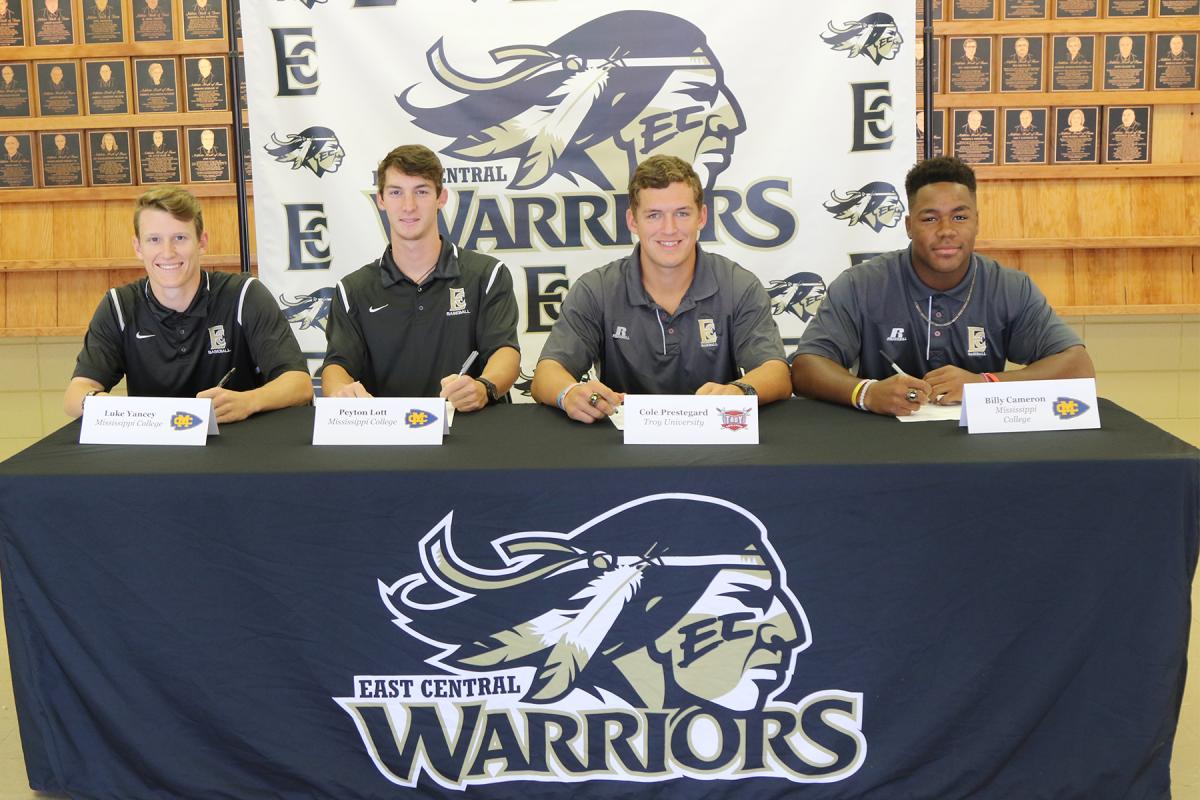 East Central Community College Diamond Warrior standouts who signed National Letters of Intent to play at four-year colleges and universities are, from left, Luke Yancey (Mississippi College), Peyton Lott (Mississippi College), Cole Prestegard (Troy University), and Billy Cameron (Mississippi College). (EC Photo)