February 2, 2017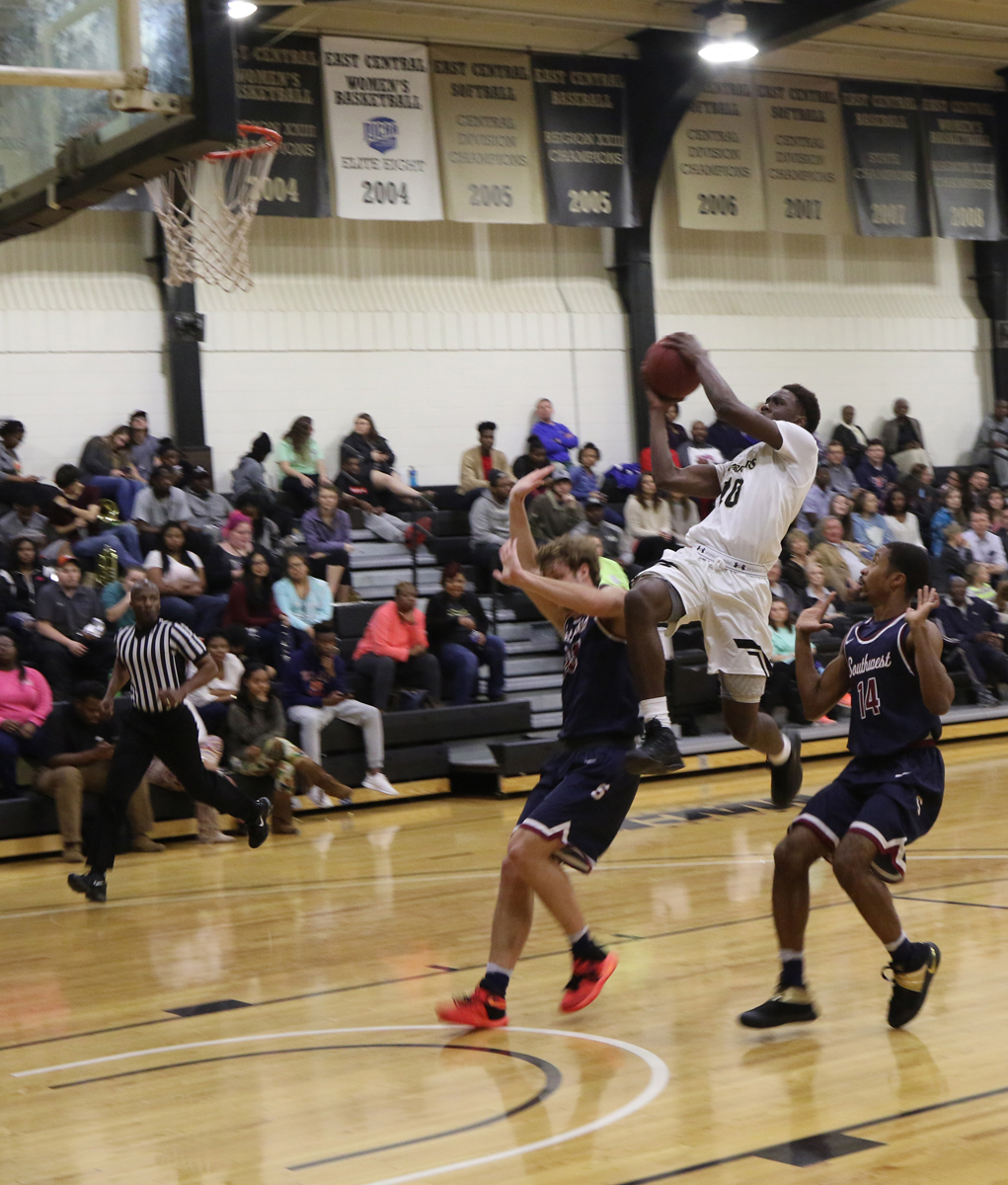 Tonzell Handy drives for a basket en route to his career-high 33 points in the upset of Southwest. (EC Photo)
Behind a career-high 33 points from sophomore forward Tonzell Handy, the East Central Community College Warriors pulled off an 80-74 upset over visiting Southwest Mississippi Community College in MACJC basketball action Thursday, Feb. 2, in Brackeen-Wood Gym on the Decatur campus.
Handy, who prepped at Lanier High School, also pulled down a game-high nine rebounds in leading the Warriors to big win over MACJC South Division leading Southwest.
With the win, East Central improved to 9-8 overall and 4-4 in the division, good enough for a tie for third place. Southwest fell to 12-5 overall and 6-2 in division play.
Southwest jumped out to an early seven point lead in the first half, before the Warriors settled in and were able to grab their first lead since the opening minutes at 20-19 on a Handy basket. East Central took a 35-34 lead to the locker room at intermission.
The game see-sawed back and forth to start the second half, before East Central took the lead for good at 48-47 with 10:44 to play in the game and held on for the six point win.
The Warriors shot well from the floor, hitting 55 percent of their shots for the game, including 53 percent from beyond the three-point arc.
Handy also had two assists, four steals and a blocked shot on his big night. Freshman guard Cayman Ruffin out of Neshoba Central High School added 14 points as the only other Warrior in double figures.
East Central is back in action Monday, Feb. 6, when the Warriors travel to Meridian Community College for a 7:30 p.m. game.
The Warriors return home Thursday, Feb. 9, to host Mississippi Gulf Coast Community College at 7:30 p.m. in Brackeen-Wood Gym.
All East Central home basketball games game can be heard on the radio at WKOZ "Cruisin" 98.3. The radio broadcasts are also streamed online on the ECCC website at www.eccc.edu/eccc-media and at www.kicks96news.com.
Live video streaming is available via high-definition video and streaming audio found at www.eccc.edu/eccc-media or www.kicks96news.com.