January 29, 2018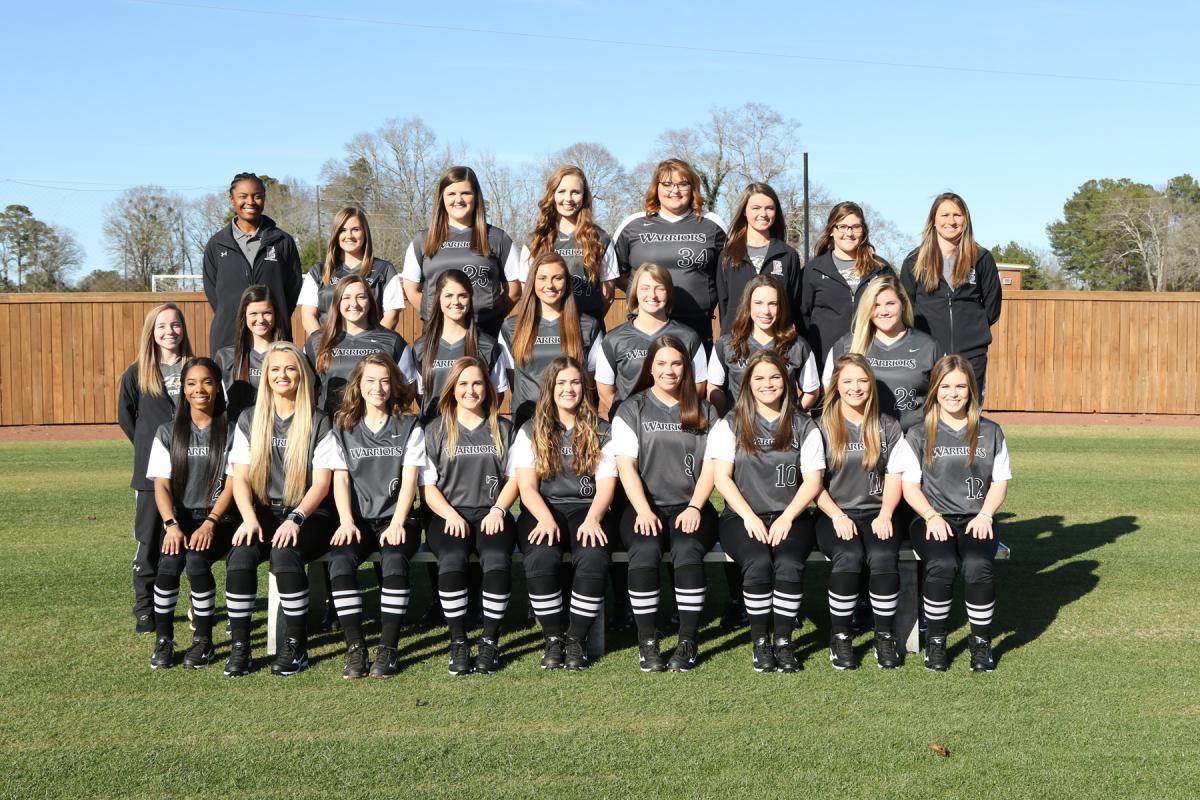 Members of the 2018 East Central Community College softball team and their respective high schools include (first row, from left) sophomore outfielder Kenyatta Moore, Philadelphia; sophomore infielder Katherine Shell, Brookhaven; sophomore infielder Eva Scott, Burleson Centennial (Texas); sophomore utility player Madalyn McMahon, Neshoba Central; sophomore pitcher Anna Norris, Geraldine (Grove Oak, Ala.); sophomore pitcher Kaitlyn Oswalt, Heritage Academy (Columbus); sophomore outfielder Marlee Parkes, Nanih Waiya; sophomore utility player Alyssa Pendergrass, Columbia; and sophomore utility player Mackenzie Johnson, Nanih Waiya; (second row, from left) sophomore manager Kaytlyn Burrage, Nanih Waiya; freshman utility player Annika Jones, Leake Academy; sophomore infielder Kayla Beckham, Neshoba Central; freshman infielder Macy Brabham, Brookhaven; sophomore infielder Melanie McMillan, Lake; sophomore infielder Cassie Obman, Caledonia; sophomore utility player Shelby Walters, Northwest Rankin; and freshman pitcher Madison York, Ocean Springs; (back row, from left) assistant coach Megan Hill; sophomore infielder Tagen Remmel, Clinton; sophomore infielder Ali Gartman, Loyd Star (Bogue Chitto); sophomore pitcher/outfielder Reagen Jacobs, Oak Ridge (Denham Springs, La.); sophomore pitcher Mackenzie Rousseau, Vanderbilt Catholic (Houma, La.); freshman manager Laurel Pope, Leake Academy; freshman manager Megan Stewart, Warren Central (Vicksburg); and head coach Kristin Chaney. (EC Photo)
The 2018 edition of the East Central Community College Lady Warrior softball team will open its season Feb. 6 with a wealth of experience and a preseason No. 10 ranking in the National Junior College Athletic Association Top 20 poll.
Head Coach Kristin Chaney will rely heavily on 16 returning players, many of whom saw significant playing time last season.
Chaney's 2017 team finished 42-8 overall and with a No. 8 national ranking, while advancing to the four-team Mississippi Association of Community and Junior Colleges State Tournament for the third straight year. The Lady Warriors did so with only four sophomores on the squad.
"Every year we set as a goal to get to the postseason, with our main goal this season to get back to the national championship tournament," said Chaney, who guided her alma mater to a second place finish in the 2015 NJCAA Division II Softball Championship Tournament in Clinton. "But first we need to make the state tournament, advance to the regional tournament, and then qualify for the national tournament."
Among the starters gone from last year is MACJC All-State infielder Brittney McCray of Sumrall who hit .383 with five home runs and 40 RBI. Starting second baseman Latesia Davis of Newton County and outfielder Abby Winstead of Sebastopol also have departed.
Chaney must lean heavily on several sophomores this season if the Lady Warriors are to return to the national championship tournament after a two-year absence, including two NJCAA All-Region 23 players from a year ago in shortstop Kayla Beckham and pitcher Kaitlyn Oswalt.
Beckham out of Neshoba Central led the team in several statistical categories in 2017, including a .430 batting average and 71 hits. She also tied for the team lead with eight home runs and had 48 RBI.
Oswalt out of Heritage Academy in Columbus posted a 22-5 record in the circle last year with three saves and 108 strikeouts.
Two MACJC First Team All-State players from a year ago return. Catcher Cassie Obman from Caledonia is back after hitting .410 last season with six home runs and a team-leading 54 RBI, as is pitcher Mackenzie Rousseau from Vanderbilt Catholic in Houma, La., and her 19-3 record and 66 strikeouts.
Madalyn McMahon out of Neshoba Central is back at third base. The MACJC Honorable Mention All-State player hit .325 with a team-high 64 runs scored. She also tied for the team lead in home runs with eight and had 14 doubles. Utility player Shelby Walters, who prepped at Northwest Rankin, was also Honorable Mention All-State playing mostly left field for the Warriors. She hit .380 and had a 1.000 fielding percentage in 64 total attempts.
Eva Scott, who transferred to ECCC from the University of Southern Mississippi, is expected to get the nod at second base. Scott, who prepped at Burleson Centennial in Texas, started 15 games for the Golden Eagles in 2017. Redshirt freshman Madison York from Ocean Springs and sophomore Anna Norris of Geraldine High School in Grove Oak, Ala., will provide pitching relief.
Tagen Remmel of Clinton, who caught 24 games in 2017 with Rousseau in the circle, also returns.
Chaney said that several veterans, along with freshman utility player Annika Jones of Leake Academy, are in spirited preseason battles for the other starting spots.
"Obviously we have a lot of depth this season, which means we'll have some tough decisions on who gets playing time early," said Chaney, who is in her sixth season at ECCC having posted a 198-66 record. "It's been important in the preseason to make sure we come together as a team, stay together as a team, and stay focused on our goals, regardless of who is in the lineup."
While the Lady Warriors return their No. 1 and No. 2 pitchers from last season, Chaney believes that offense could be the biggest strength of this year's team.
"We were extremely young last season in all aspects," she noted. "Mentally, we are more seasoned this year and our players know what to expect at the plate. I believe offensively we will be able to produce runs. Overall, our depth is much better at each position as well."
Chaney has a new assistant coach this season, and it's a familiar face to her. Megan Hill, who came to East Central from the coaching staff at Georgia Southern University, was a teammate of Chaney's when they played at the University of Southern Mississippi.
"She is a good fit with our program," Chaney said of Hill. "There is a chemistry there with myself and with the team. Fortunately there was no learning process since we already knew each other, and that's been very beneficial to me and to the team."
Hill's duties include strength and conditioning, working with the pitchers and outfielders, and assisting Chaney with hitting.
The Lady Diamond Warriors open the season Tuesday, Feb. 6, with a doubleheader at Coastal Alabama-North in Monroeville, Ala. The home opening doubleheader is Thursday, Feb. 8, at 2 p.m. and 4 p.m. against Calhoun Community College (Tanner, Ala.) at the Softball Park on the campus in Decatur.
This year's schedule features the EC Invitational on Saturday, Feb. 27, on campus. East Central will be joined by Hinds Community College and East Mississippi Community College. ECCC will also participate in the Jones County Junior College Invitational on Sunday, March 11, in Ellisville. In that field will be No. 2 preseason and defending MACJC State and NJCAA Region 23 Champion Jones County, along with preseason No. 4 Des Moines Area Community College (Iowa) and No. 11 Lansing Community College (Michigan).
The annual "Pink" Cancer Awareness Game is Saturday, Feb. 24, when Coastal Alabama-North visits Decatur.
Most all home softball games be heard on WKOZ Cruisin 98.3 or on audio stream and live stream video at www.eccc.edu/eccc-media.
A full schedule of games can be found online at www.ecccathletics.com.