May 30, 2018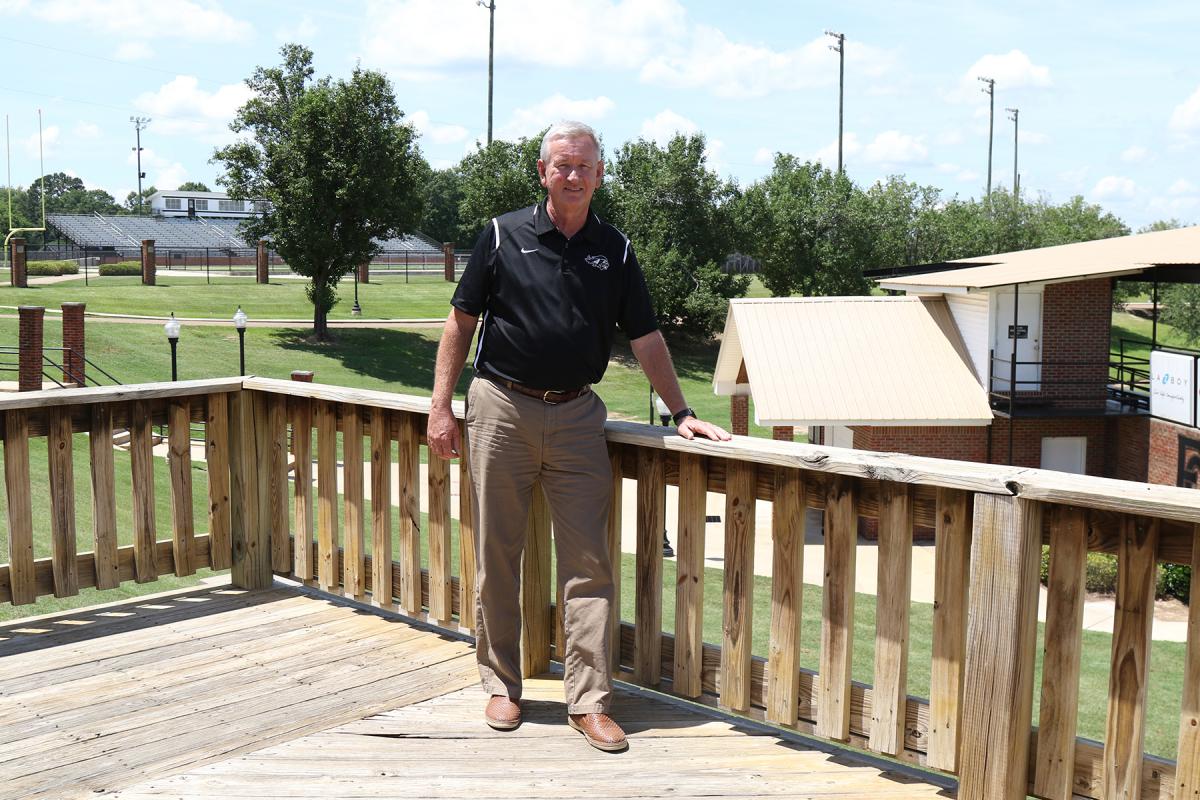 Chris Harris will complete his career as Dean of Personnel Services/Athletics at East Central Community College in Decatur at the end of June after a 14-year career, and his future plans include more time with his family, some possible mission trips and time spent on the family farm.
"I have three grandchildren that I truly enjoy being around and attending their events," Harris said. "I've worked for 40 plus years and now would like to travel with my wife and family to some 'bucket list' locations while I still have good health. DeAnne (Harris' wife) and I would like to go on some mission trips, and I have a farm that needs my attention."
In addition to the grandchildren, Harris said he also has plans for fishing and golfing when he's not traveling.
Harris joined the East Central staff in 2004 as work-based learning coordinator after having spent 16 years with La-Z-Boy South in Newton. He later took on the added responsibilities of athletics and personnel services.
His career in education began with a 10-year stint on the high school level serving Hickory, Decatur and Newton high schools in various capacities such as coach, guidance counselor, assistant principal and principal.
As with many long-time employees, it's the relationships with fellow employees and seeing students succeed that have meant the most to Harris and what he will miss most about the college.
"I've enjoyed seeing our young people graduate and continue on to bigger and better opportunities. It's also been exciting to see our coaching staff grow and mature into their 'mission in life,' and working with people who truly care for the well-being of East Central and not just themselves."
Some of the major projects completed during Harris' tenure as dean of athletics include turf on the football field, hitting facilities at both the baseball and softball complexes, new lighting and seating in Brackeen-Wood Gymnasium and the completion of a new tennis complex.
However, when asked about his greatest accomplishments, Harris was quick to point out it was surrounding himself with good people that was most important.
"I have been fortunate to employ and interact with coaches and other personnel that are here for the right reason–to make a positive difference in the lives of our young people. It has been an enjoyable experience assisting our coaches as they engage with our student-athletes in producing competitive programs, and providing an emphasis on academics for our student-athletes."
When asked about the future of EC athletics, Harris said he fully expects the college's athletic programs to continue to prosper and be competitive under new athletic director Paul Nixon, along with President Dr. Billy Stewart, and the ECCC coaches.
"Our coaches have made tremendous strides in taking EC athletics to the next level and I'm confident they will continue to press on to go beyond where we are today and win a national championship in the near future. Dr. Stewart's vision for East Central athletics is a worthy and attainable goal, which includes several facility upgrades. The biggest challenge that we face is having the patience required to attain all these improvements. It will not happen overnight."
When asked his thoughts on retirement and his time at the college, Harris said, "I will always value my time and experiences while at East Central–as a student, a parent, and as an employee. It's a great place to be and a great day to be a Warrior!"