September 23, 2022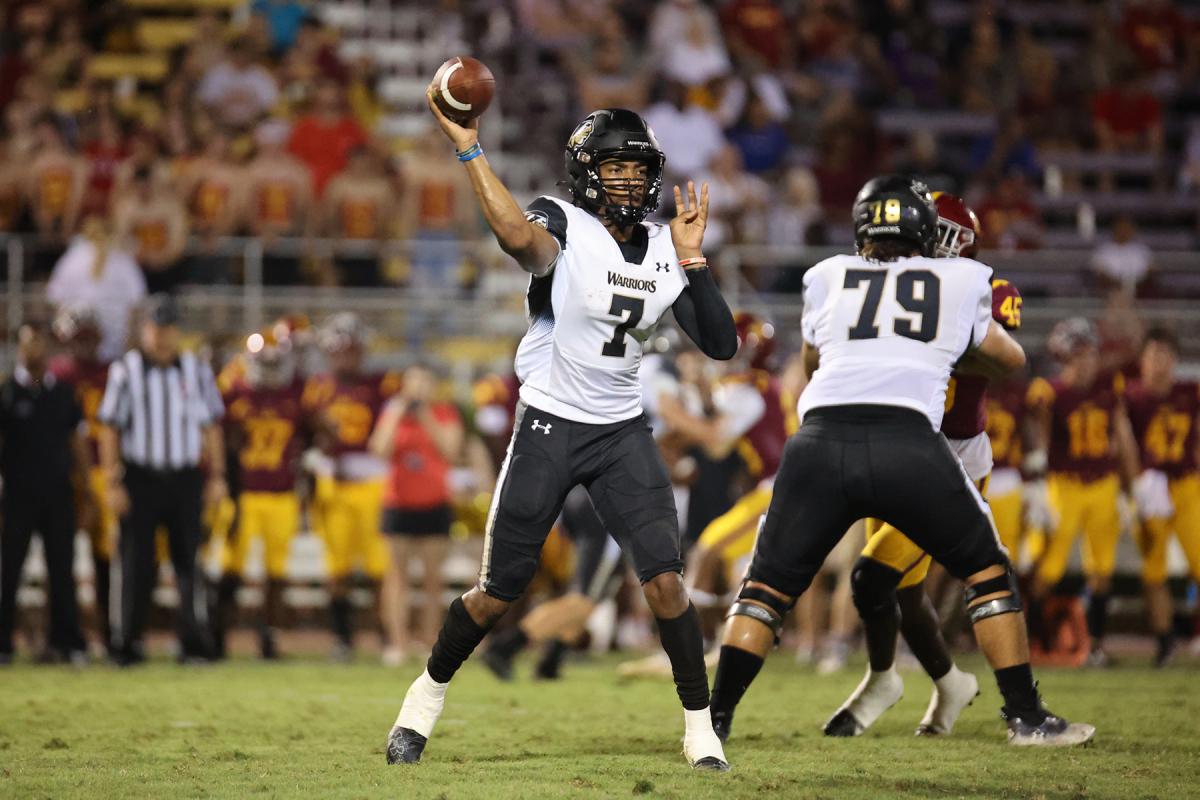 The Warriors of East Central Community College fell to the No.5 Jones College Bobcats 17-14 on Thursday night, Sept. 22, in Ellisville in a hard-fought contest. The loss drops the Warriors to 0-4, 0-2 on the year while the Bobcats improved to 4-0, 2-0.
The Bobcats were the first on the board Thursday night, as Tavion Smith capped off a first-quarter, 76-yard drive with a six-yard half back dive. The score came with 8:44 on the clock.
The score held until the final minutes of the first half as the Warrior defense did a good job containing NJCAA rushing leader Robert Henry. The sophomore picked up 83 yards in the half, but the Warriors held the Bobcats out of the endzone with some timely fourth down stops.
The Bobcats were able to knock in a 43-yard field goal with less than two minutes to play in the half to push the lead to 10-0, but ECCC quickly hit back with a three-play, 54-yard drive in the final minutes. The drive was highlighted by a 43-yard toss and catch touchdown from Gabriel Larry to Corey Goldwire. The score cut the lead to 10-7 and gave the Warriors momentum going into the locker room.
Jones was the first team to strike in the second half as Alan Follis hit Ashton Nickelberry for a 25-yard touchdown which pushed the Bobcat advantage to 17-7.
The Warriors refused to throw in the towel and made numerous fourth down stops down the stretch, and manufactured a stellar 13-play, 64-yard drive that ate up nearly five minutes of time. Larry finished off the drive with a shovel pass to Goldwire, his second touchdown of the night, to cut the lead to just 17-14.
The Warriors had some opportunities down the stretch after making yet another fourth down stand, but a late turnover ultimately sealed the Jones College victory.
ECCC finished the night with 214 total yards to Jones Colleges 373. Larry finished the night 7-of-19 for 99 yards and two scores. The sophomore quarterback also led the Warriors in rushing with 69 yards on 17 carries.
Goldwire posted five receptions for 83 yards and two touchdowns.
Defensively, Javonta Stewart finished the night with a team-high 12 tackles and two for loss, while Michael Coats Jr. finished with eight and one and half tackles for loss.
The Warriors are back at home next Thursday, Sept. 29, as the Southwest Mississippi Community College Bears travel to Bailey Stadium. Kickoff is slated for 6:30 p.m.