April 7, 2021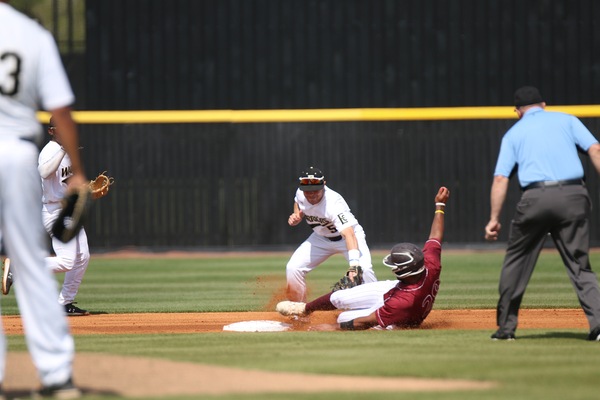 It was not East Central's day on Tuesday night, April 6, as the No. 9 Warriors dropped a pair of games to the Hinds Eagles at the Clark/Gay Baseball Complex. The Eagles took game one, 13-2, before completing the sweep with a 9-1 win in the nightcap. The losses move the Warriors to 19-11 overall and to 14-6 in MACCC play. 
Game One | L, 13-2
The Eagles were the first on the board with one run in each of the first and second innings before exploding for a nine-run frame in the top of the third. The big start pushed Hinds' lead to 11-0. Trey Lewis (Silas, Ala.) plated one run in the bottom of the fourth with a sacrifice fly, but the Eagles added two more in the fifth to grow the advantage to 13-1. Clayton Cook (Mize) blasted a solo homer in the bottom of the fifth, but that was it for the Warriors in game one. 
Jeremy Martin (Slidell, La.)  took the loss for the Warriors. He allowed five hits and six runs over two innings, walking one. Gates Pee (Clinton) and Roper Ball(Noxapater) both threw in relief.
Brooks Auger got the win on the bump for the Eagles. He went four innings, allowing two runs on six hits and striking out two. Austin Fugler threw one inning in relief out of the bullpen.
Cook's RBI led the Warriors at the plate. The freshman also posted a team-best two hits. 
Game One | W, 9-1
A big inning was once again the difference-maker for the Eagles in the nightcap. Hinds plated a run in the second and third before a pair of home runs in the fourth helped grew the lead to 9-0. Amani Larry (Bossier City, La.) scratched in the one run for the Warriors as he reached on a double, before eventually scoring on a passed ball, in the bottom of the fourth, but that was the Warriors only offensive production.
Bryce Brock got the win on the mound for Hinds as he surrendered one run on three hits over four and two-thirds innings, striking out seven. Matthew Taylor and Noah Magee entered the game out of the bullpen and helped to close out the game in relief.
Hayden West (Decatur) took the loss for the Warriors. The right-hander surrendered three runs on five hits over three and two-thirds innings. Miles Miller (Toomsuba), Jacob Holifield (Semmes, Ala.), and Walker Johnson (Mantee) all threw in relief. 
Larry's double in the fourth was ECCC's lone bright spot at the plate in game two. 
Up Next
The Warriors are on the road this Saturday, April 10, as the team travels to Senatobia to take on the Northwest Rangers. Games are set for 2 and 5 p.m. start times.