October 6, 2017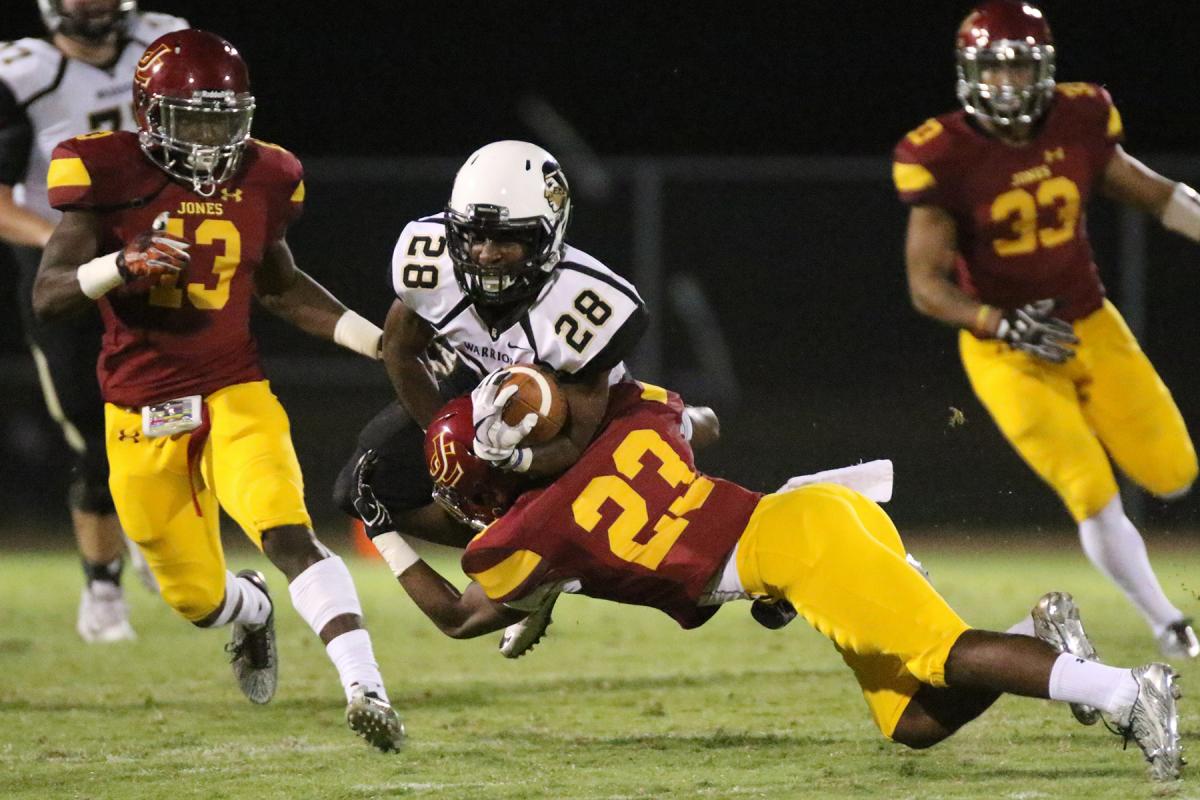 Warrior freshman running back James Smith III fights for tough yards in first half action at Jones County. (EC Photo)
The No. 17 ranked Jones County Junior College Bobcats converted two fumbles and a blocked kick into 21 points and an insurmountable halftime lead in coasting to a 49-7 win over the East Central Community College Warriors Thursday, Oct. 5, at Bobcat Stadium/Sim Cooley Field in Ellisville.
It was the fifth straight win for Jones County after a season-opening loss to No. 1 ranked East Mississippi.
Three times in the first quarter East Central had the football inside the Jones County 35-yard line and came away with no points. The Warriors failed on a fourth down and one from the Jones County 17 and had a 33-yard field goal attempt blocked. East Central also fumbled on the Bobcat 37 and the ball was recovered by Jones County all the way back at East Central's own 40.
Jones County returned the blocked field goal 75 yards setting up a five-yard quarterback draw by Chris Weaver, and converted the recovered fumble into another seven points on a one-yard run by Scott Phillips.
Another second quarter fumble by the East Central offense was scooped up by Jones County's Derric Hawthorn who raced 45 yards for another score and the Bobcats led 21-0 with 7:38 to go in the half.
The Bobcats added a nine-play, 80-yard drive in the closing moments of the first half to go in front 28-0. Running back DeShawn Smith scored from the five with just :42 showing on the first half clock.
Jones County had two turnovers in the first half, but East Central was unable to capitalize.
East Central was able to close the score to 28-7 early in the third quarter on a 45-yard pass from freshman quarterback Mario Asagunla out of Hillcrest Christian in Jackson to freshman wide receiver Octavious Olowo-ake from Jackson Murrah, but that's as close as the Warriors would get.
Jones County's Smith then took over adding three more scores of his own in the third quarter on a one-yard run, a 46-yard pass from Detric Hawthorn, and a four-yard run.
East Central was limited to 261 yards of total offense, with only 37 of those coming in the first half. The Warriors lost three fumbles in the contest.
East Central, which had won the last three meetings with Jones County, dropped to 1-5 on the season and 0-4 in MACJC South Division play. Jones is 5-1 overall and 3-0 in the South Division.
East Central goes back on the road next Thursday for the fifth time in seven games this season. The Warriors will travel to Raymond to face No. 12 ranked and undefeated Hinds at 7 p.m. in another MACJC South Division contest.
The East Central vs. Hinds game can be heard on WKOZ 98.3 "The Groove" or via audio stream at www.eccc.edu/eccc-media.
| | | | | | |
| --- | --- | --- | --- | --- | --- |
| Teams | 1st | 2nd | 3rd | 4th | Final |
| ECCC | 0 | 0 | 7 | 0 | 7 |
| JCJC | 7 | 21 | 21 | 0 | 49 |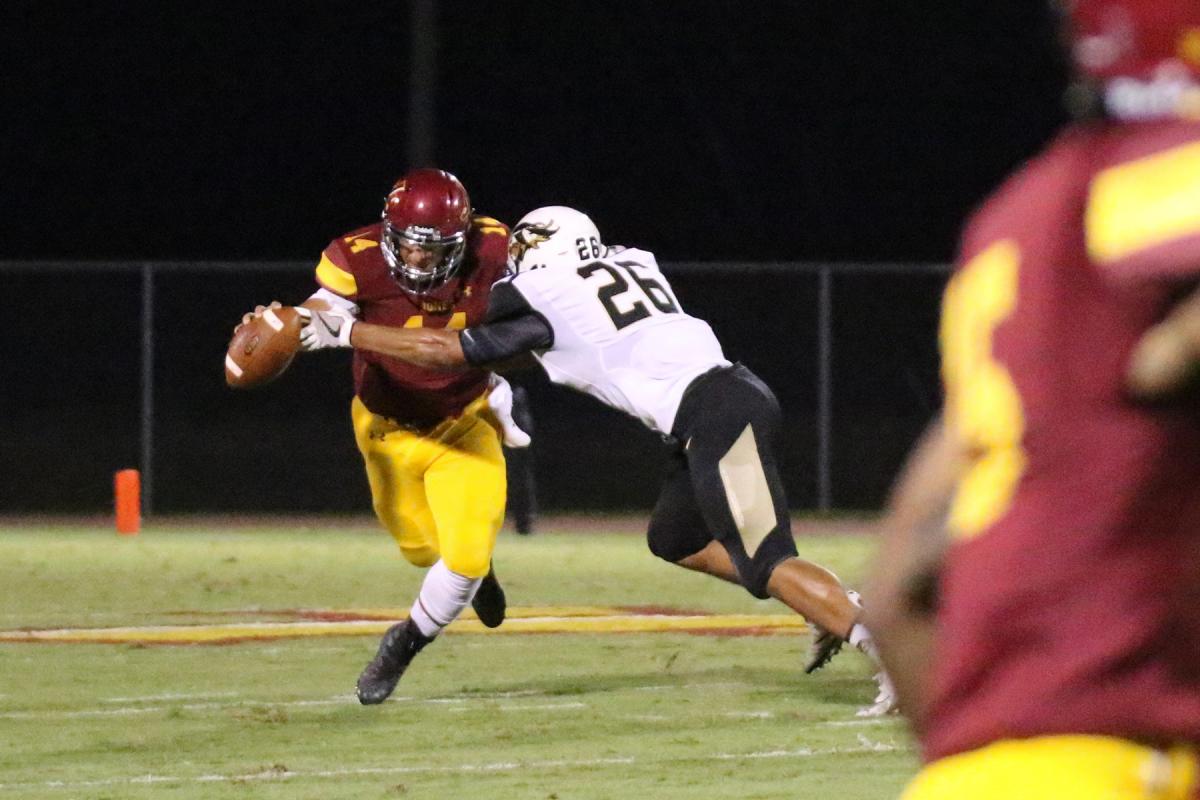 East Central freshman linebacker V.J. Swanier takes down Jones County quarterback Chris Weaver for a first quarter sack. (EC Photo)