March 15, 2017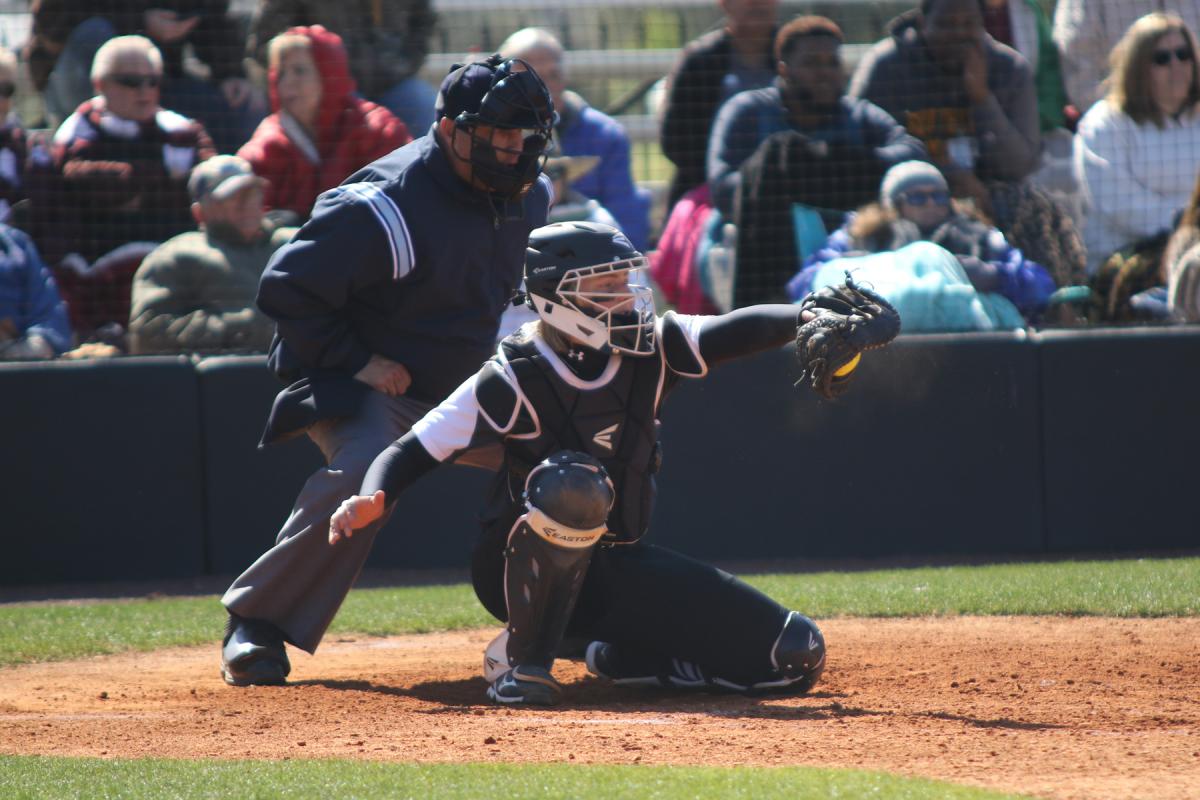 East Central freshman catcher Cassie Obman drove in all three runs in the first game win over Pearl River. (EC Photo)
The No. 12 nationally ranked East Central Community College Lady Warrior softball team got back into MACJC league play in fine fashion with a sweep of the visiting Pearl River Community College Lady Wildcats Wednesday, March 15, at the Softball Park in Decatur.
East Central won the first game 3-2 and followed that with a 7-0 win in the nightcap.
It was the third of five doubleheaders the Lady Warriors are playing during spring break and they have swept all three.
East Central is now 19-3 on the season and 4-2 in MACJC league play. Pearl River fell to 8-10 and 0-6 in league play.
The doubleheader was originally scheduled for Tuesday, March 14, but was pushed back a day because of rain.
Despite waiting a day, the game was still played in colder than normal weather with temperatures in the mid 40s and winds 10 mph out of the north.
In the opener, freshman catcher Cassie Obman out of Caledonia High School drove in all three runs in the 3-2 East Central win. She had a two-run double in the bottom of the first inning and then drove in another run in the second with a sacrifice fly. Pearl River didn't score until the sixth, but then got two runs on a triple by pinch hitter Kristen Martin before East Central pitcher Kaitlyn Oswalt got the next two batters to pop up.
Oswalt, a freshman out of Heritage Academy in Columbus, got the win to move to 12-1 on the season.
East Central got on the scoreboard in game two with a pair of runs in the bottom of the third inning. A single by sophomore Latesia Davis out of Newton County and a Pearl River error plated one run. A single by hot-hitting shortstop Kayla Beckham scored the other. The freshman from Neshoba Central is batting over .500 on the season.
The Lady Warriors added a third run in the bottom of the fifth on a two-out single by Shelby Walters out of Northwest Rankin. East Central extended the lead to the final 7-0 score in the bottom of the sixth. A long home run to left field by freshman catcher Tagen Remmel from Clinton High School gave the Lady Warriors a 4-0 lead. Beckham then singled home another run and sophomore Brittney McCray out of Sumrall High School doubled home two more runs.
Freshman Mackenzie Rousseau out of Vanderbilt Catholic in Houma, La., picked up the win in the circle throwing all seven innings and giving up five hits.
The Lady Warriors will host two more doubleheaders during spring break week. Holmes Community College comes to town Friday, March 17, for games at 1 p.m. and 3 p.m., and Northwest Mississippi Community College visits the Softball Park in Decatur on Sunday, March 19, with action scheduled for 1 p.m. and 3 p.m.
East Central will then hit the road next week to face Hinds Community College in Raymond on March 22 at 3 p.m. and 5 p.m. and then Mississippi Delta Community College in Moorhead on March 25 at 1 p.m. and 3 p.m.