April 6, 2021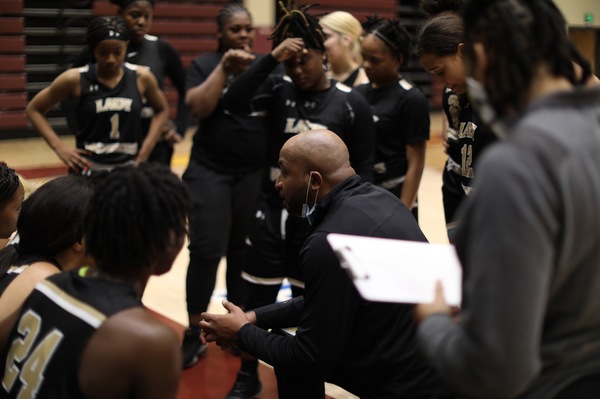 The East Central Community College Lady Warriors' season came to an end on Monday, April 5, as the No. 5 seed LSU Eunice Lady Bengals picked up a 74-64 home victory in the NJCAA Region XXIII Quarterfinals. The Lady Warriors, the No. 13 seed, advanced to the round after upsetting the No. 4 seed Meridian Lady Eagles last week, 52-43. The loss dropped ECCC to 5-10 on the year, while LSUE improved to 18-3. 
The Lady Bengals took an early lead in the contest as they pulled away to a five-point, 12-7, advantage midway through the first quarter. The Lady Warriors limited the damage for the remainder of the opening 10 minutes and trailed by six, 19-13, going into the second. 
An LSU Eunice run in the second quarter pushed the lead to nine, but the Lady Warriors began chipping back at the lead. A technical foul late in the quarter, that the Lady Warriors capitalized on, cut the lead down to just five, 28-23, with less than two to play in the half. Over the final minutes, the Lady Bengals went on a quick scoring burst, but a corner three-pointer from Cori Keats (Philadelphia) with less than 10 seconds remaining in the half cut that lead down to seven, 33-26, going into the locker rooms. 
The second portion of the third period was all LSUE as the Lady Bengals began to pull away with solid play under the basket and capitalizing on trips to the free throw stripe. The Lady Warriors never waivered on effort, but several bad breaks and bounces that just went in the Lady Bengals' favor allowed them to take a 62-44 lead into the fourth quarter. 
Early in the fourth, the Lady Warriors drilled back-to-back three-pointers to pull the lead to 12, 62-50. The big shots were the start of a 13-4 ECCC run that cut the lead back to single digits at 66-57. Unfortunately, the late-game scoring was not enough as the Lady Bengals were able to hang on for the win, 74-64. 
The Lady Warriors are set to be back on a normal schedule for the fall of 2021 with the second portion of the season stretching into the spring of 2022.