May 3, 2021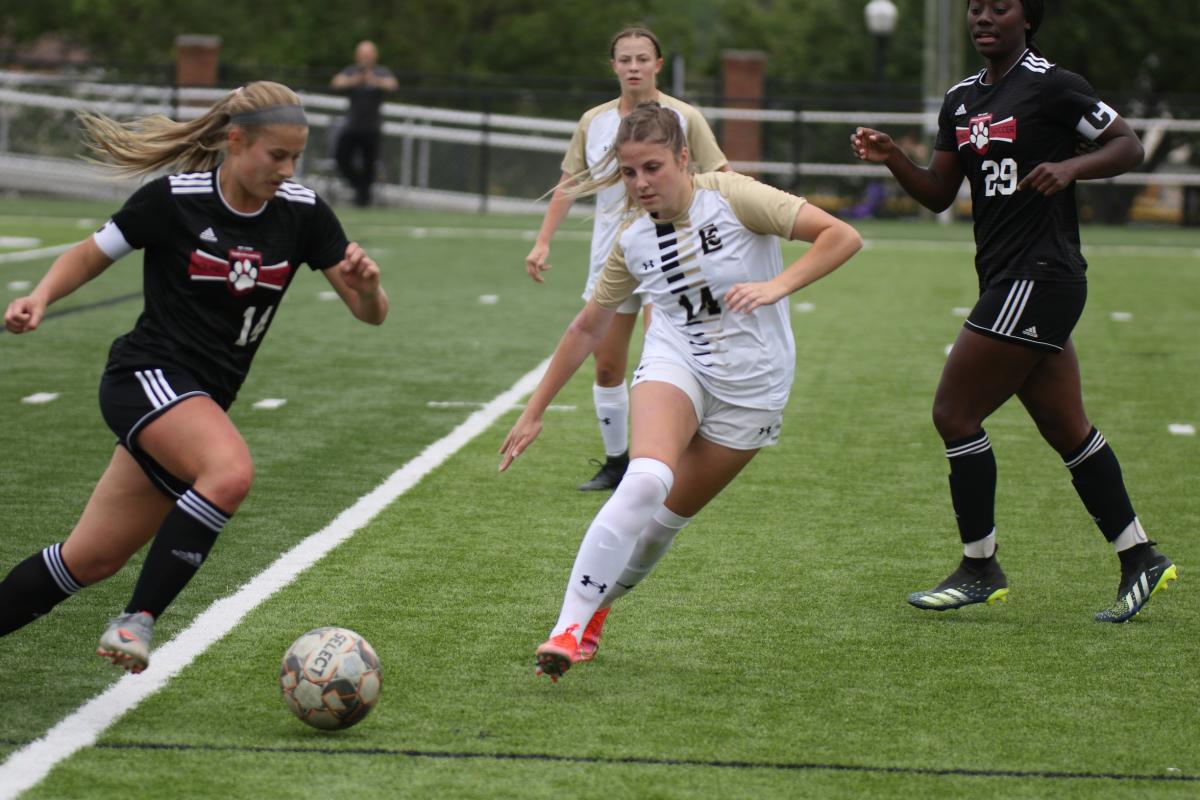 The East Central Community College Lady Warriors soccer team closed out last week with a win and a tough loss. The Lady Warriors rallied late to take down the Northwest Lady Rangers, 1-0, on Friday, April 30, before falling to the No. 5 Southwestern Illinois College Blue Storm in Decatur on Saturday, 3-1. The results move ECCC to 7-1-2 on the season with four regular-season games remaining on the schedule. 
Northwest | W, 1-0
It was a defensive battle as the Lady Rangers and Lady Warriors squared off at the Senatobia Sports Park on Friday, April 30. After a scoreless opening half, both squads looked to pull ahead in the second. The Lady Warriors were able to do that in the final minutes of the contest as Sasha Clare (Belfast, United Kingdom) poured one in with less than two minutes remaining to hand ECCC the 1-0 victory off a pass from Nicole O'Neill (Dublin, Ireland). 
The Lady Warriors' defense was stellar throughout the game and Olivia Clark (Decatur) defended the net very well as she stopped all 10 of Northwest's shots on goal. The Lady Warriors finished with 13 shots and seven on goal. 
Southwestern Illinois College | L, 3-1
The Lady Warriors' first loss of the season came to a talented Blue Storm from Belleville, Ill. on Saturday. The Blue Storm picked up two goals in the opening half to take a lead into the locker room, and another in the 55th minute, making it 3-0.
Despite trailing, the Lady Warriors continually put on the pressure and gave a great effort down the stretch. The hard-playing Lady Warriors kept possession for a lot of minutes in the second half which led to an Ameris Taylor (Ocean Springs) goal in the 58th minute off a pass from Megan Harris (Tooting, United Kingdom), but that was all ECCC could get in. 
ECCC finished with 13 shots and 10 shots on goal, while the Blue Storm posted 10 shots and seven on goal. 
Up Next
The Lady Warriors return to Bailey Stadium this Tuesday, May 4 as the Lady Indians of Itawamba Community College travel to Decatur. Kickoff is scheduled for 5 p.m. and fans can watch the action live at www.eccclive.com/gold.