February 22, 2021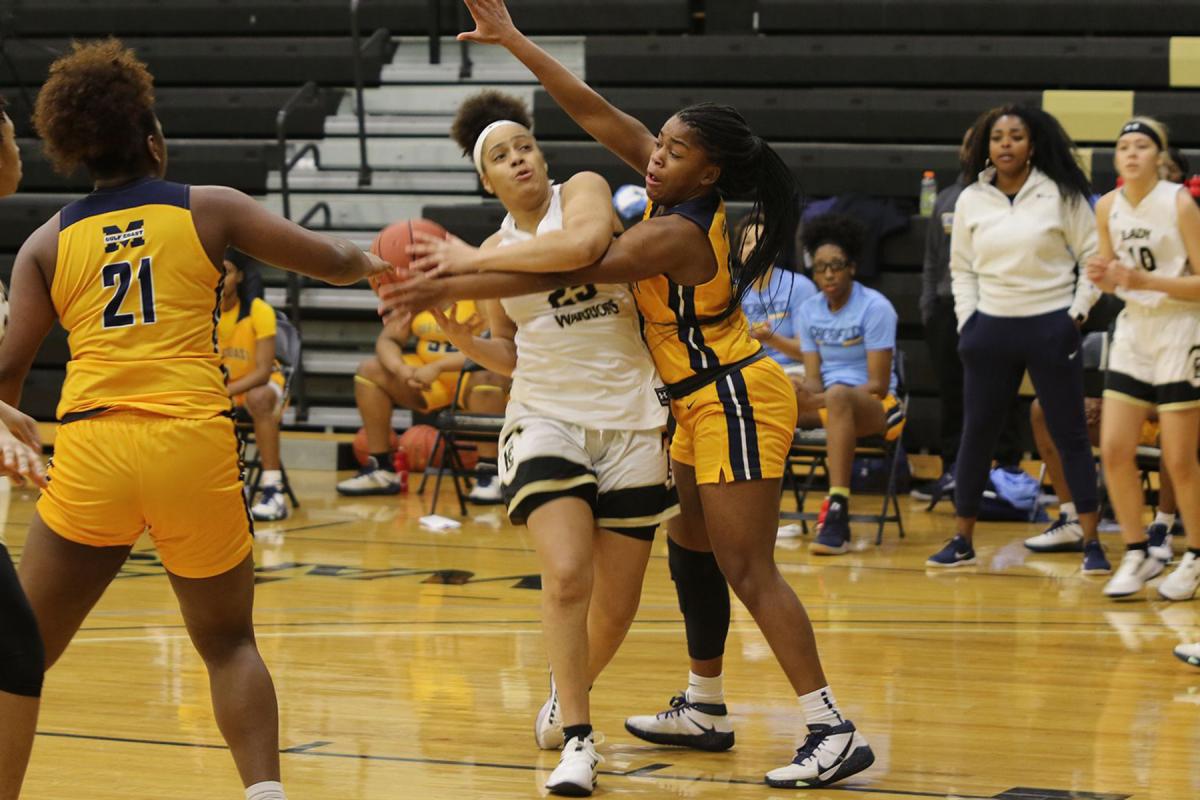 Wynter Taylor fights for two of her 11 points in the win over Gulf Coast. (EC Photo)​
The Lady Warriors of East Central Community College picked up their first win of 2021 on Friday with a 60-50 victory over the Mississippi Gulf Coast Lady Bulldogs. The win moves the Lady Warriors to 1-2 on the year as postponements from COVID and weather have drastically altered the schedule.
Gulf Coast took an early 6-0 lead in the contests as turnovers plagued both squads in the opening minutes. The Lady Warriors were quick to right the ship and knotted the game at six-all midway through the first quarter. Scoring was shared by a variety of Lady Warriors as solid ball-movement gave numerous players opportunities. Ja'Lancia Kohlheim (Tupelo), Shemaiah Smith (Terry), Sylvia Jones (Brighton, Tenn.), DaMya Riley-George (Mobile, Ala.), and Wynter Taylor (Dallas, Texas) all poured in key buckets early. At the end of one quarter, ECCC led 14-12.
The second quarter was back-and-forth as the Lady Warriors hung on to a single-digit lead. Going into the half, ECCC led by two, 26-24.
In the third, the Lady Bulldogs picked up some momentum and built an eight-point, 42-34, lead. ECCC's Jones capitalized on a couple of trips to the free throw stripe in the final minutes of the quarter and helped cut the lead to just one, 42-41, going into the final 10 minutes.
The Lady Warriors pulled away midway through the final quarter with an 11-2 run over the final four minutes led by Kohlheim, Asia Madison (Hazlehurst), and more. The late offensive push grew the lead to 10 and sealed the 60-50 win.
Taylor came off the bench and joined Jones on leading the Lady Warriors in the scoring column with 11 each. Madison also added 10 to round-out double-digit scorers. Taylor and Mirial Cannon (Madison) led the way on the boards with five rebounds each. East Central finished the day shooting 42 percent from the floor and a strong 84 percent from the free throw line.
The Lady Warriors' Monday night game versus Pearl River has been postponed due to COVID concerns on the Lady Wildcats team. ECCC is slated to be back on the court on Thursday, Feb. 25 as the team travels to Summit to face the Southwest Lady Bears.