April 28, 2021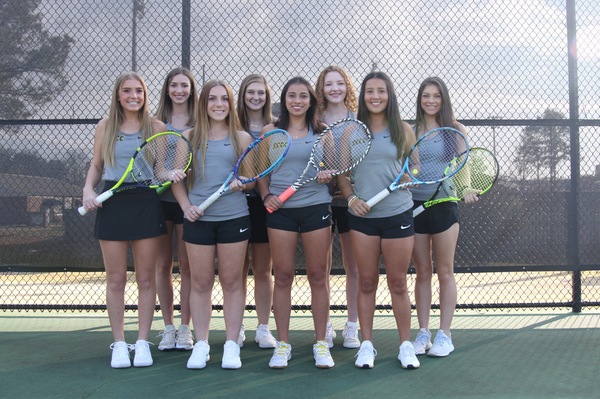 After a strong showing in the NJCAA Region XXIII Tournament and a solid season overall, the No. 20 East Central Community College Lady Warriors tennis team earned an at-large bid to the NJCAA DI Women's Tennis National Championship in Mesa, Ariz., in the first-ever trip as a team for ECCC's women's program. The tournament will be played from May 1 to May 5 at the Mesa Tennis Center. 
"This means so much to our program, especially with it being our first time to go," said ECCC head women's tennis coach Jay Pacelli. "We have had some deserving teams in the past that came up short, but this group played their strongest tennis at the region tournament and beat a good Hinds team, battled against a great Gulf Coast group, and are peaking at the right time. One of our goals every year is to reach the national tournament and to obtain that is very exciting. We look forward to representing ECCC well."
The event will be played in a different format than the regular season and region tournament, which were played in a team versus team configuration. At the national stage, players will be flighted and play against opponents at their line. For example, our No. 1 doubles team can get a draw against ASA Miami, while our No. 2 doubles team faces Tyler Junior College, with each team getting points allotted for individual match results.
"It's going to be a challenge for sure, especially with how many talented programs will be out there," said Pacelli. "Having the different format will be an adjustment, but overall, tennis is tennis and we plan to play to our strengths, and attack our opponents. We aren't on a vacation, we are going out there to play tennis and to win as much as we can." 
The Lady Warriors finished the regular season 6-12 overall before taking down Hinds in the opening round of the NJCAA Region XXIII tournament, 5-4, finishing in fourth place overall. Throughout the year ECCC had several strong showings with wins over Meridian and Itawamba to help lock in the at-large bid. 
"We are extremely happy for our women's tennis program. A ton of credit goes to Coach Jay Pacelli and all the work he has put in to bring our program to this unprecedented level," said ECCC Director of Athletics Paul Nixon. "We are very proud of our Lady Warriors who were playing their best tennis of the season at the end, so we are very pleased that they will get to continue playing in the NJCAA Division I National Tournament." 
An official bracket of the tournament has not been announced, but fans can continually check ECCC Athletic's social media pages for updates as they become available.