February 3, 2017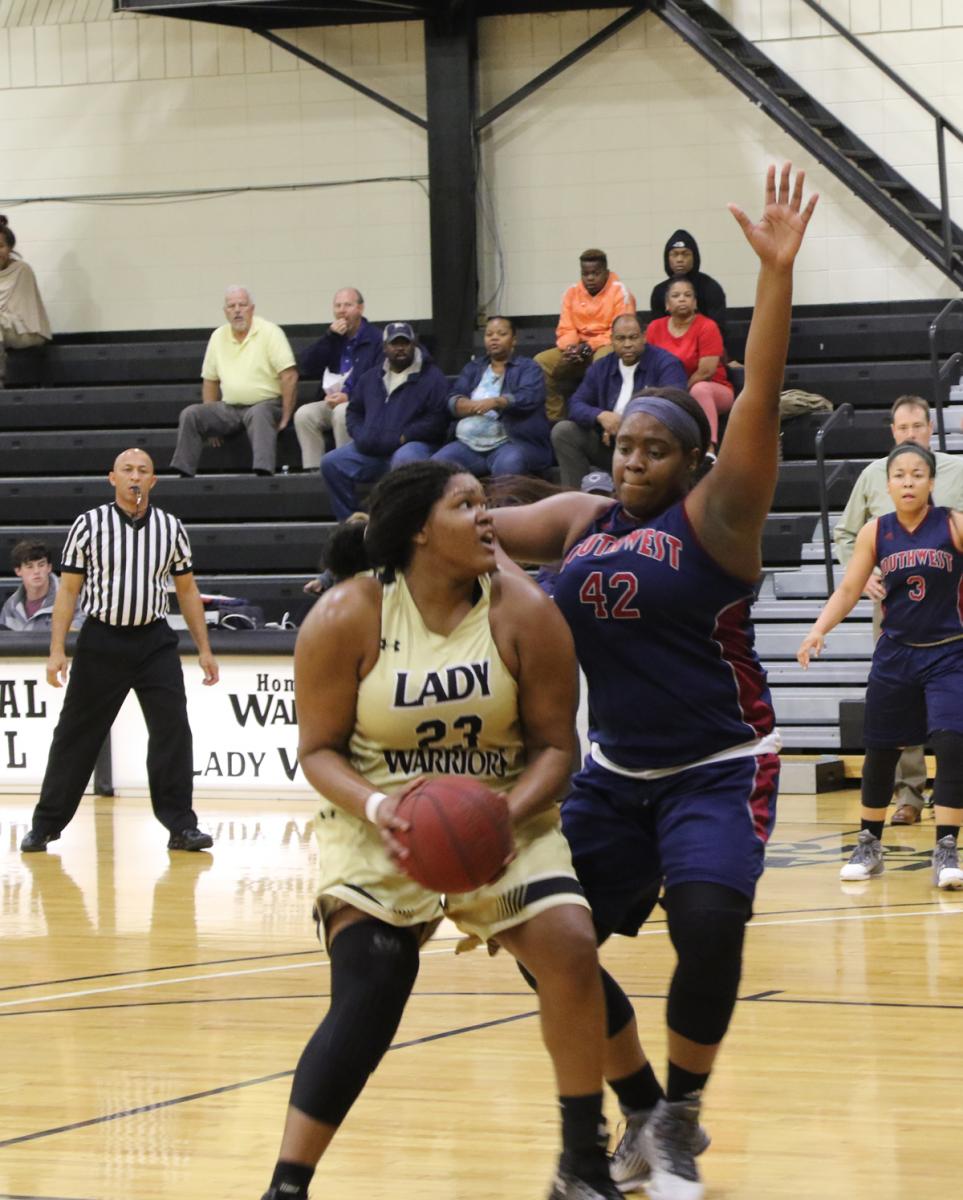 Freshman center Curtisha Coleman goes up for two of her game-high 24 points in the loss to Southwest. (EC Photo)
The Southwest Mississippi Community College Lady Bears overcame a 15 point second half deficit to beat the East Central Community College Lady Warriors in MACJC basketball action Thursday, Feb. 2, in Brackeen-Wood Gym in Decatur.
The ECCC Lady Warriors led by as many as 15 points in each half in the loss. Trailing 38-23 with 5:29 to play in the third period, Southwest went on a 42-22 run to close out the game for a 65-60 win over East Central.
With the loss, East Central fell to 9-8 overall and 3-5 in the MACJC South Division. The Lady Bears improved to 14-3 overall and 5-3 in the division.
East Central started out strong and led the entire first half. The Lady Warriors largest lead came at 30-15 with 2:32 to play before halftime. East Central led by 12, 31-19, at the half. The Lady Warriors continued their strong play to open the third period, eventually pushing out to the 38-23 lead before Southwest took over and controlled the remainder of the contest.
East Central attempted 31 free throws in the game, but hit only 17. The Lady Warriors missed five of eight shots from the charity stripe in the crucial fourth period.
Leading the way for the Lady Warriors was freshman center Curtisha Coleman from Wayne County High School who had 24 points and six rebounds. Freshman forward Autumn Taylor, a product of Newton High School, controlled the boards with 14 rebounds to go with nine points. Freshman forward Kaylin McCree from Newton County High School added 11 points.
The Lady Warriors are back in action Monday, Feb. 6, when they travel to Meridian Community College for a 5:30 p.m. game.
East Central returns home Thursday, Feb. 9, to host Mississippi Gulf Coast Community College at 5:30 p.m. in Brackeen-Wood Gym.
All East Central home basketball games game can be heard on the radio at WKOZ "Cruisin" 98.3. The radio broadcasts are also streamed online on the ECCC website at www.eccc.edu/eccc-media and at www.kicks96news.com.
Live video streaming is available via high-definition video and streaming audio found at www.eccc.edu/eccc-media or www.kicks96news.com.