September 5, 2016
The East Central Tennis Association of Decatur has made a $7,864.09 donation to East Central Community College's new tennis complex project.
Members of the ECTA board were on the East Central campus recently to present college president Dr. Billy Stewart with a check.
Construction is expected to begin soon on the eight new, lighted tennis courts to serve the ECCC men's and women's tennis teams, as well as the campus and local communities. The facility will include parking and spectator areas, which are not possible at the current location.
The ECTA was created to support tennis in the local area. According to Dianne O'Neill, ECTA board member and former tennis coach at East Central Community College, the organization and the college have partnered in recent years to provide supervised structured match play as well as instruction for beginner players through their summer Tuesday Night Tennis program.
"For a small charge, adult and children participants receive tennis balls, T-shirts, and hours of fun," explained O'Neill. "The ECTA also sponsors tournaments and league play opportunities. From the money received, we were able to purchase mini nets, beginner foam balls, children's racquets, ball hoppers, score cards, and other items to encourage growth of the sport.
"Each year a portion of the money was saved and earmarked for new tennis courts. We are pleased and proud to contribute our savings now to the construction of EC's premiere new tennis facility and look forward to seeing the continued growth of this great sport we love so much."
The new ECCC tennis complex will be located on the north end of campus near the existing baseball and softball facilities. The complex will open for play next year.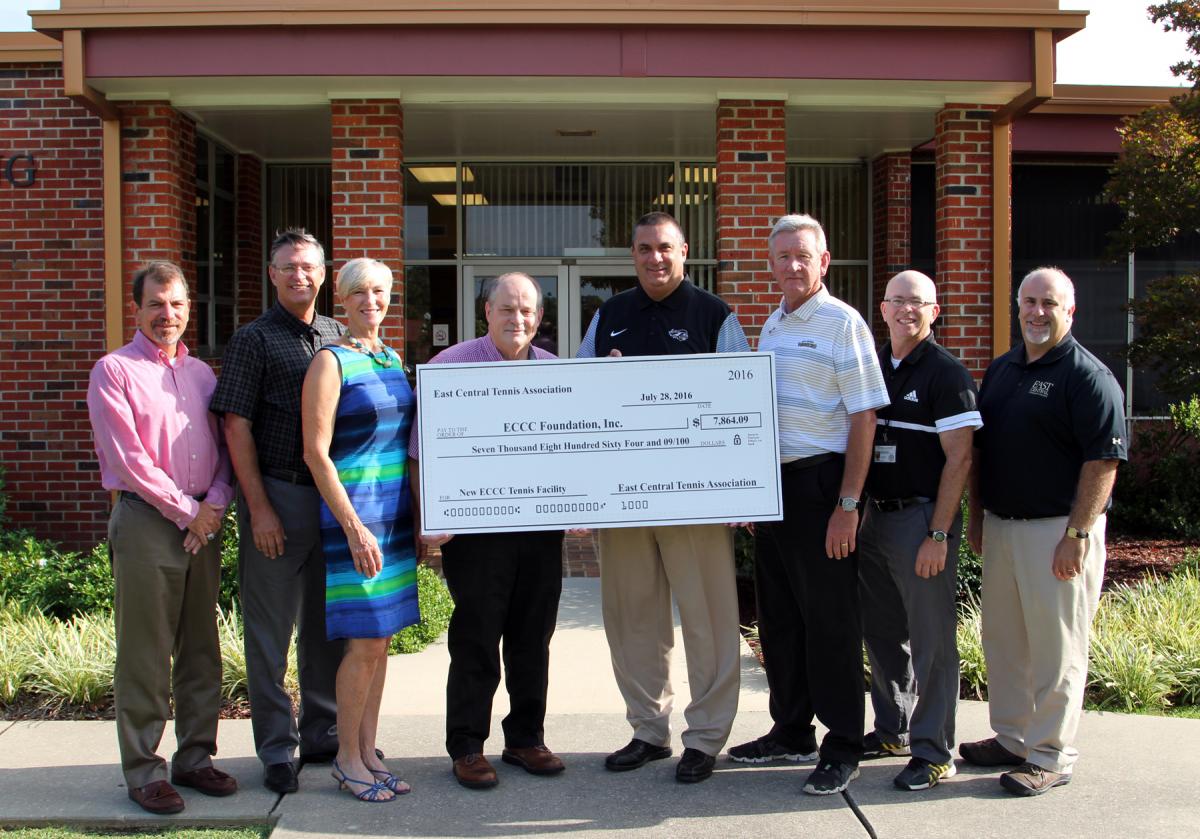 Pictured at the recent check presentation (from left) are Pete Mazzella, East Central Tennis Association board member and Newton Academy tennis coach; Pat O'Neill, mayor of Decatur and ECTA board member; Dianne O'Neill; ECTA board member and former ECCC tennis coach; Tim Thomas, ECTA president; Dr. Billy Stewart, East Central president; Chris Harris, ECCC athletics director; Jay Pacelli, ECCC tennis coach; and David LeBlanc, ECCC director of alumni relations and the foundation. (EC Photo)