May 11, 2021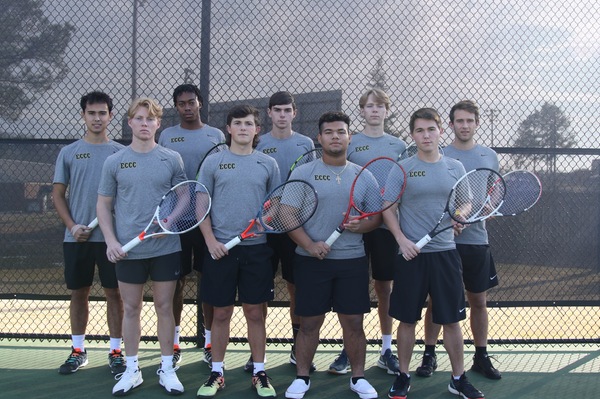 The East Central Community College men's tennis team will be traveling to Plano, Texas, for the NJCAA DI Men's National Tennis Tournament after earning an at-large bid to the event. Matches will take place from May 17 through May 21 at Collin College. 
"We have been ranked in the top 20 for a good part of the year and that was great for our team," said ECCC head coach Jay Pacelli. "Now it is time to go for our goal of finishing as one of the top 20 teams at the tournament."
The Warriors are coming off a strong season that ended with a 9-11 record and saw big wins over the likes of Meridian and Co-Lin. Along with impressive team play throughout the year, ECCC's Chris Lawrance (York, Australia) and Isaac Santitto (Innisfail, Australia) had great seasons in individual play as the pair landed All-MACCC honors. The duo also finished as the second-best doubles team in the conference, while Lawrance was tabbed as the No. 1 singles player. 
"We are looking, as a team, to play our best tennis when we get out there," said Pacelli. "The tournament will be the last matches for Chris and Isaac who have been at the top of the MACCC and are the two best male players in the school's history. So, it will be fun to see them go after it against some stellar competition from around the country."
Like the women's tournament, the national event will be flighted and players will take on opponents from their appropriate line despite being from different schools. Each match will be allotted points separately allowing for individual winners and team winners. 
The Warriors are no strangers to the national tournament as the team finished 19th overall at the event in 2019, the college's first-ever appearance. The tournament, which was held at Reffkin Tennis Center in Tucson, Ariz., proved a major milestone for Pacelli's Warriors and this year's bid proves that ECCC tennis is trending upwards as the Warriors find themselves on the national stage once again.
"It means a lot to our program to be going back to nationals for a second time, and just shows the trajectory that this program is taking," said Pacelli. "We look forward to representing the college at the national level and playing some really strong tennis."
Matches are slated for a Monday, May 17, start and will stagger throughout the week.