November 8, 2016
Fresh off a state championship season, East Central Community College Women's Basketball Coach Crandal Porter has a lot of holes to fill if the Lady Warriors want to repeat their magical run of last season.
The Lady Warriors won the Mississippi Association of Community and Junior Colleges State Championship last February with a 75-63 win over Itawamba, before falling in the first round of the National Junior College Athletic Association Region 23 Tournament. Along the way, East Central won 19 straight games.
Gone from that team are eight sophomores who either started or played significant minutes. That leaves Porter, in his fifth season at East Central, with no returning starters off last season's 24-3 team.
"We lost all five of our starters and a good portion of our bench off last year's team," explained Porter, who now has a 60-38 record at East Central and was the MACJC and Mississippi Association of Coaches Coach of the Year last season. "But we have a talented group of returning players and new players we feel can play our style of basketball."
Gone are starters Samantha Duncan (Southern University), Alexia McDonald (Dillard University), Miracle Rushing, Kalybriah Haskin (Florida A&M University), and Johnta' Hughes (Spring Hill College). Also gone are their 64 points and 26 rebounds per game.
Duncan was first team All-State, All-Region, and Honorable Mention All-American. McDonald was first team All-State. Haskin and Rushing were second team All-State. Hughes was honorable mention All-State.
But despite the loss of so many key players, Porter says his goal has not changed.
"When I took this job, our goal was to win a national championship," he said. "Nothing has changed. Our expectations are always the same, to play harder and execute better than any team. That is 'Lady Warrior basketball.'"
To fill the void left by graduation, Porter will turn to three returning players along with incoming freshmen and transfers.
Among those returning off last year's team are guard Shadejha Brown of Lake High School, who averaged six points per game last season, and guards Aniyah Marshall and Bryona Stewart, both of Itawamba AHS, who averaged about three points each.
Sophomore shooting guards Laneisha Jeans, a transfer from San Jacinto College in Pasadena, Texas (Pine Forest High School, Pensacola, Fla.), Shantavis Hughes, a transfer from Pearl River Community College (Hattiesburg High School), and Khelsea Foster, who prepped at Arcadia (La.) High School, are expected to fill the perimeter shooting void left by Duncan and Haskin.
Jessica Powers, a 6-6 transfer from the University of Southern Mississippi (Pearl River Central High School), and 6-0 freshman Curtisha Coleman from Wayne County High School will provide an inside presence.
Porter said that freshman forwards Autumn Taylor of Newton High School and Kaylin McCree from Newton County High School will add versatility to the position that could create major offensive problems for opponents this season.
"The strength of our team will be our guard play and right now our weakness is post play," noted Porter. "However, we expect to get better as the season goes on."
Also new this season is Ronneka Robertson, the Lady Warriors' assistant coach. Porter did not have an assistant coach during 2015-16.
A native of Kentwood, La., Robertson played her college basketball at the University of South Alabama, where she was an all-Sunbelt Conference player. She was most recently the girls' high school basketball coach at Kentwood High Magnet School in Louisiana.
"Coach Robertson brings a wealth of knowledge both on and off the court," said Porter. "She's played at the D1 level, where most of our kids want to play. She can share her experiences and help our program take the next step. Also, she has a network that spreads throughout the South, and this will certainly help us in recruiting."
This year's regular season schedule of 23 games includes 11 home games, in addition to the EC Classic Nov. 21-22 in Decatur when the Lady Warriors will play both NJCAA Region 23 opponent LSU-Eunice and Wallace State-Selma out of Alabama.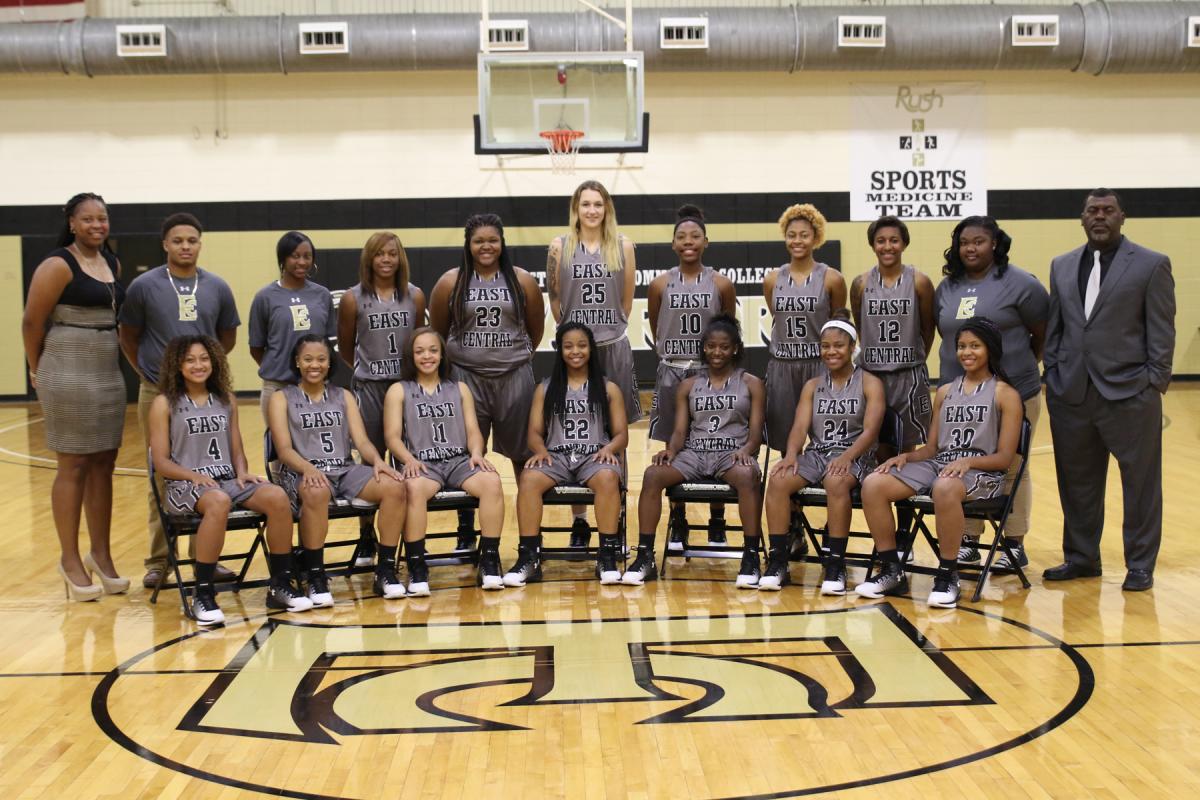 Members of the 2016-17 East Central Community College women's basketball team, and their respective high schools, include (front row, from left) Laneisha Jeans, Pensacola (Fla.) Pine Forest; Naja Gammage, Taylorsville; Shantavis Hughes, Hattiesburg; Aniyah Marshall, Itawamba AHS; Shadejha Brown, Lake; Bryona Stewart, Itawamba AHS; and Carisma Thomas, Morton; and (back row, from left) assistant coach Ronneka Robertson; manager Rodman Walker, Newton; manager Ra'Jah Hodges, Newton; Autumn Taylor, Newton; Curtisha Coleman, Wayne County; Jessica Powers, Pearl River Central; Kaylin McCree, Newton County; Khelsea Foster, Arcadia (La.); Alexus Odom, Scott Central; manager LaDeja Connley, Pearl River Central; and head coach Crandal Porter. (EC Photo)