February 16, 2017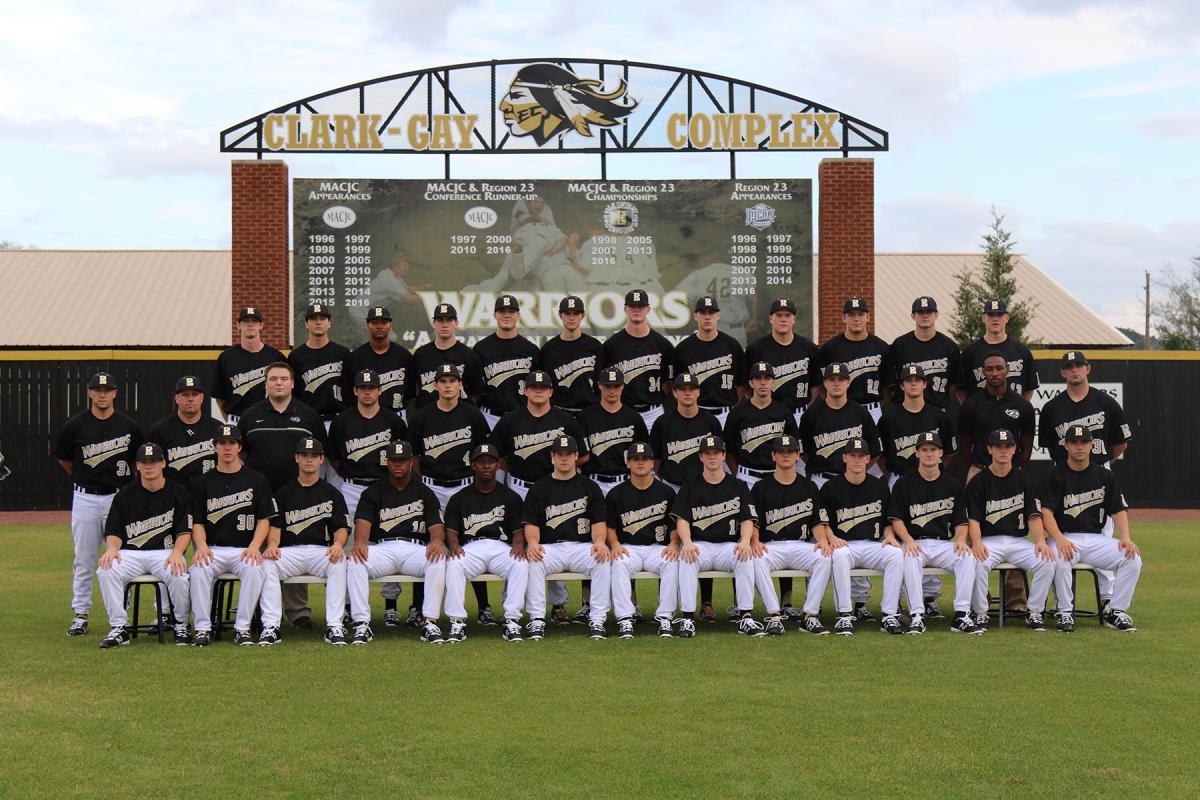 The 2017 East Central Community College Diamond Warrior baseball team and their respective high schools include (first row, from left) sophomore pitcher Brock Morris, West Jones; freshman pitcher Weston Acey, Central Hinds Academy; freshman infielder Wyatt Ball, Nanih Waiya; sophomore infielder Billy Cameron, Mendenhall; freshman outfielder Johntrell Pickens, Philadelphia; sophomore catcher Zach Parker, Quitman; sophomore outfielder Nathan Roseberry, Purvis; freshman pitcher Tanner Elders, Newton County; sophomore pitcher Hagan Brown, Gautier; sophomore outfielder/pitcher Luke Yancey, East Rankin Academy; freshman outfielder Cain Cleveland, Newton County; freshman catcher Hunter Harper, Enterprise; and sophomore pitcher/outfielder Tyler Ladner, Pass Christian; (second row, from left) assistant coach Jake Rowell; head coach Neal Holliman; student manager Kalen Brown, Morton Attendance Center; sophomore infielder/catcher Brandon Clark, Union; freshman pitcher Dylan Marsh, Lake Cormorant; sophomore catcher/first baseman Ty Alderman, Newton County; freshman pitcher Preston Krummel, Purvis; freshman infielder Cooper Clement, Water Valley; freshman outfielder John Ross Griffin, Newton County; freshman infielder Jacob Edwards, Newton County; freshman pitcher Kolby Crowley, Winston Academy; student manager K'Hari Parker, Forest; and assistant coach Tyler Buckley; and (back row, from left) sophomore pitcher Peyton Lott, Seminary; sophomore pitcher Christian Bellew, Gulfport; freshman outfielder Deon Leflore, Leake Central; freshman outfielder Zack Hutchison, Wayne Academy; freshman first baseman Davis Lott, Lewisburg; freshman pitcher Sam Parker, Natchez Cathedral; freshman outfielder Hunter Bennett, Chilton County (Clanton, Ala.); freshman pitcher Alec Hayes, North Marion (Ocala, Fla.); freshman pitcher Cole Gray, Lamar School; freshman first baseman Cole Prestegard, Huntsville (Ala.); freshman pitcher Payton Griffin, Hebron Christian School; and freshman pitcher Brooks Warren, French Camp Academy. (EC Photo)
The 2016 East Central Community College baseball team won its fourth state championship in dramatic fashion last May, only to miss out on a chance to make its first-ever trip to the College World Series in heartbreaking fashion a week later.
This season, as the 2017 version of Head Coach Neal Holliman's Warrior baseball team hits the diamond, there is no talk of repeating as state champions or advancing to Enid, Okla., home of the 2017 National Junior College Athletic Association Division II Baseball World Series May 27-June 3.
That was last year and this is this year.
Holliman, who enters his 11th year at East Central with an overall record of 288-223, said this is a new year, new team, and new competition.
"In this league it is very difficult to repeat and our focus is not on that in any aspect," said Holliman, who won the Mississippi Association of Community and Junior Colleges State Baseball Championship in 2007, 2013, and 2016. "We don't even talk about past years except how we can learn and improve from the experiences. This is a new team and new competition. Repeating would only be for last year's team playing the same competition we played this year."
The 2016 Diamond Warriors beat Jones County Junior College 13-12 last May 14 on the JCJC campus to win the MACJC State Baseball Championship. The next weekend, ECCC advanced to the championship of the NJCAA Region 23 Baseball Tournament held at the Clark/Gay Baseball Complex in Decatur before Jones County won two straight games to win the tournament. JCJC went on to win the 2016 NJCAA Division II Baseball National Championship.
East Central finished the season with a 38-17 record and a No. 10 national ranking.
Despite it being a new year and a new team, the Diamond Warriors opened the 2017 season in February with a No. 8 national ranking.
Holliman said the goals for this year's team are simple.
"Just as in past years, we are trying to develop a program that can continually compete on the national levels," he explained. "We have made strides in that endeavor, but in no aspect are we finished."
Holliman lost several key players from last year's state champions, including right-handed pitcher Channing Wall, a first team All-American, All-State, and All-Region selection now playing for the University of North Alabama. Gone from the outfield are team captain Matt Mitchell, first team All-State; T.J. Lockett, now at the University of North Alabama; and Reagan Warren, who is playing for Southeastern Oklahoma University. Dylan Snypes, who was second team All-State and now playing at Oral Roberts University; catcher Michael Davis, now with the University of Southern Arkansas; and Will Kennedy have departed from the infield. In addition to Wall, pitcher Peyton Cain, who was second team All-State in 2016, is now at the University of Tennessee Martin.
The Diamond Warriors do return four starters from last year's team, as well as several pitchers, along with a talented freshman class.
Among the returners are Billy Cameron from Mendenhall High School, who started at shortstop, Brandon Clark from Neshoba Central High School, who hit in the middle of the order; first baseman Cole Prestegard, a Huntsville (Ala.) High School product who was first team All-State and All-Region 23 last season; and Nathan Roseberry from Purvis High School, who started in centerfield as a freshman and was second team All-State in 2016. Zach Parker from Quitman High School, who split duties behind the plate last season, also returns.
Luke Yancey from East Rankin Academy who was a conference starter and second team All-State returns on the mound, as do Peyton Lott from Seminary High School, who is projected to be a conference starter, and Brock Morris from West Jones High School, who was a conference starter in 2016 and will fill a similar role or long relief in 2017.
In addition, the Diamond Warriors have 21 first-year players who Holliman says, "Seem to continue to want to learn and advance." Many will play significant roles this season.
"We have several of our guys returning in the middle of the order who gained valuable experience last year and should help us this year," said Holliman. "Everyone must buy-in to what we are doing for us to be successful this season. That starts with the coaches, players, managers, and team personnel. If we take care of our priorities and preparation to ensure we are ready for anything we can imagine, then we will experience success."
In addition to its round-robin of doubleheaders against MACJC teams, the Diamond Warriors will host the ECCC Invitational Feb. 18-19 and the Rush Invitational Feb. 24-25 at the Clark/Gay Baseball Complex in Decatur. Holliman's team will also travel to Tyler, Texas, March 11 to face Arkansas Baptist and Tyler Junior College, as well as host NJCAA Division I Shelton State in a doubleheader March 8 on campus.
"This will be as tough or tougher than any schedule in our league," noted Holliman. "We don't focus on putting a schedule together to make sure we produce a bunch of wins. We focus on a schedule that prepares us to face the toughest competition we can in order to prepare us for conference and postseason play."
Holliman said MACJC league play will be difficult as always.
"This league is very tough," he said. "Eleven of the last 12 seasons our regional champion has played for or won the national championship, so everyone is trying to climb to the top as we are."
The complete East Central baseball schedule and roster can be found at www.ecccathletics.com.
Most East Central home baseball games game can be heard on the radio at WKOZ "Cruisin" 98.3. The radio broadcasts are also streamed online on the ECCC website at www.eccc.edu/eccc-media and at www.kicks96news.com.
Live video streaming is available via high-definition video and streaming audio found at www.eccc.edu/eccc-media or www.kicks96news.com.