August 18, 2017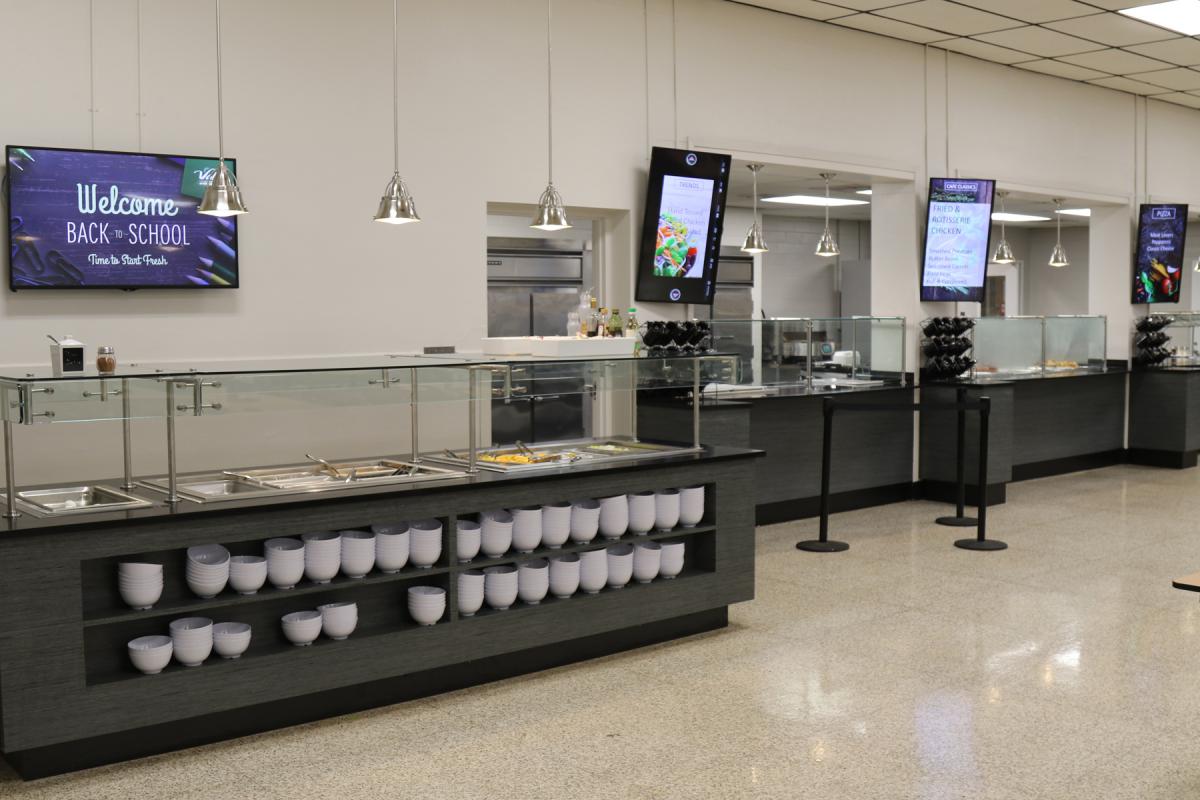 East Central Community College's Mabry Cafeteria underwent extensive renovations over the summer.​ (EC Photo)
East Central Community College students returned to classes Aug. 14 for the fall 2017 semester and were greeted by a major renovation to the Mabry Memorial Cafeteria on the Decatur campus.
The college's food service provider, Valley Services, Inc., completed the renovations and enhancements project over the summer.
The many enhancements include more and healthier dining options for students in a true restaurant-style setting.
Among the food options available to students include a comfort zone featuring meat and vegetable selections, a salad and potato bar, a pizza and pasta station, a made-to-order zone featuring a different selection daily, a rotisserie chicken station, a deli sandwich station, and a waffle station available at breakfast, lunch, and dinner.
Monitors located along the serving lines provide menu and nutrition information.
The Gold Room, formerly for faculty and staff dining and special functions, now includes food stations and expanded seating to accommodate more than 100 additional resident students who now live in the new Women's Residence Hall which was dedicated Aug. 8.
Double doors have been added between the Gordon and Magnolia rooms to provide one large serving/meeting room. These areas will be used for faculty and staff dining, Board of Trustees luncheons, and other special events.
The Mabry Cafeteria can now serve about 700 students during a dining period, up from 600 students before the renovation.
"For almost 20 years, Valley Services has been meeting the food service needs of students, faculty, and staff of East Central Community College as well as the communities we serve," said ECCC President Dr. Billy Stewart. "We are proud of this long-standing partnership with Jim Walt and members of the Valley Services team and are excited that so many individuals and groups will have the opportunity to benefit from the renovations and upgrades in Mabry Cafeteria that were completed the EC Way—Excellence with Class."
"It is our distinct privilege to partner with East Central Community College," shared Valley Services CEO Jim Walt. "We are committed to creating a dynamic dining program for the campus community that reaches beyond the food we serve. The newly renovated Mabry Cafeteria will provide students, faculty and staff with an energizing environment to inspire learning, creativity and wellness."
Mabry Cafeteria was originally built in 1964 to honor William Clifton Mabry, who served as president of the college's Board of Trustees from 1914-48. An addition to the building was completed in 1979.
The cafeteria is open seven days a week when school is in session. Breakfast hours are 7 a.m. to 8:15 a.m. Monday-Friday and 9 a.m. to 10 a.m. Saturday; lunch hours are 10:45 a.m. to 1 p.m. Monday-Friday and 11 a.m. to 1:30 p.m. Sunday; and dinner hours are 4:30 p.m. to 7 p.m. Monday-Wednesday, 4:30 p.m. to 6 p.m. Thursday, 4:30 p.m. to 5:30 p.m. Friday, 3 p.m. to 4 p.m. Saturday, and 4:30 p.m. to 5:30 p.m. Sunday.
The cost for visitors is $5.60 for breakfast, $7 for lunch, and $8.75 for adults and $5 for children ages 4-10 for Sunday lunch.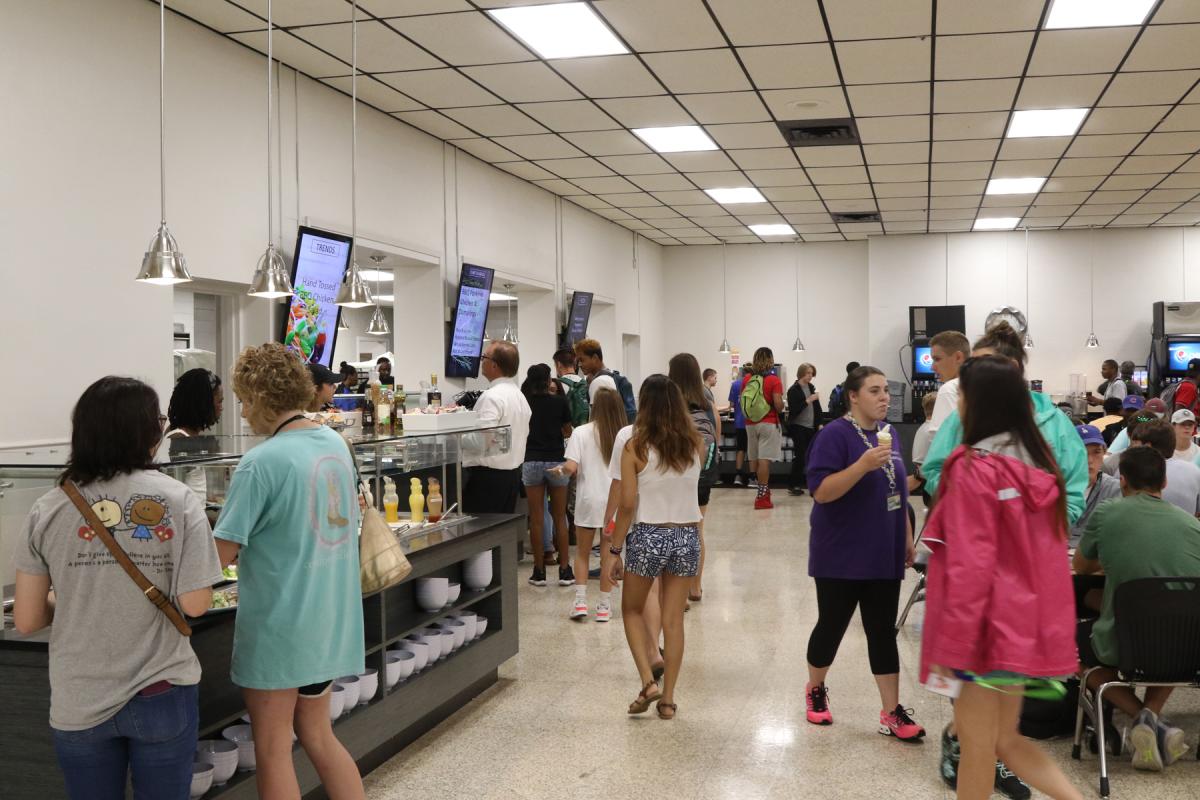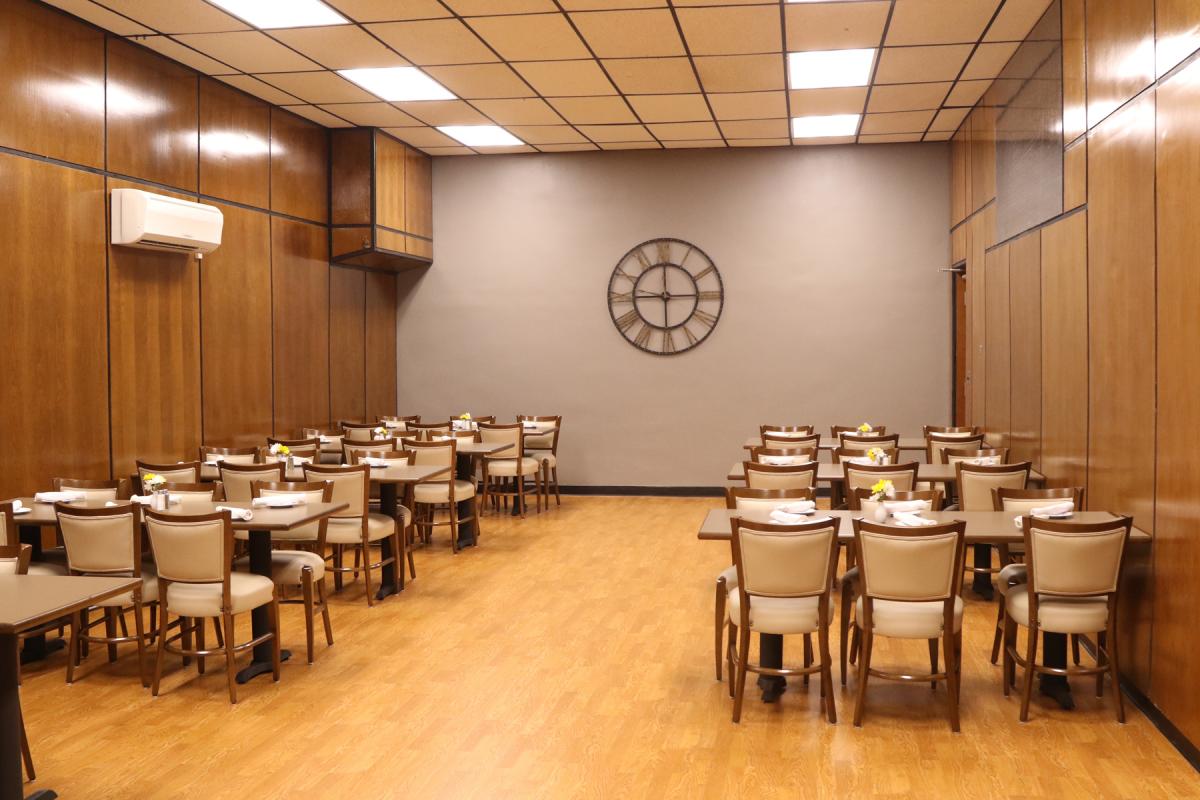 (Top Left) ECCC students enjoy the renovated Mabry Memorial Cafeteria during the first week of the 2017 fall semester. (Top Right) The Gordon Room in the Mabry Cafeteria at ECCC has been reconfigured for use by faculty and staff and for special events. (EC Photos)