March 29, 2017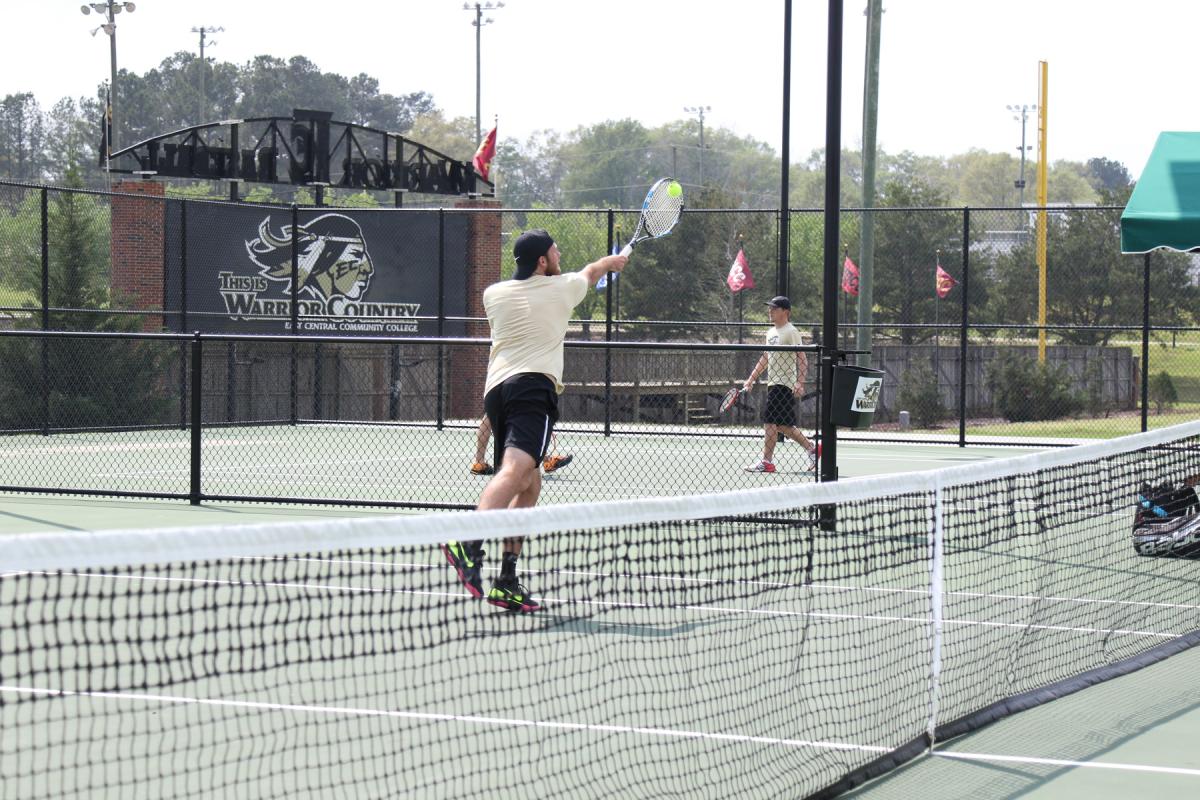 ECCC's Will Stewart with a backhand in doubles play in the win over Hinds. (EC Photo)
The No. 17 ranked East Central Community College men's tennis team put together one of its better performances of the season in defeating No. 24 ranked Hinds Community College 8-1 in a match played at the new Tennis Complex on the ECCC campus Tuesday, March 28.
With the win, the Warriors improved to 8-4 on the season.
"This was a nice victory for our guys," noted ECCC coach Jay Pacelli. "We swept the doubles against another ranked opponent, and Tom Langelaar fought for a gutsy win in singles against one of the state's better players."
The East Central women lost a heartbreaking 5-4 match to Hinds that came down to a super tiebreaker in the final singles match.
"The women played well in doubles and pushed a good Hinds team," said Pacelli. "We came within points of a victory."
Pacelli singled out Andi McCrimon who he said "played strong in both singles and doubles."
With the loss the ECCC women dropped to 5-7 on the year.
In men's doubles action against Hinds, the EC team of Tom Langelaar from Veldhoven, Netherlands, and Joseph Jabour of Warren Central High School defeated Daniel Yepez/John Dennis, 8-5; EC's Will Stewart of Newton County High School and John Jimenez of Oruro, Bolivia, defeated Chris Crapps/Matthew Burks, 8-2; and EC's Brandon Rogers of Winston Academy and Willie Wooten out of Warren Central High School beat Victor Villarreal/Hayden Hendon, 8-4.
In singles play, EC's Langelaar defeated Yepez, 3-6, 6-4 (10-8); EC's Jimenez defeated Crapps, 6-1, 6-1; Burks defeated EC's Jabour 6-4, 6-4; EC's Stewart defeated Jamal Holmes-Griffin, 6-2, 7-5; EC's Rogers defeated Ryan Wheeless, 6-0, 6-2; and EC's Graham Murphree out of Newton County High School beat Aaron Galloway, 6-2, 6-1.
In the women's doubles matches, Hinds' Mariana Alvarez/Stefy Varon-Diaz beat EC's Tatiana Quinonez of Bogota, Columbia, and Julia Johnston of Florence High School, 8-5; EC's Chaney Mills of Newton County High School and Andi McCrimon of Winston Academy beat Rutchelyn Elizar/Mary Neely Meyers, 9-7; and EC's Samantha McCrimon of Winston Academy and Hannah Payne from Union High School beat Jordan Warren/Brooke Myers, 8-4.
In women's singles play, Hinds' Alvarez defeated EC's Quinonez 6-0, 6-1; Varon-Diaz defeated EC's Mills, 6-0, 6-0; Meyers beat EC's Johnston 7-5, 7-5; EC's Andi McCrimon defeated Elizar, 6-3, 6-3; EC's An Duong from Richland High School beat Warren, 6-1, 6-3; and Myers beat EC's Emily Dykeman of Forest High School, 4-6, 6-1 (11-9)
The East Central teams return to action Wednesday, March 29, when they travel to Senatobia to face Northwest Mississippi Community College at 2 p.m. They return home no Wednesday, April 5, to host Copiah-Lincoln Community College at 2 p.m. at the new Tennis Complex on the Decatur campus.