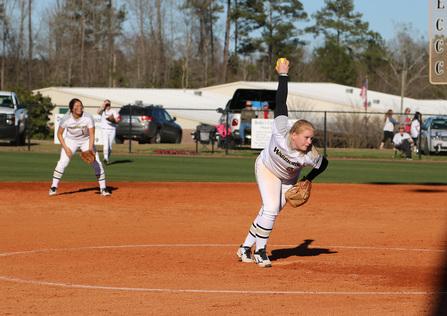 East Central sophomore pitcher Lacey Hill fires to the plate in the Lady Diamond Warriors game one loss to Jones County March 2.
The No. 7 Jones County Junior College Lady Bobcats swept the No. 2 East Central Community College Lady Diamond Warriors softball team in doubleheader action at the Softball Park in Decatur on Wednesday, March 2, by scores of 4-3 and 5-1.
 
The Lady Diamond Warriors overall record fell to 16-3 on the season and 0-2 in Mississippi Association of Community and Junior Colleges play. Jones County improved to 12-3 overall and 2-0 in conference play.
 
Jones County scored three runs in the fifth inning and a single run in the sixth to overcome a two-run deficit to win game one. East Central jumped out to a 2-0 lead on a two-run home run from freshman Brittney McCray out of Sumrall High School in the bottom of the second inning before Jones took a 4-2 lead after six. A solo home run in the bottom of the sixth by Mahalia Gibson out of Oak Grove High School pulled East Central to the final 4-3 margin.
 
Lacey Hill took the loss in the circle for East Central giving up the four runs on seven hits.
 
In game two, Jones County outhit East Central 11-3. The Lady Diamond Warriors only run came on a run-scoring single from Maegen Ellis out of Oak Hill Academy in West Point in the bottom of the first inning.
 
Chloe Thaggard out of Leake Academy took the loss in game two, her first of the year after eight straight wins.
 
East Central now embarks on an eight-game road trip to four MACJC opponents. The Lady Diamond Warriors begin that journey on Friday, March 4, with a doubleheader at Coahoma Community College in Clarksdale beginning at 1 p.m. Next up are doubleheaders at Pearl River Community College in Poplarville on March 8 at 3 p.m., Holmes Community College in Goodman on March 11 at 1 p.m., and Northwest Mississippi Community College in Senatobia on March 13 at 2 p.m.
 
The Lady Diamond Warriors finally return home on Wednesday, March 16, to host Hinds Community College in a doubleheader beginning at 3 p.m. at the Softball Park in Decatur.