March 7, 2018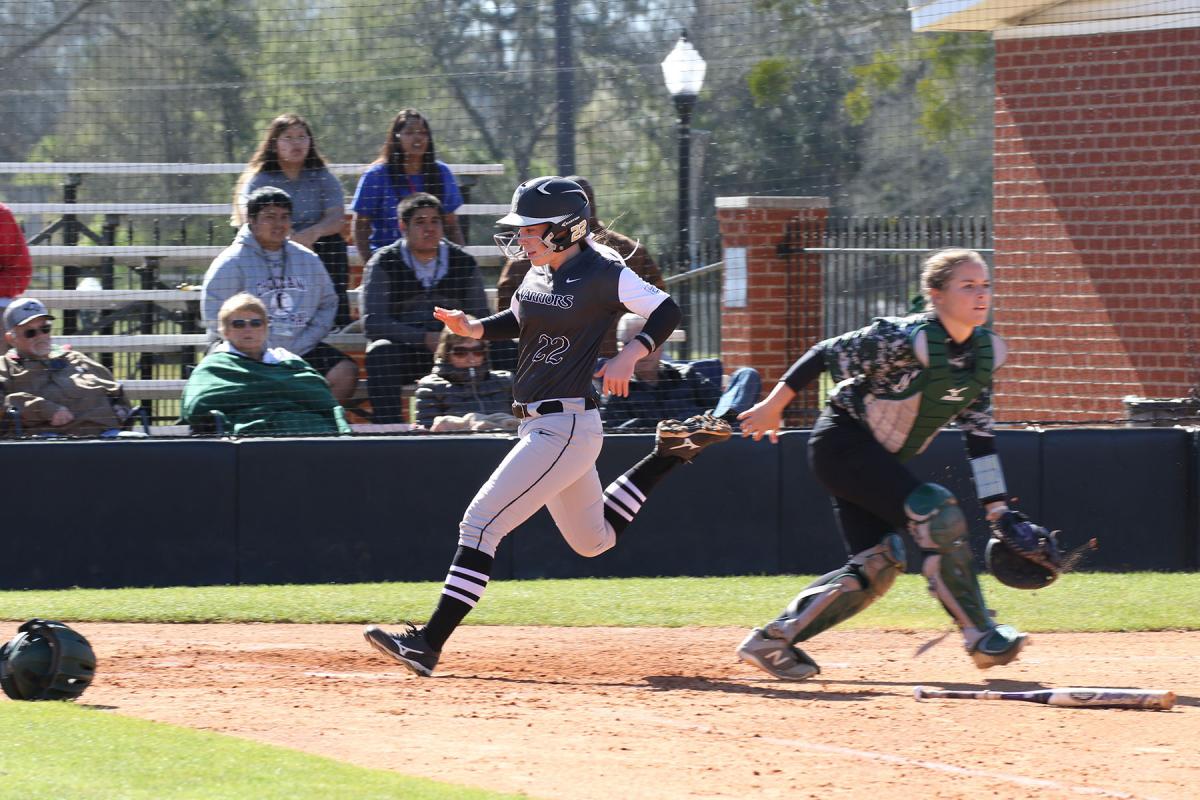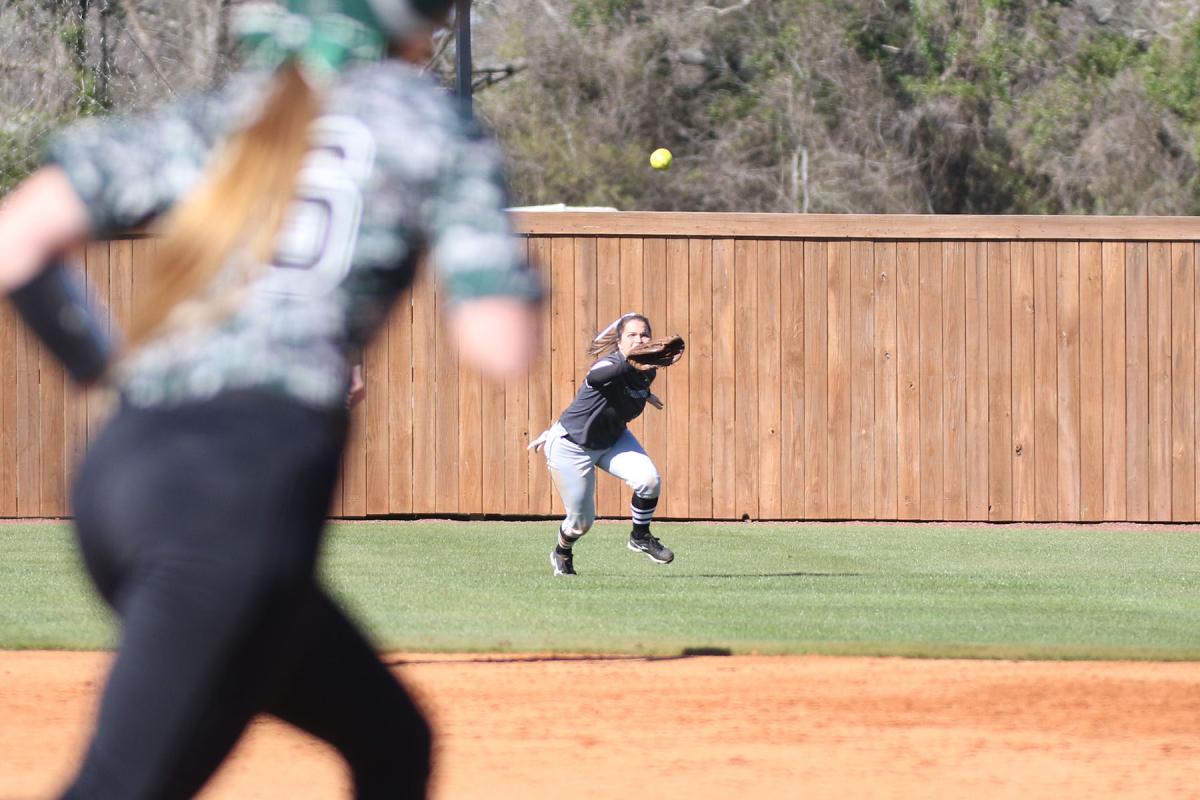 (Left Photo) East Central's Shelby Walters crosses the plate to give the Lady Warriors a 1-0 first inning lead over Meridian in game one. (Right Photo) ECCC center fielder Marlee Parkes zeros in on a line drive in action against the Meridian Lady Eagles. (EC Photo)
The No. 8 ranked East Central Community College Lady Warriors collected 25 hits on Meridian Community College pitching to win a pair of MACJC conference softball games over the Lady Eagles Wednesday, March 7, at the Softball Park on the ECCC campus in Decatur.
East Central won the opener 7-1 and game two 10-2.
East Central's record improved to 14-4 overall on the season and 3-3 in MACJC action. Meridian is 1-12 and 0-6 in the league.
The Lady Warriors quickly jumped in front in game one with two runs in the bottom of the first inning thanks to a pair of walks and back-to-back RBI singles from sophomores Kayla Beckham of Neshoba Central and Cassie Obman out of Caledonia. East Central added four more runs in the bottom of the second after one out. Four straight singles and a Meridian error plated two runs. A sacrifice fly from Beckham and another Meridian error scored two more.
Meridian scored its run and threatened more in the top of the fifth. With two runners on, Reagan Autmon singled in a run, but East Central left fielder Shelby Walters (Northwest Rankin) threw out Saige Brewer trying to advance from first to third.
The Lady Warriors added their final run in the bottom of the sixth on a sacrifice fly off the bat of Obman.
Sophomore Madalyn McMahon from Neshoba Central stole two bases and scored three of East Central's seven runs.
Oswalt, who prepped at Heritage Academy in Columbus, picked up her seventh win of the season in the circle, giving up five hits and striking out four.
In game two, Meridian took a 1-0 lead in the top of the first thanks to a hit batter, wild pitch and steal of home by Autmon.
McMahon got East Central started in the bottom of the frame with a triple. After Beckham walked, sophomore Eva Scott (Burleson, Texas, Centennial) doubled off the center field wall to drive in two runs and give the Lady Warriors a 2-1 lead.
The Lady Eagles quickly tied it 2-2 with a solo home run from Tiana Boutte in the top of the second.
East Central began to pull away in its half of the second inning. Sophomore Katherine Shell of Brookhaven started things off with a single to left field, followed by Marlee Parkes of Nanih Waiya who bunted her way on base. Beckham and Scott then each drove in a run with singles, before a walk and a hit batter with the bases loaded put the Lady Warriors up 6-2.
The Lady Warriors added three more runs in the third to move in front 9-2. Another Parkes single followed by a Walters double gave East Central a 7-2 lead. After McMahon walked, Beckham and Scott both singled to add to their RBI totals for the day.
East Central ended the game by run-rule 10-2 with a run in the bottom of the fifth.
Sophomore Mackenzie Rousseau (Houma, La., Vanderbilt Catholic) also won her seventh game of the season, giving up just one hit and striking out five in four innings of work.
East Central will travel to Fulton on Friday, March 9, to face No. 11 Itawamba Community College at 2 p.m. and 4 p.m.
The Lady Warriors will kick off Spring Break week by facing Lansing Community College (Mich.) at 9 a.m. on Sunday, March 11, in the Jones County Junior College Invitational in Ellisville.
The Lady Warriors will then host Baton Rouge Community College on Friday, March 16, at 1 p.m. and 3 p.m. and Coahoma Community College on Sunday, March 18, at 2 p.m. and 4 p.m. at the Softball Park in Decatur.
Most home softball games can be heard on WKOZ Cruisin 98.3 or via audio stream and live stream video at www.eccc.edu/eccc-media.