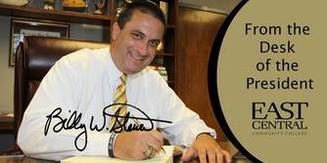 Welcome to the website of East Central Community College! I am pleased that you are interested in learning more about our college and trust that our website will allow you to explore the many educational opportunities we offer. Whether you want to earn an associate's degree and transfer to a four-year college or university, gain necessary skills through a career-technical program and enter the workforce, or take classes for personal or professional enrichment—we are honored that you are considering us for involvement in your educational endeavors. 
 
East Central is a comprehensive community college located in Decatur, Mississippi, and we are privileged to serve the 5-county district of Leake, Neshoba, Newton, Scott, and Winston counties in east central Mississippi. Accredited by the Commission on Colleges of the Southern Association of Colleges and Schools, we offer academic transfer, career, technical, workforce training, adult basic education, and personal enrichment courses in various formats including day, evening, weekend, on-line, video-conferencing, intensive, and hybrid formats. These courses are taught by a group of talented and compassionate faculty members who are committed to excellence in teaching and learning.  
 
Since our founding in 1928, the success of our students has been the college's highest priority. As you explore this website, you will find that in addition to excellent instruction, East Central students are supported by a full range of high-quality support services and/or programs including admissions, financial aid, counseling, advising, placement, and residential life designed to culminate in your success as a student. East Central also offers opportunities to participate in over 40 student clubs/organizations and numerous campus activities designed to assist you with personal growth and development as you pursue your educational aspirations. 
 
I am convinced that your involvement with East Central will provide you with stimulating learning experiences as well as a lifetime of fond memories and new friendships. We are committed to making your college experience both memorable and enjoyable, and we trust that your success at East Central will pave the way to a more rewarding future. We are also committed, in everything we do, to doing it the EC Way  – Excellence with Class.
This website can only give you a quick glimpse of all that East Central Community College has to offer. Following your online visit, we invite you to spend time on our campus, tour our facilities, and speak to members of the East Central family. Our faculty, staff, and students stand ready to share with you our excitement about being a part of a very special college. I know that when you do, you will find as I have, that the greatest strength of East Central Community College is its people.
Once again, thank you for visiting our website. We look forward to meeting you and sharing the great things happening on the campus of East Central Community College!