August 20, 2021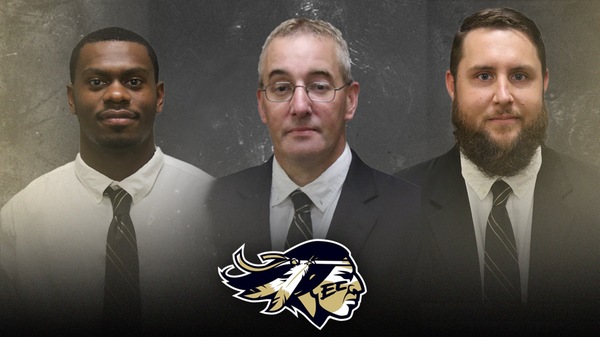 The East Central Community College football program has three new faces helping lead the team during their 2021 season. These men are Chris Stamps, Scott Sallach, and Cason Bicknell. Stamps will be the cornerbacks' coach, Sallach will be responsible for wide receivers and tight ends, and Bicknell will coach the defensive line. These additions add years of coaching and playing experience to the ECCC staff and will continue to help ECCC student-athletes develop into great players on and off the field. 
Chris Stamps is a Warren Central graduate from Vicksburg, a two-time All-State player, and a Mississippi/Alabama All-Star game alum. After high school, Stamps signed with Mississippi State University before transferring to Northwest Mississippi Community College and graduated from Middle Tennessee State.
After his playing time ended, Stamps transitioned directly into coaching as he was MTSU's strength and conditioning intern. He followed that role as a graduate assistant at Mississippi Delta Community College where he coached the linebackers in 2020. 
"My playing time at a high level from the cornerback position and special teams will be valuable to our student-athletes," said Stamps. "I hope to teach our players from a younger coach's perspective, and since I have played college ball at so many different levels, I can relate with them and help them reach their goals."
Scott Sallach is from Bound Brook, New Jersey, and played collegiate football at Ursinus College in the early '90s. Sallach was a standout athlete and played multiple positions including quarterback, tight end, and wide receiver, all positions he has coached during his career. He brings over 25 years of coaching experience to the staff with eight years spent in the SEC and 11 in the Ivy League. He has coached multiple positions and worked in a variety of football roles. 
He most recently coached quarterbacks at Stetson University where he also served as the pass game coordinator. Before Stetson, Sallach coached tight ends at Mississippi State University for eight years and served as director of player personnel. At MSU he helped the Bulldogs capture the college's first No. 1 national ranking, coached and recruited multiple NFL players, and help the program break over 90 offensive records.
Prior to MSU, Sallach had coaching stints at Elon University, Princeton University, Dartmouth College, Monmouth University, and Hamilton College. 
"I think my experience is the biggest strength I bring to the table as I've coached at all levels, recruited nationally, and have seen a lot of different offensive strategies," said Sallach. "I look to help our guys on and off the field, maximize them as players and people, and help them become what I know they are capable of."
Cason Bicknell is from Lake City, Florida, and played college ball at Jacksonville University for two seasons as a tight end and helped the Dolphins win the program's first Pioneer League championship in 2008. 
Bicknell transferred to the University of Southern Mississippi and worked as a student coach for three seasons and helped the Golden Eagles win a C-USA championship in 2011 and accepted a bid to the Hawaii Bowl. After his time at USM, Bicknell coached at Southwest Mississippi Community College for one season, before accepting a job at the University of Memphis where he was on the defensive staff and served as quality control. He came back to the MACCC in 2016 as the linebackers coach at East Mississippi Community College before taking on a role as offensive and special teams coordinator at Lake Erie College in Painesville, Ohio in 2017. 
Bicknell's most recent coaching stints were at Delta State University where coached the safeties and tight ends and Columbia High School in Lake City, Fla. 
"My work ethic is what I pride myself the most in. I always want to leave things better than I found, whether that be a locker room or one of our student-athletes," said Bicknell. "I'm excited to help our guys grow and work hard on a whole-person development. I want to help the student-athletes in any way I can."
These three additions not only bolster ECCC's staff in coaching and recruiting experience but maintain the integrity and mindset that head coach Ken Karcher strives to continue to build at East Central, an institution that looks to better student-athletes across all disciplines of life.