October 30, 2017
The East Central Community College basketball teams are prepared to hit the hardwood for the 2017-18 season with a mix of youth and experience, and with expectations to be playing in the postseason come late February.
The Lady Warriors and Warriors open their 23-game seasons Thursday, Nov. 2, at home against Coahoma Community College. The women will tip off at 5:30 p.m. and the men at 7:30 p.m. from Brackeen-Wood Gym on the campus in Decatur. Admission is $7 for adults and $5 for students.
All home basketball games can be heard on WKOZ Cruisin 98.3 or via audio stream and live stream video at www.eccc.edu/eccc-media.
Fifth-year men's Head Coach Robert Thompson will have double duty this year as he provides leadership for both the Lady Warriors and the Warriors. He will be assisted on both teams by second-year assistant coach Dylan Shields.
When Lady Warriors and Warriors tip it off Nov. 2, it will be a tale of two teams: youth vs. experience. The 14-member Lady Warriors return only one player from last year's roster, while the men return eight players, including two starters and three others who saw significant playing time for the Warriors.
While the Lady Warriors only return one starter from last season, she's a good one. Autumn Taylor out of Newton High School was Mississippi Association of Community and Junior Colleges All-State and National Junior College Athletic Association All-Region 23 a year ago when she averaged 17 points, seven rebounds, and three assists a game.
The Lady Warriors, who won the MACJC State Championship in 2015-16, finished 12-12 last season and failed to make the state playoffs, but did qualify for Region 23 play. Gone from that team are Curtisha Coleman and her 15 points and nearly eight boards a game, along with Laneisha Jeans (12 points, 3 assists) and Shantavis Hughes (7 points, 4 assists).
Despite the lack of returning experience, Thompson is optimistic about the new talent on the Lady Warrior roster.
"We believe we have a talented bunch of players," said Thompson of his team which features 11 freshmen. "It's a very close-knit group. They have embraced what we are trying to do as a team and have a lot of pride. We will be young and make youthful mistakes, but I believe we will compete to be in the top four in our division and qualify for the state tournament."
Among the first-year players expected to contribute are guards Tamirra Haskin, who prepped at Laurel High School; Sharan Turner from East Ascension in Gonzales, La.; and Diamond Wraggs out of Louisville; and forward Whitney Waters from Heidelberg.
The Lady Warriors will not be as tall as some of the teams they will face in the MACJC this season, but will compensate with speed and athleticism.
"This team has a good basketball IQ," said Thompson. "The biggest weakness will be youth. The new players will need to adjust to the speed of the game at this level to be successful."
Thompson will have a lot more experience on his men's team as the Warriors look to improve on last season's 14-11 mark that included trips to both the MACJC State and NJCAA Region 23 tournaments.
The Warriors will need to replace All-State and All-Region forward Tonzell Handy, who took his 15 points and nearly eight rebounds a game to Tougaloo College. Also departing is guard Jaylon Bardley (9 points, 5 assists per game), and center Shaquille Benson (6 points, 5 rebounds per game). Bardley is playing at Blue Mountain College and Benson at Southern University in Baton Rouge, La.
Two starters return in guards Cayman Ruffin (9 points per game) and Jaquan Dotson (8 points, 4 rebounds), who were teammates at Neshoba Central. Also returning are three players who logged significant minutes on the court last season in forwards Antonio Clark from Leake Central who averaged 15 minutes a game in 2016-17, Cameron Diggs from Blount High School (Mobile, Ala.) and his seven points and four rebounds, and Dalton Hannah from Jumpertown. Diggs has already committed to play at the University of North Alabama next season.
"We return a lot of depth on the men's side from a team that finished strong last season winning six of their last eight games" said Thompson. "We are not as big as last year, but I think we'll be better and hope to be one of the top teams in the South Division."
Despite the returning experience, Thompson is excited about his newcomers who will play key roles on this year's team. Returning starters Ruffin and Dotson are slated to come off the bench this season, while freshman guards Roti Ware, a highly recruited player out of Morton High School, and Tre Pinkston, who prepped at Forest, will step in.
"Roti was one of the top guards in the state in high school, and Tre is floor general. He's small, quick and tough," Thompson said.
"I feel confident in the ability of this team," continued Thompson. "They are experienced, motivated, and understand what it takes to be successful and that will be an advantage."
Thompson said that Shields will take on an expanded coaching role with the men's team this season, while Thompson transitions between the women's and men's teams on game nights.
"The transition [to coaching both teams] has been very good," explained Thompson. "The players have made it easy on the coaches. We are one big family, with 15 leaders on each team. When the women are playing, the men will be sitting behind them cheering them on and the same when the men are playing. We are looking forward to seeing what we can accomplish this season."
For a complete look at the 2017-18 East Central Community College men's and women's rosters and schedules, visit www.ecccathletics.com.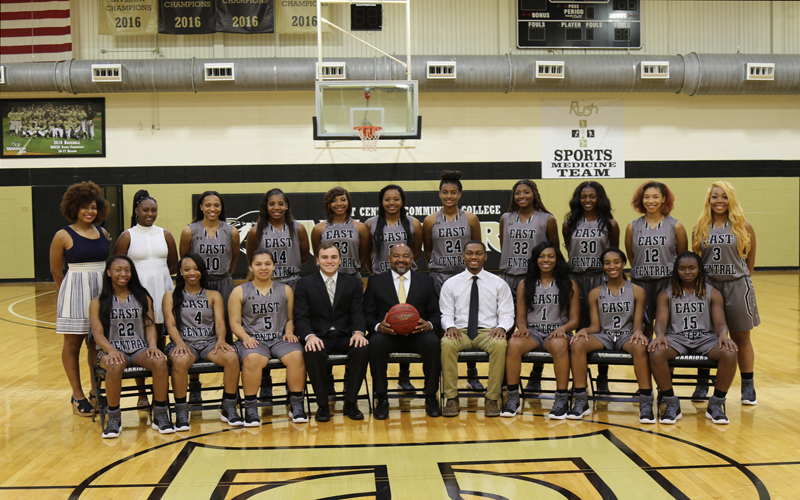 Members of the 2017-18 East Central Community College women's basketball team, and respective high schools, include (front row, from left) Adasia Rudolph, G.W. Carver (Montgomery, Ala.); Tan Lloyd, Newton; Relissia Ray, Neshoba Central; Assistant Coach Dylan Shields; Head Coach Robert Thompson; manager Austin Taylor, Newton; Autumn Taylor, Newton; Feria Mays, Kosciusko; and Breanna Riley, Biloxi; and (back row, from left) manager Carisma Thomas, Morton; manager Rajah Hodges, Newton; Dominique Jackson, Terry; Diamond Wraggs, Louisville; Whitney Waters, Heidelberg; Latesia Davis, Newton County; My'Neka Frazier, South Pike; Sharan Turner, East Ascension (Gonzales, La.); Gabby Campbell, Yazoo City; Jamie Lane, Ridgeland; and Tamirra Haskin, Laurel. (EC Photo)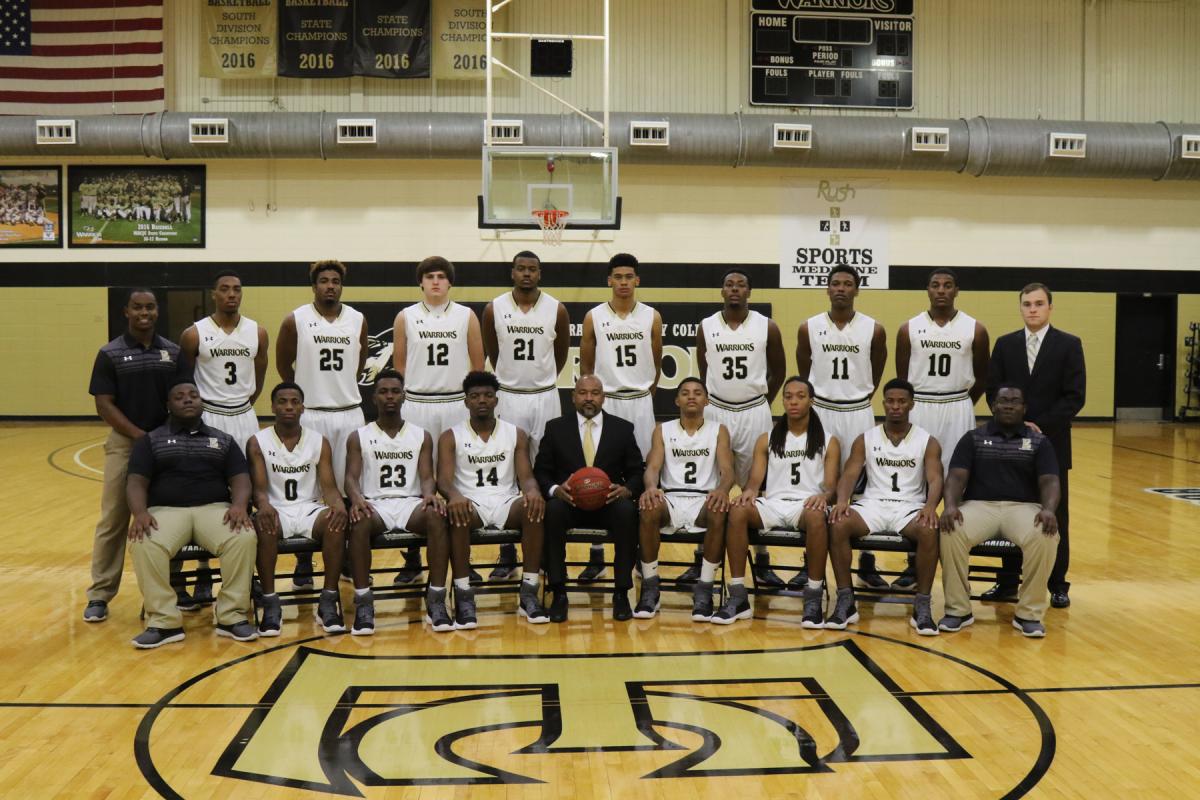 Members of the 2017-18 East Central Community College men's basketball team, and respective high schools, include (front row, from left) manager Malik Howze, Quitman; Josh Green, Harrison Central; Roti Ware, Morton; Tavonta Jones, Meridian; Head Coach Robert Thompson; Chandler Diaz, Mandeville (La.); Cayman Ruffin, Neshoba Central; Tre Pinkston, Forest; and manager Kedarius Gill, Neshoba Central; and (back row, from left) manager Javontae Spivey, Forest; Jerome Adkins, Clarkdale; Kamara Warren, Jr., Bishop Alemany (Lancaster, Calif.); Dalton Hanna, Jumpertown; Cameron Diggs, Blount (Mobile, Ala.); Thurston McCarty, Quitman; Antonio Clark, Leake Central; Jaquan Dotson, Neshoba Central; Brandon Williams, Leake County; and Assistant Coach Dylan Shields. (EC Photo)