August 21, 2017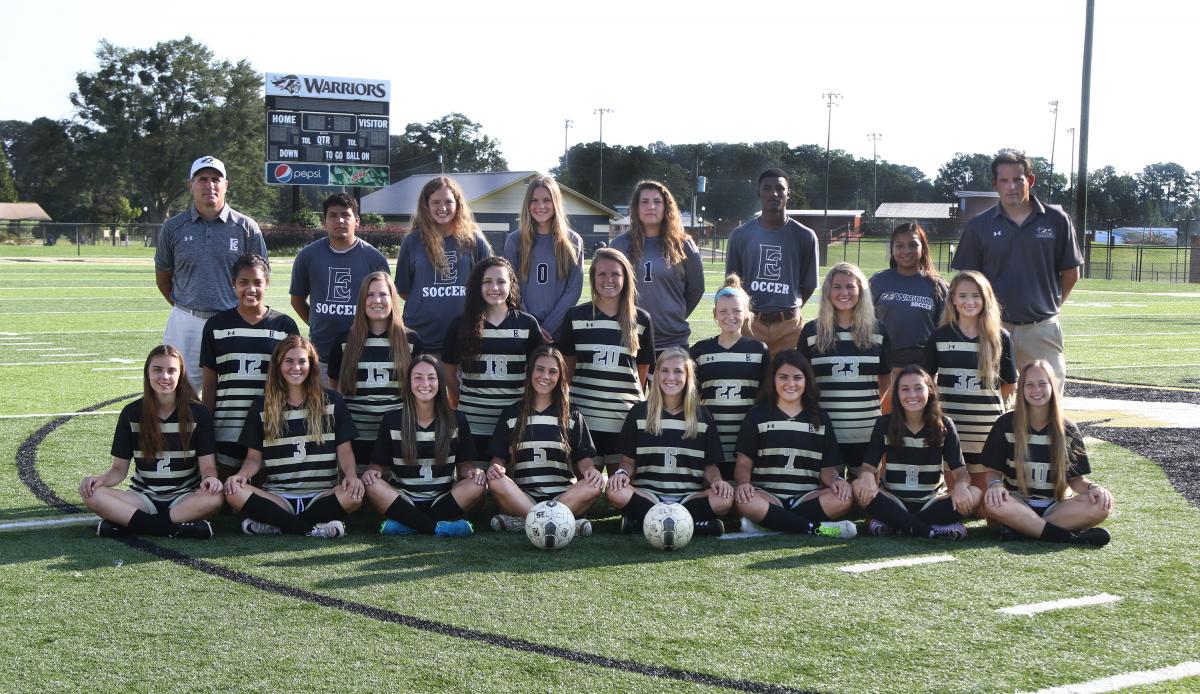 Members of the 2017 East Central Community College women's soccer team and their high schools include (front row, from left) Eva Foran, Corinda State (Brisbane, Australia); Kelsey Bayles, Northwest Rankin; Ryan Gunter, George County; Helaina Wellington, Erina (New South Wales, Australia); Aubree Patterson, Richland; Ashley Langham, Florence; Cailee Helen McClain, Starkville; and Noel Ross, Horn Lake; (second row, from left) Haley Jones, Pelahatchie; Georgie Wilson, Trinity College Senior (South Australia, Australia); Maddie McLeod, West Jones; Haley Hutcherson, Clarkdale; Kaitlynn Summerlin, Florence; Carolyn Nickles, East Rankin Academy; and Carrington Payne, Richland; and (back row, from left) Head Men's Coach Kenneth Thompson; managers Guillermo Espinoza, Forest, and Kenlynn Morgan, Newton County; Sarah Gilliland, Northwest Rankin; Jordan Haven, Horn Lake; managers Isaiah Woods, Louisville, and Briseyda Hernandez, Leake Central; and Head Women's Coach Gray Massey. Not pictured is Kelli Vaughn, Stanhope Elmore (Millbrook, Ala.). (EC Photo)
In only his fifth season as head women's soccer coach at East Central Community College in Decatur, Gray Massey is looking for his fourth straight appearance in the Mississippi Association of Community and Junior Colleges playoffs as his 2017 team takes the pitch.
Massey's previous three teams have won 12, 11, and 12 games, including a program record 10 straight wins to start the 2016 season. East Central finished 12-4 overall last fall, second in the MACJC North Division, and lost a home first-round playoff match to Pearl River Community College.
Massey must replace five starters from that team, including National Junior College Athletic Association All-Region 23 players in goalkeeper Kaitlyn Knuth out of West Lauderdale and center back Gabby Gross of Lewisburg High School. Both now play for Mississippi College.
Four other starters return, including MACJC All-State selections Ashley Langham of Florence and Aubree Patterson of Richland, who both played in the midfield in 2016.
"We have a good nucleus of sophomores returning and I look for each one to make an impact," Massey noted.
East Central will have a bit of an international flair this season as three players have joined the team from Australia, including midfielder Eva Foran, forward Helaina Wellington, and defender Georgie Wilson. Massey will also look for help from freshman goalkeepers Sarah Gilliland of Northwest Rankin and Jordan Haven of Horn Lake.
Massey said he likes what he sees from his team during preseason practice as they prepare for the season opener against Motlow State Community College from Tennessee, a match that will be played Saturday, Aug. 26, at 1 p.m. in Meridian.
"This team will depend on each other more," explained Massey. "How we respond if we give up a goal early will be important, but I like the chemistry we have this year so far, and know it will continue to grow."
Massey said he hopes to avoid the injury bug that plagued last year's team when three players were lost with knee injuries. "We have a smaller roster than normal this year so we have to avoid season or long-term injuries," he noted.
"Last year's team had a great spirit and fight in them," he continued. "They battled in every game but one. Three of our four losses were by one goal and two of those were in overtime.
"I want to see this year's team transform from where we are right now to where we will be at the end of the year. Can we find a stronger work ethic and become better people and give back to society? That is what I hope happens. Our competition in the MACJC North Division is going to be wide open this year and that is what makes it fun."
East Central will play its home opener Wednesday, Sept. 6, against North Division foe Itawamba Community College at 2 p.m. at the Soccer Complex on the ECCC campus in Decatur.
A complete schedule and team roster can be found online at www.ecccathletics.com.