November 8, 2016
If the East Central Community College men's basketball team is to return to the state playoffs after a year's absence, it's going to be because of quality depth and team unity.
Along with a lot of new faces.
Head Coach Robert Thompson enters his fourth season at the helm of the Warrior basketball program with a dozen new players, all freshmen. Gone are all five starters and the top reserve from last year's team, which finished just short of making the Mississippi Association of Community and Junior Colleges state playoffs.
Thompson's 2015-16 team finished 13-10 overall and missed postseason play on the last game of the season.
Gone from that team are Prince McDaniel, 16 points a game; Randy Phillips (Radford University), eight points and six rebounds per game; Derrick Dandridge (Florida A&M University), nine points and seven rebounds a game; Isaiah Traylor (Stephen F. Austin University), 10 points per contest; Ravion Henry (Delta State University), a dozen points a game; and Keion Peoples, 11 points and five assists a game.
Returners include 6-5 forward Tonzell Handy, who prepped at Lanier High School in Jackson, and his eight points and seven boards a contest. Also back is 6-10 center Shaquille Benson out of Hahnville (La.) High School, and 5-8 point guard Jaylon Bardley out of New Hope High School.
Thompson will also count on a talented freshman class that includes a pair of big guards in 6-4 Jaquan Dotson out of Neshoba Central High School and 6-7 Thurston McCarty of Quitman High School, as well as 6-9 post player Cameron Diggs out of Blount High School in Mobile, Ala.
"Jaquan will bring athleticism and toughness from the guard spot," noted Thompson. "McCarty will bring length and athleticism to the wing position, and Diggs brings size and scoring ability in the post."
What the Warriors may lack in experience for the 2016-17 season Thompson believes will be made up with a team unity and depth that was not evident in last year's team.
"Our team goal is to be one of the top four teams in the MACJC South Division and make the playoffs," explained Thompson. "But we want to do that while being true champions both on and off the court.
"The strength of this team will be team unity and depth. The key for us to be successful will be to excel in the fundamentals of basketball: passing, dribbling and shooting. Add to that team unity, unselfish play, and a little luck and we can reach our goal."
Thompson also adds a new assistant coach for the 2016-17 campaign.
El Dorado, Ark., native Dylan Shields' main responsibilities will be recruiting coordinator with a focus on out-of-state players, opponent preparation, and coordinating East Central men's basketball camps. Prior to joining the ECCC staff, Shields served as the assistant director of basketball operations and video coordinator at the University of North Texas in Denton for two seasons. Prior to that he was a student basketball manager at the University of Arkansas.
"Dylan brings Division I experience and an eagerness to succeed to East Central," noted Thompson. "His ability to get along with anyone and his professionalism will have a tremendous impact on our program."
The Warriors play 23 regular season games this year, including 13 at home. East Central will host the EC Classic Nov. 21-22 and play Taylormade Academy and Wallace State-Selma out of Alabama on successive days.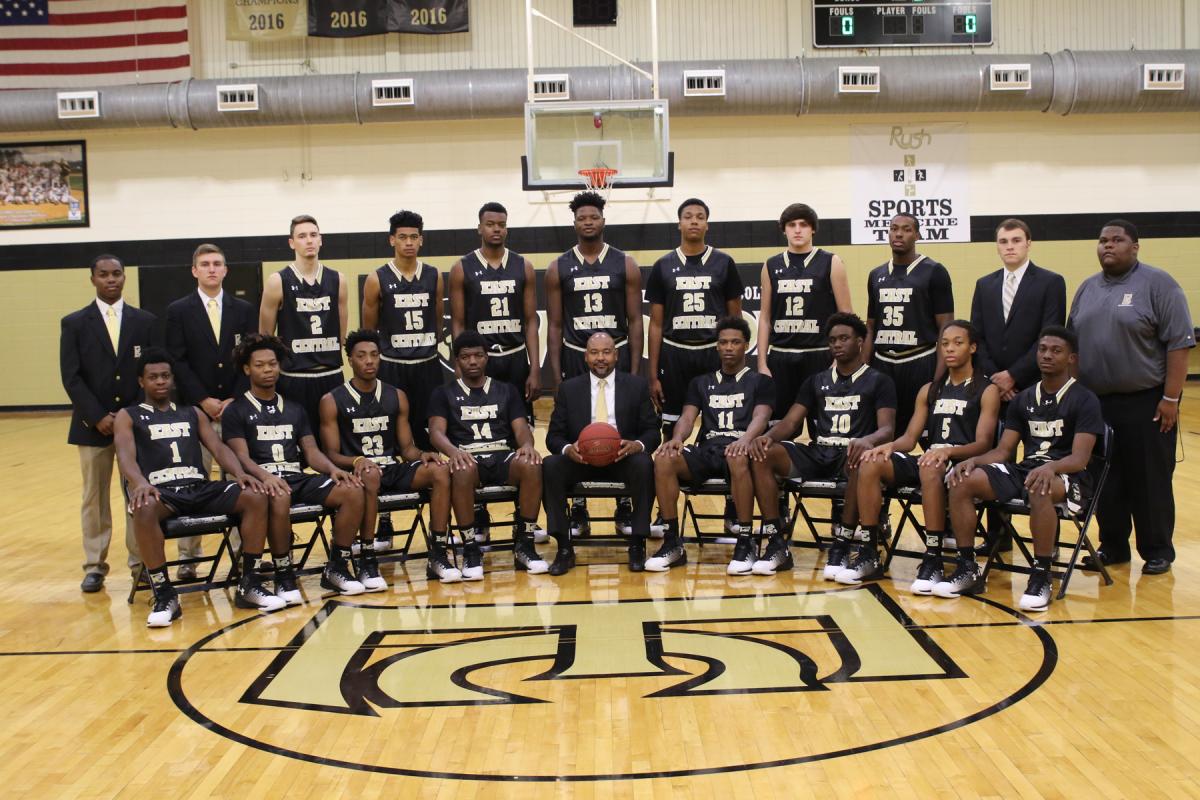 Members of the 2016-17 East Central Community College men's basketball team, and respective high schools, include (front row, from left) Jaylon Chiles, Biloxi; Alvin McFarland, West Point; Jerome Adkins, Clarkdale; Tavonta Jones, Meridian; head coach Robert Thompson; Jaquan Dotson, Neshoba Central; Tonzell Handy, Jackson Lanier; Cayman Ruffin, Neshoba Central; and Jaylon Bardley, New Hope; and (back row, from left) manager Javontae Spivey, Forest; manager Dalton Hilliard, St. Martin; Josh Beard, Quitman; Thurston McCarty, Quitman; Cameron Diggs, Mobile (Ala.) Blount; Shaquille Benson, Hahnville (La.); Marshun Gladney, Northwest Rankin; Dalton Hanna, Jumpertown; Antonio Clark, Leake Central; assistant coach Dylan Shields; and manager Rahsaan Lang, West Lowndes. (EC Photo)