May 10, 2022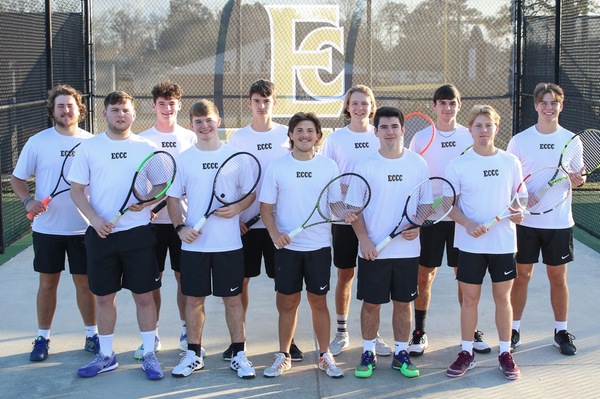 For the third season in a row, the East Central Community College Warrior tennis team has earned an at-large bid to the NJCAA DI Men's National Tournament. The tournament will be held at the JoAnn Medlock Murphy Tennis Center in Tyler, Texas from May 16 through May 20. 
"I'm so excited for the men to be able to compete at yet another national tournament," said ECCC head men's tennis coach Jay Pacelli. "We are looking to have a lot of fun, play some outstanding tennis, and be successful in all of our draws." 
The Warriors will join Dominik Simunovic and Joseph Fletcher who both earned individual bids for their doubles play throughout the season as well as Simunovic's singles play at the No. 1 line. The duo finished the year second in the MACCC with an 11-6 overall record, while Simunovic also got the nod on the singles court after finishing the year 13-5, which again is second-best in the MACCC. As a team, the Warriors closed out the 2022 season with a 13-11 record and were 9-9 in MACCC play. The season saw some big wins including tight victories over Hinds, Coastal Alabama-South, and Itawamba. 
Along with solid team play throughout the 2022 season, the Warriors had a pair of players named ITA x Universal Tennis Player of the Week in the men's JUCO division in Kaleb Parish and Orren Ladner. The honors both came in the latter half of the season to help carry some momentum into the tournament. 
"We are looking, as a team, to play our best tennis when we get out there," said Pacelli. "We look forward to representing the college on a national stage and are just excited for the trajectory for this program." 
The tournament will be flighted as players will take on opponents from their appropriate line despite being from different schools. Each match will be allotted points separately allowing for individual winners and team winners.
Matches are set to begin on Monday, May 16, and will stagger throughout the week. Fans can follow @ECCCAthletics on social media for updates.