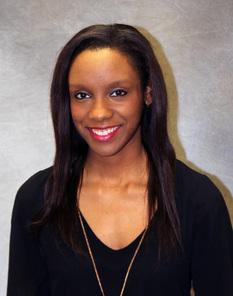 Tierra Robinson has joined the Office of Public Information at East Central Community College in Decatur as sports information/communications specialist.
 
Robinson assumed the newly created position on Feb. 15.
 
As sports information/communications specialist, Robinson is responsible for overseeing all aspects of media, sports information, and promotion of the college's 10 intercollegiate sports teams, as well as assisting the Office of Public Information in overall college media, promotion, external and internal communications and marketing initiatives.
 
A native of Eufaula, Ala., Robinson received her bachelor's degree in Integrated Marketing Communications from the University of West Alabama in Livingston.
 
Prior to joining East Central, she was a reporter for Fox 30 News in Meridian. She also has interned with WTOK-TV in Meridian covering sports, including SEC Media Days, and has served as a videographer, editor, photographer and reporter for UWA's Studio 96 Productions and as a filmer and assistant video coordinator for the UWA football team.
 
While a student at UWA, Robinson won several awards in the Southeast Journalism Conference competition and was named UWA's 2015 Broadcast Journalist of the Year. She also was a UWA Ambassador and Miss University of West Alabama.
 
She is an active member of the Association of Women in Sports Media.