November 17, 2022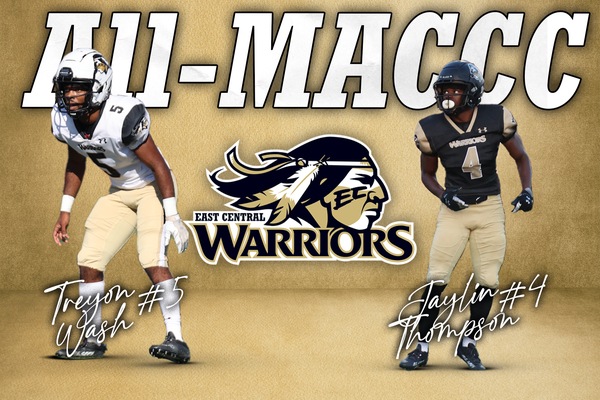 East Central Community College had two players earn All-MACCC honors for their play on the gridiron in 2022. ECCC's Treyon Wash, a sophomore defensive back from Forest, was tabbed as Second Team All-MACCC, while Jaylin Thompson, another sophomore defensive back who hails from Vicksburg, earned Honorable Mention recognition.
Wash finished the season second on the team in tackles with 62 on the year. The sophomore led the team in interceptions as he snagged three on the season and blocked a pair of kicks. He also posted four breakups during the year. 
Thompson was another lockdown defensive back who wrapped up 39 tackles on the year. Thompson posted two interceptions, both against Southwest, and returned one for a 56-yard touchdown. He also broke up six passes on the year, second most on the team. 
The Warriors finished the season 1-8 overall as the season opener was forfeited by Coahoma.