October 6, 2021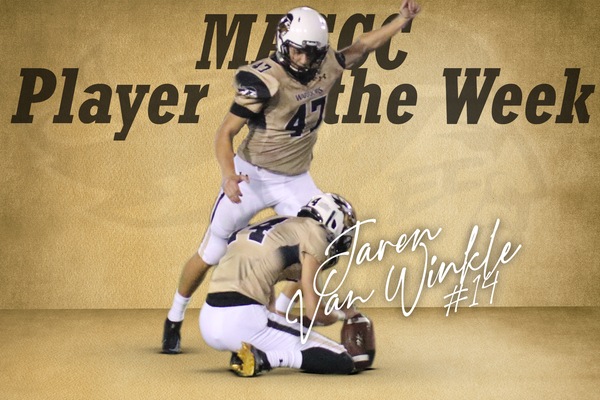 Jaren Van Winkle (Pinson, Ala.) had an unforgettable performance against Pearl River on Sept. 30 as the freshman knocked through a 45-yard field goal with less than 10 seconds on the clock to lift the Warriors to a 17-14 victory over the Wildcats. 
The dream-come-true moment for the kicker was followed with Van Winkle being toated off the field by teammates celebrating the victory. The accolades continue to flow Van Winkle's way as the freshman was tabbed as MACCC Special Teams Player of the Week for his efforts in the Warriors' win. 
Along with the game-winner, Van Winkle posted two, ever-important, point-after attempts to secure the Warrior victory. An earlier field goal attempt in the game, ECCC's first of the season, was blocked, but through five games Van Winkle is nine-for-nine on extra points. The freshman also handles all kickoff duties for ECCC. 
The Warriors are 2-3 overall and 2-1 in MACCC South Division play. The Warriors are on the road this Thursday as the team travels to Perkinston to take on the Mississippi Gulf Coast Bulldogs in a pivotal south division matchup. Kickoff is set for 7 p.m.