February 12, 2018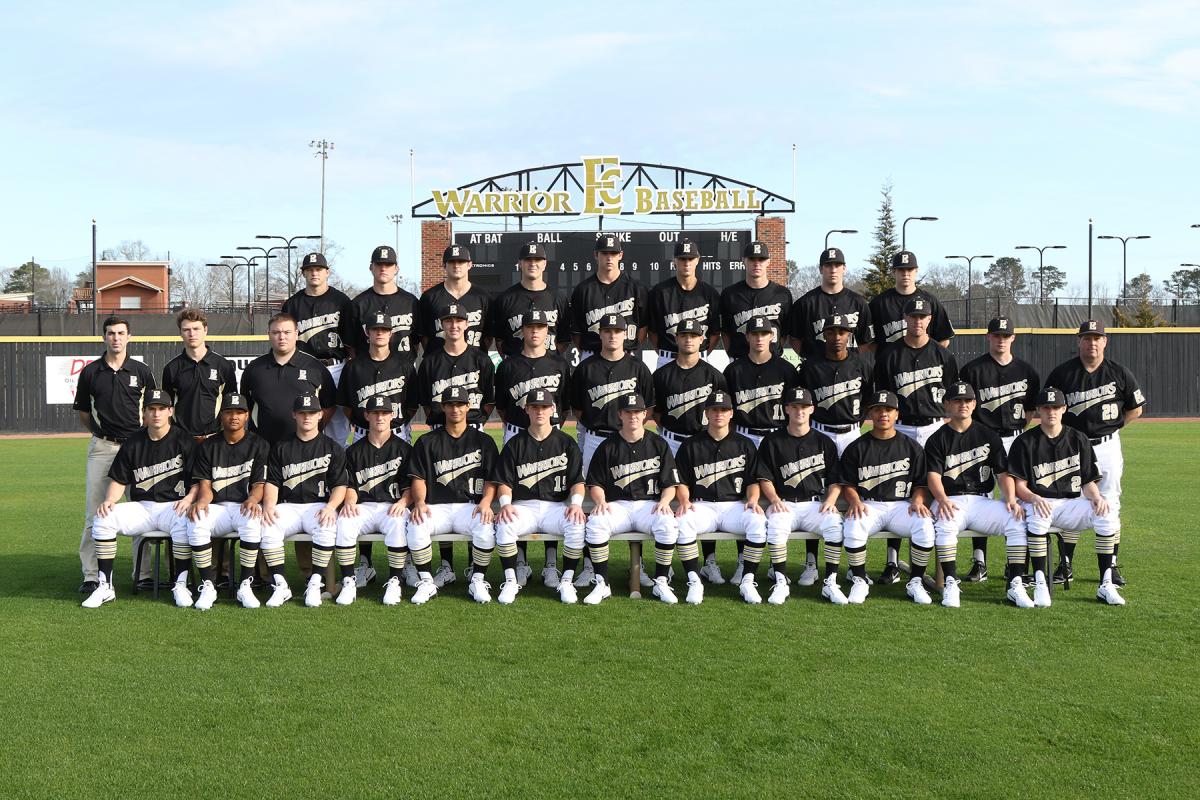 Members of the 2018 East Central Community College baseball team and their respective high schools include (front row, from left) sophomore pitcher Dylan Marsh, Lake Cormorant; freshman outfielder Deon Leflore, Leake Central; freshman outfielder Ryan Cupit, West Monroe (La.); freshman infielder Anderson Shelley, Washington School (Greenville); freshman infielder George Farid, Ontario, Canada; freshman catcher Hunter Harper, Enterprise; sophomore pitcher Tanner Elders, Newton County; freshman infielder Jay Johnston, Lake; sophomore outfielder Cain Cleveland, Newton County; freshman outfielder Dakota Kennedy, Choctaw Central; freshman catcher/infielder Will Ross, Hernando; and freshman pitcher Chance Shepherd, George County; (second row, from left) administrative assistant Jon Ross Griffin, Newton County; student assistant Brady Walters, Wayne County; student manager Kalen Brown, Morton; freshman infielder Noah Mills, Richton; freshman first baseman Jacob Boone, West Marion; freshman pitcher Austin Braswell, Presbyterian Christian (Hattiesburg); sophomore infielder Jacob Edwards, Newton County; sophomore infielder/outfielder Wyatt Ball, Nanih Waiya; sophomore pitcher Kolby Crowley, East Webster; freshman outfielder Kenneth Scott, Clarkdale; assistant coach Chance Whitten; assistant coach Matt Mitchell; and head coach Neal Holliman; and (back row, from left) freshman outfielder Chris Harris, D'Iberville; sophomore pitcher Brooks Warren, French Camp Academy; sophomore pitcher Payton Griffin, Hebron Christian (Montpelier); sophomore pitcher Davis Lott, Lewisburg; freshman pitcher Thomas Boothe, Bayside Academy (Fairhope, Ala.); freshman pitcher Austin Pearce, Hazel Green (Ala.); freshman pitcher Woody Vowell, Choctaw County; freshman outfielder/infielder Zack Hutchison, Wayne Academy (Ellisville); and freshman catcher/first baseman Alex Hay, Lewisburg. (EC Photo)
The East Central Community College baseball Warriors look to return to postseason play for the ninth straight year in 2018, and will rely on five returning pitchers and a well-rounded defense to do so.
Neal Holliman returns for his 12th season as head coach of the ECCC Diamond Warriors, having won 321 games and three Mississippi Association of Community and Junior Colleges state championships.
Last year's team finished with a 33-17 record and advanced to the National Junior College Athletic Association Region 23 Tournament, the eighth straight year that a Holliman-coached team competed in the postseason. The Diamond Warriors were ranked as high as No. 6 in the nation last March.
ECCC opens its 2018 season Feb. 16 with two games against Kaskaskia College out of Centralia, Ill., in the EC Invitational at the Clark-Gay Baseball Complex in Decatur. East Central will also host the Rush Invitational Feb. 23-24 facing Tyler Junior College (Texas) and Wallace State Community College (Hanceville, Ala.).
The schedule also includes seven home and seven away doubleheaders against MACJC foes.
"Our league is the most well-rounded league in the country in my opinion," said Holliman about this year's schedule. "The results will back that up. The Region 23 champion has played for or won the national championship 11 of the last 13 years. That says a lot. As is typical in junior college, a lot of schools lost a lot of players from last year just as we did, so the team that develops and stays injury free will go a long way in determining who rises up as the team to beat this season."
Holliman will enter 2018 without three MACJC All-State players from a year ago. Gone are pitcher Christian Bellew of Gulfport and infielder Billy Cameron of Mendenhall, who now play at Mississippi College, and infielder Cole Prestegard, who is at Troy University in Alabama.
Prestegard was NJCAA All-Region 23 and MACJC First Team All-State a year ago after hitting .426 with 17 doubles, 12 home runs, and 46 RBI. Cameron batted .395 for the Warriors with six home runs and 36 RBI and was named MACJC First Team All-State. Bellew, who posted a 4-0 record on the mound, was second team All-State.
However, with five sophomore pitchers returning who saw significant action last year and a well-rounded defensive lineup, expectations are high in Decatur for the newest edition of the ECCC baseball Warriors as they enter the 46-game regular season.
"Our overall strength is expected to be accountability," Holliman said in assessing his 2018 Diamond Warriors. "Team unity has been very good in the fall and preseason, and we have a chance to be special with continued development. We have five sophomore pitchers who all have the ability to be significant contributors and are expected to play quality roles this season."
Among the sophomore arms Holliman will be counting on are right-handers Kolby Crowley from East Webster, Tanner Elders out of Newton County High School, Payton Griffin out of Hebron Christian in Montpelier, and Dylan Marsh from Lake Cormorant, and left-hander Brooks Warren, who prepped at French Camp Academy. They combined for 11 of the Diamond Warriors' wins last season and 141 strikeouts.
All five have already signed to continue their baseball careers next year at four-year schools and universities. Crowley signed with the University of North Alabama, Elders with the University of West Alabama, Griffin with Delta State University, Marsh with the University of Louisiana Monroe, and Warren with the University of Southern Mississippi.
Back at shortstop is Southern Mississippi signee Jacob Edwards of Newton County and his .316 batting average and 38 RBI. Edwards was MACJC Second Team All-State in 2017. Wyatt Ball from Nanih Waiya, who was named the team's Most Improved Player following the 2017 season, returns. He played second base and left field last season.
Holliman also expects several newcomers to have a chance to contribute, including outfielder Ryan Cupit of West Monroe, La., infielder George Farid from Ontario, Canada, right-handed pitcher Thomas Boothe of Bayside Academy (Fairhope, Ala.), infielder Jay Johnston of Lake, left-handed pitcher Austin Pearce of Hazel Green, Ala., outfielder Kenneth Scott of Clarkdale, and infielder/outfielder Anderson Shelley of Washington School in Greenville.
East Central enters the 2018 season with the same goals as when Holliman's first team took the field in 2007: maximize potential as individuals and as a team.
"Everyone wants to win a championship, but we sometimes get things backwards in athletics," explained Holliman. "It is about what you do today that will either lead to your successes or failures. Having the eye on the final outcome will lead to destruction. If we achieve our maximum potential as a team and as individuals and don't receive a material prize at the end of the year, our coaches and players should be ecstatic about our accomplishment."
Holliman enters the 2018 season with two new coaches. Former ECCC Diamond Warriors Chance Whitten and Matt Mitchell return to campus to assist Holliman this spring.
"There is no doubt these two guys are first-class individuals and have a passion for the game and for East Central," explained Holliman. "We are truly blessed to have them on our staff. We are going to tag team many items as a staff with all of us being new to each other in these roles."
Holliman said Whitten will help with hitting and infield and outfield play, while Mitchell will assist with hitting, outfield play, and pitchers.
Most all home baseball games be heard on WKOZ Cruisin 98.3 or on audio stream and live stream video at www.eccc.edu/eccc-media.
A full schedule of games and a team roster can be found online at www.ecccathletics.com.