May 11, 2021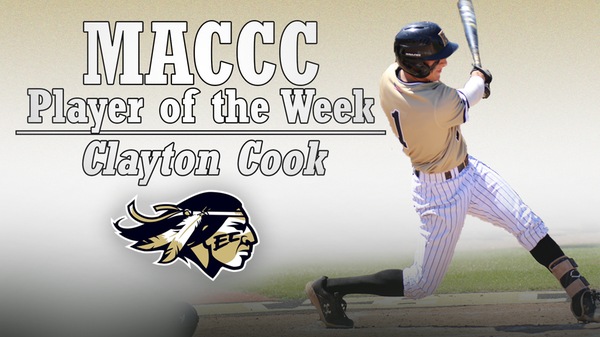 East Central Community College freshman Clayton Cook (Mize) was named Mississippi Association of Community Colleges Conference Player of the Week for his impressive offensive performance in last week's wins over Northwest Mississippi Community College. The two victories, 5-4 and 13-5, advance the Warriors to the NJCAA Region XXIII Tournament set to be played in Poplarville on the campus of PRCC beginning next Monday, May 17. ECCC is set to take on the No. 2 nationally-ranked LSU Eunice Bengals at 12 p.m. to start the tournament. 
Cook was stellar in the series as he went 5-for-9 at the plate and drove in a team-high five runs. The freshman also had the final swing in the series as he launched a two-run, walk-off homer off the scoreboard at the Clark/Gay Baseball Complex to run-rule the Rangers in game two. He finished the series with two singles, a double, and two homers, which resulted in a 1.333 slugging percentage. 
"It's an honor, and very exciting, to get player of the week recognition," said Cook. "This is not just exciting for me, but it is big for the whole team, as we all want to see each other be successful…I think this will give the whole team some confidence and momentum as we head into the Region XXIII tournament next week."
Monday's matchup with the Bengals can be seen live at www.prccmedia.com/gold courtesy of the Pearl River Community College athletic department.