May 6, 2021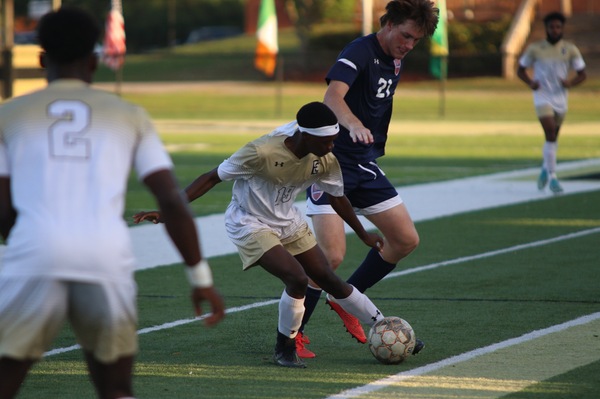 The action was back-and-forth on Wednesday night, May 5, as the East Central Warriors rallied from a 1-0 deficit with two unanswered goals to grab a 2-1 victory over the Itawamba Indians. 
ICC took a 1-0 lead midway through the first half of play, but the Warriors were quick to hit back as just a few minutes later, Caleb James (Jackson), found the back of the net for the equalizer. The quick score put the momentum in ECCC's favor and the Warriors capitalized with a goal from DeQuarian Buck(Vicksburg) just moments after the first. The two scores gave ECCC a 2-1 advantage going into the second half. 
The second half was played much more in the midfield as neither team could gain control of the field. Late in the contest, ICC had numerous possessions around ECCC's goal, which led to shots and corner kicks, but the Warrior defense held strong as the score would hold to the final buzzer. 
The Warriors are back in Bailey Stadium tomorrow, May 6, for a matchup with Co-Lin on sophomore night. The match kicks off at 7 p.m. and fans can watch the match live at www.eccclive.com/gold.