November 22, 2021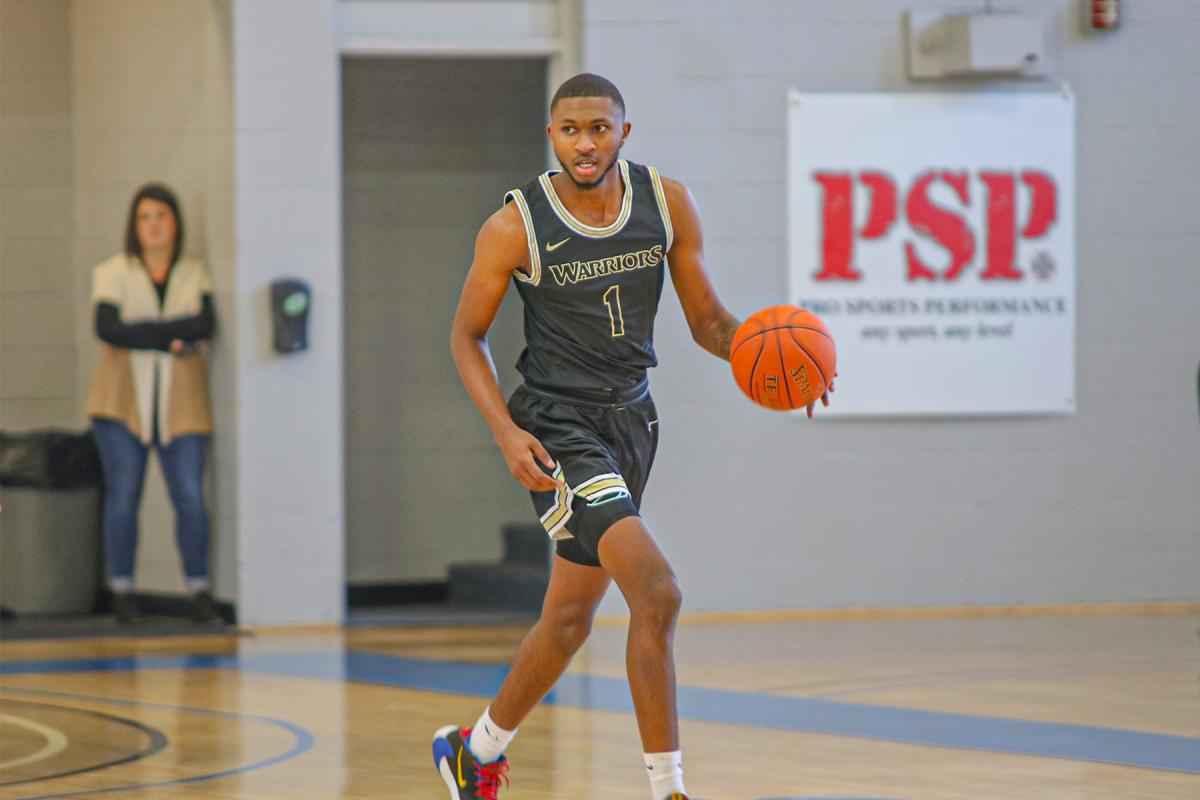 The East Central Community College Warriors traveled to Wesson on Thanksgiving break Nov. 22 to take on the Wolves of Copiah-Lincoln Community College. The Wolves topped ECCC in the contest and dropped the Warriors to 2-3 on the year, while Co-Lin improved to 2-4.
It was back and forth throughout the first half as the game was knotted at 20-20, 13 minutes into the action. The Warriors and Wolves were going toe to toe with both squads attacking the rim while hitting open three-pointers. The Wolves went on a quick 8-2 scoring burst in the final 10 minutes of the first half, but the Warriors limited the damage and forced some big turnovers. The hard-effort plays on the defensive end of the floor resulted in big baskets on the other side including a three-pointer from Tynerious Daniels (Bassfield) and a couple of other three-point plays to push the Warriors in front. The late scoring allowed ECCC to take a 37-33 lead into the locker room. ECCC pestered the Wolves' offense throughout the first half as they forced 15 turnovers in the first 20 minutes alone.
The Warriors opened the second half with a three-pointer from Damian McKnight (Lake Cormorant) to stretch the lead, but the Wolves chipped back into the game and pulled within three points, 43-40, five minutes into the second. The Warriors once again grew an advantage, but Co-Lin stuck around and capitalized on a couple of trips to the free-throw line as ECCC put the Wolves in the bonus with 11 minutes left in the game. At the 10 minute mark, the contest was tied, 53-53.
The Wolves rode that momentum into the final minutes of the game and sparked a Wolf Pack offensive run that saw a pair of three-pointers from AJ Warnsley that quickly pulled the game nearly out of reach for the Warriors. At the final buzzer, Co-Lin led, 77-65.
Demajion Topps (Winona) led the Warriors with 22 points in the game on 3-of-7 shooting from beyond the arc, while Daniels finished with 11. Jelani Clark (San Francisco, Calif.) came off the bench to score 10. Christopher Keys (Quitman) led ECCC in rebounds with eight on the night, while Antwan Hatten (Laurel) hauled in five. East Central finished the night shooting 34 percent to the Wolves 56, but posted just four turnovers to Co-Lin's 20.
The Warriors are back at home next Monday, Nov. 29, as the team plays host to Coahoma at 7 p.m. The game will be part of an ECCC basketball doubleheader as the Lady Warriors are hosting Coastal Alabama-North at 5 p.m. in Brackeen-Wood Gymnasium. Both games can be seen live at www.eccclive.com/gold.