February 3, 2021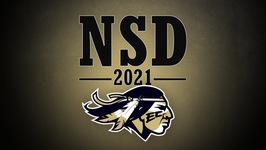 The first Wednesday of February is exciting for all college football programs and 2021 was no different as the Warriors of East Central Community College signed 25 players to the 2021 football roster.
"I'm pleased ... I think we've really upgraded some positions that we needed to," said East Central head football coach Ken Karcher. "I think our coaching staff did a really good job identifying the players that fit our program, and like any year, you don't know until they get the pads on, but we are excited and will continue to recruit through the spring because there are still some needs we have."
East Central finished the 2020 season 2-3 overall and closed out the year with a 13-10 overtime win at Co-Lin. The season was cut short the following week due to the COVID-19 pandemic.
"We definitely hope to have our July time with our players this year," said Karcher. "The more time you can get with your players the better, but we will adapt with whatever we are dealt this upcoming year."
2021 NATIONAL SIGNING DAY CLASS
| | | | | |
| --- | --- | --- | --- | --- |
| Steven Turner | WR | 6'2 | 175lbs | Columbus High School |
| Tay Simms | ATH | 5'11 | 165lbs | Morton High School |
| Carlois Walker | RB | 5'9 | 190lbs | Newton County High School |
| Carlonte Walker | WR | 5'7 | 165lbs | Newton County High School |
| RK Cain | TE | 6'2 | 225lbs | Newton County High School |
| Christian McGee | OL | 6'3 | 255lbs | Newton County High School |
| Noah Tice | TE | 6'3 | 220lbs | Stone High School |
| Eli Cooper | OL | 6'4 | 275lbs | Scott Central High School |
| Trustin Northington | DB | 6'1 | 180lbs | St. Stanislaus High School |
| Al'Jurae Arnold | DB | 6'1 | 180lbs | Jefferson Davis High School |
| Caleb Parten | QB | 6'0 | 190lbs | Northwest Rankin High School |
| Matthew Day | LB | 6'1 | 215lbs | Pelahatchie High School |
| Garrett Day | LB | 6'1 | 225lbs | Pelahatchie High School |
| Ryan Kimbrell | LB | 6'1 | 220lbs | Northwest Rankin High School |
| Raidon Williams | DL | 6'3 | 280lbs | East Central High School |
| Jaden Mann | QB | 6'1 | 185lbs | Sebastopol Attendance Center |
| Kobe Thompson | LB | 6'2 | 210lbs | Newton High School |
| Jacob Moore | OL | 6'1 | 285lbs | Union High School |
| Peyton Posey | DL | 6'3 | 250lbs | Union High School |
| Keaston Pearson | DB | 6'1 | 190lbs | Neshoba Central High School |
| Tyshun Evans | OL | 6'5 | 285lbs | Newton High School |
| Jacob Stevenson | DB | 6'0 | 175lbs | Gulfport High School |
| Gabriel Larry | QB | 6'1 | 185lbs | Manvel High School |
| Courtland Harris | RB | 5'7 | 185lbs | Oak Grove High School (Jan. enrollee) |
| Drake Carroll | OL | 6'1 | 305lbs | Louisiana Tech Transfer |